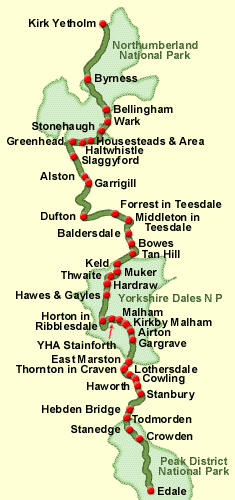 On a Long Distance trail like this, travelling to the start by car isn't really a good option and you might as well leave it safely at home. Not only will you find it difficult to find somewhere to leave your car for maybe up to three weeks but also this means having to travel back to Edale after finishing the walk, which would mean getting 2 busses and then 2 trains and then you have to drive home, assuming that your battery hasn't gone flat in the meantime or been stolen. Edale train station is a short walk up to the village itself.
It's much easier and safer to leave your car at home rather than paying to park it some place and let the train take the strain while you think about what a great adventure you have just completed.
Obviously, the easiest way is to get someone to pick you up from the end and take you home but if you can't arrange that, then hopefully this advice will help.
Getting to the start at Edale
If you are choosing to start your Pennine Way walk at Edale, the best way to get here is by train unless some nice person is offering to drive you there. Edale is on the main Sheffield to Manchester railway line and has regular trains every day so it's quite easy to get to Edale from whatever direction you are coming from. As far as I can see, no bus service now exists in Edale and you'd have to get busses to Castleton or Hope and then walk or get the train to Edale from Hope, which makes it pointless getting a bus in the first place only to arrive on a train that you could have got in Sheffield or Manchester saving money, quicker and more comfortable than busses.
Transport Along the Pennine Way
You might be planning to only do a section of the Pennine Way, maybe doing the walk in 2 stages or you may be unable to complete the walk and need to head home. Transport along the Pennine Way can be quite scare in some areas due to it's rural location but here's a few ideas of services on or near the Pennine Way that might help. Please check first though as timetables change every year and busses are taken out of service so the routes mentioned below may no longer exist.
Hebden Bridge has a railway station, you can get regular trains to Leeds and Manchester from here.
Thornton In Craven has an hourly bus service between Skipton and Burnley, both have railway stations.
Gargrave and Horton In Ribblesdale have railway stations that are on the main Leeds to Carlisle railway line so access to the East and West Coast lines can easily be reached by these stations.
Hawes has a service to Leyburn where you can catch another bus that will take you to Northallerton which has a railway station.
Middleton In Teesdale has a bus service that will take you to Barnard Castle and then one to Darlington which is on the East Coast line.
Haltwhistle is about 4 miles from the Pennine Way near Greenhead, you can get a train here to Newcastle or Carlisle.If you have decided to give up the walk before you leave Alston, you can follow the disused railway line walk that goes between Alston and Haltwhistle or you can get a bus from Alston to Haltwhistle.
Greenhead has an hourly bus service travelling through the village between Carlisle and Newcastle, train stations at both ends.
Bellingham has a bus service that will take you into Hexham where you can get a train to Carlisle or Newcastle.
Getting home from Kirk Yetholm
Kirk Yetholm is a quiet little village that is served by the 81A bus from the village green to Kelso which runs quite frequent during the week and then a handful of busses on a Saturday so bear this in mind if you're planning to finish on a Sunday as the only option then is an expensive taxibus service which must be prebooked. From Kelso, the number 67 bus will take you to Berwick Upon Tweed which is on the main East Coast railway line to continue your journey north or south back home. This is probably the simplest way although busses also travel to other Borders towns from Kelso if you wish to head towards the West Coast railway line.