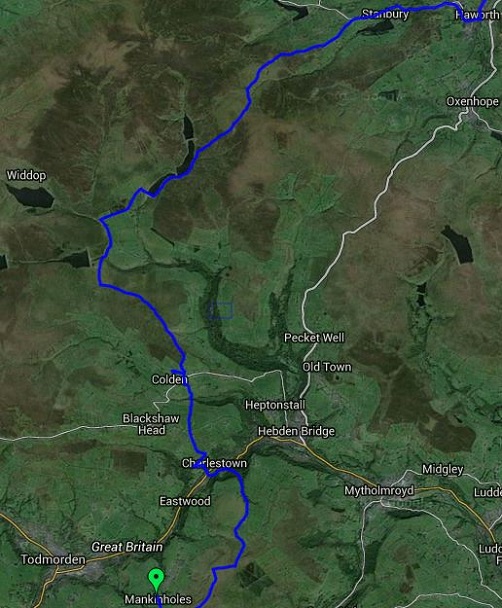 I had another good nights sleep thanks to having the dorm to myself and I was awake and ready to go early so I headed off about 7am, again in shorts and tshirt as it was another nice sunny morning. The slabbed walk uphill that I wasn't looking forward to was actually easier than I expected and I was at the base of Stoodley Pike very quickly. The monument itself could do with a clean up as the years have taken it's toll and get rid of years of graffiti. I didn't hang around long and continued on my way and had a nice walk to Charlestown where I encountered maybe the steepest hill of the whole Pennine Way, a narrow path that passed peoples houses, with their windows almost at ground level and I was soon puffing away as the path got narrower and I had to avoid the nettles.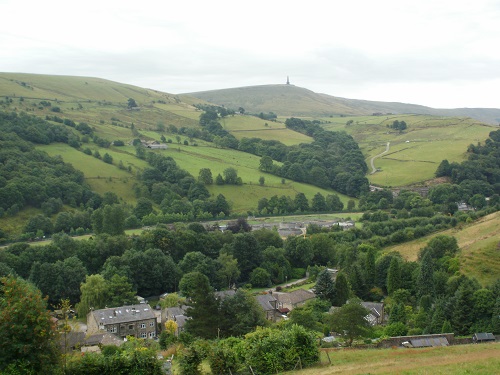 Eventually I crossed fields and reached Badgerfields and then Colden where I came off the route slightly to visit Aladdins Cave, a very well stocked shop where I bought things for my lunch and a few snacks, I could imagine many people leave here with far too much food and have to carry it all day but the pies were tasty so I made sure to buy a couple and have a sit down at the bench outside and have a well earned rest before moving onwards to Heptonstalls Moor and a few reservoirs. I got talking to a couple coming the other way, they were walking The Bronte Way and he had walked the Pennine Way ten years earlier. Everyone I seemed to meet had either done the Pennine Way or knew someone who had done it but it was always nice to bump into nice people for a chat. I said goodbye and after the reservoirs, the slabs returned giving me quick progress up Withins Height and soon I saw Top Withins.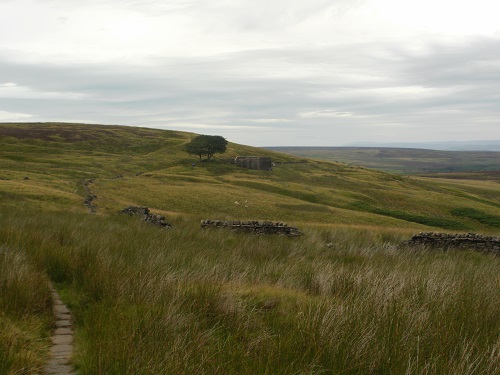 I had decided that Top Withins would be where I would have my lunch and as I got nearer I noticed a couple sitting on a bench. They obviously must have read my telepathic messages as I urged them to get off the bench and head off so that I could get the bench, as they got up and left just before I reached it allowing me a nice sit down to eat another Aladins Cave pie and rest my weary feet. I was soon joined by another walker who was doing part of the Pennine Way from Edale and would finish the next day at Gargrave. I consulted my maps and my watch and realised I'd be into Haworth earlier than I had expected and the mileage would also be less than I had thought, which also meant the next day's mileage would be more than I had expected.The other walker soon left as he was heading to Cowling that night.
It had gradually got colder as the day had gone on and I changed my shorts back into long trousers and put my jacket on, and as I did so it started raining so the waterproofs went on. It was the first rain of my Pennine Way walk but there would be plenty more to come, it would also be the last time that I would wear shorts on the journey. Lunch eaten, I left the many tourists at Top Withins and headed down towards my turn off to Haworth.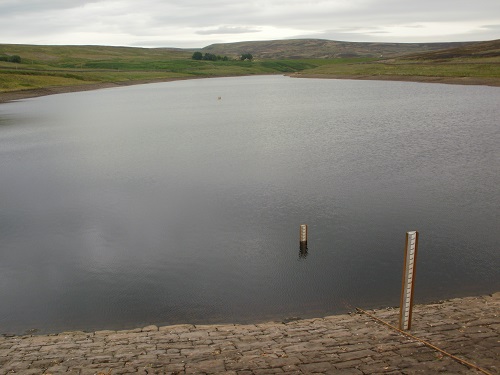 I had originally chosen Haworth as a place to stay the night as it had a youth hostel and wasn't far from the path and many guide books and websites I read mentioned it was a good lace to stop the night. On hindsight, it would have been a better idea to miss out Haworth and find somewhere further on as Haworth was over 3 miles from the path, which would also mean another 3 miles back the next morning to continue. I could have walked the Bronte Way into Haworth but by now the rain had got heavier and I chose to come off the path before Ponden Reservoir and walk along the road to Haworth passing through a village called Stanbury, the road then got very steep and as there was no pavement, it meant having to watch out for traffic and move off the road. I was glad to finally reach the town but the town is full of hills too so by the time I'd done a bit of shopping then went up even more hills to the youth hostel, which is at the other end of the town, it's fair to say that I was struggling.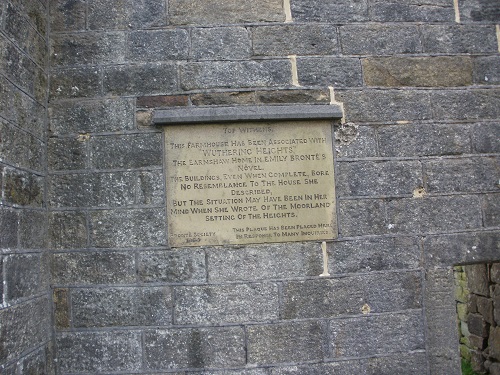 This would probably be the only time on the walk that I felt my legs so tired, the tarmac and the pouring rain taking the last of the energy. What didn't help was getting near to my hostel and seeing a bus that had come from Stanbury, the village that I'd passed a couple of miles back. If I'd known about the bus I could have got it and saved some energy. I checked timetables later on and saw that I could get a bus back in the morning if I wanted to but if I was ready to go early, this really wasn't an option as a long day lay ahead of me the next day, one that would be a few miles longer than I originally planned.
Haworth is a nice enough town, heavily relying on cashing in on tourists coming to visit because of the Bronte Sisters link to the town, still busy despite the pouring rain, some people eating ice cream not caring about the weather. The hostel wasn't too busy but it was about 4 miles from the Pennine Way and I'd wished that I'd booked somewhere nearer the route and I knew I had that to look forward to the next morning, hopefully the pouring rain would be off by then.