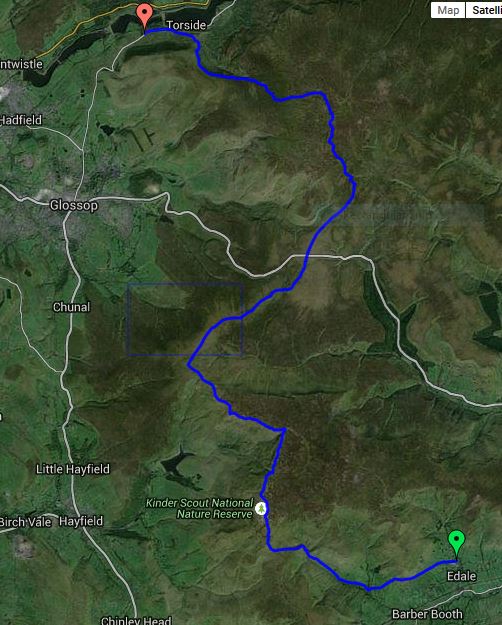 I stayed the previous night at Edale Youth Hostel and I awoke to a glorious sunny morning. The sun would go away shortly after I began my walk but it would be dry and warm all day, which would be a good start to my Pennine Way walk. Good visability would make the days navigation a lot easier than if it was low cloud, mist and rain. I walked the short distance from the Hostel to the village centre, which is where the Pennine Way begins, picked up a sandwich and a few items from the shop, took the usual photos from the start and headed off.
After many months of planning, it felt great to finally have set off on my journey and set off along the field towards Jacobs Ladder. I had walked down Jacobs Ladder before so at least I knew what to expect and I was prepared for it. There was still a bit of huffing and puffing in the morning sunshine but I just took my time and enjoyed looking back at the views along the valley and over to the Mam Tor ridge.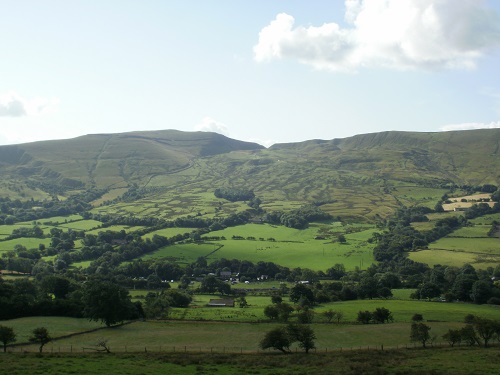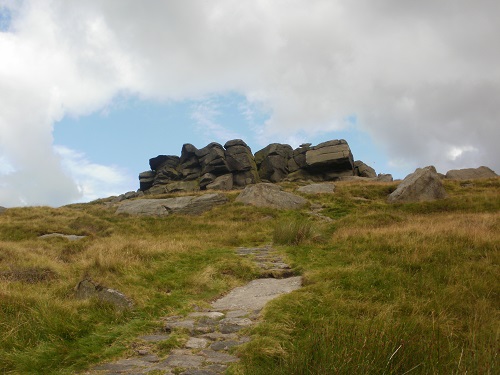 I had seen a few walkers up to this point, and as I climbed up to Edale Rocks, I noticed two walkers had stopped for a chat. As I passed just below them, I heard one of them asking "Are you Brian?" and one of them introduced himself to me, it was a member of a walking forum who had come to join me for the day as he'd seen that I was starting the Pennine Way that day, it was a pleasant surprise and it would turn out to be the only day that I walked any great length of the Way with someone for company. We soon caught up with another chap, who was struggling with a very heavy looking rucksack and the three of us headed onwards, enjoying the conversation and the views.
I had read about how bad the visability can be up on Kinder and Bleaklow summits so I was relieved to have perfect visability and no navigational worries, the path was mostly dry and it didn't seem very long before we were onto slabs all the way to the Snake Road, I dreaded to think what it would have been like years ago before the slabs but for me it made fast easy walking. The path got a bit busier around here and when I saw Snake Road there were many cars parked up, it seemed a good place to stop for lunch but as soon as we got our food out, the midges arrived in force and we ended up eating as we walked but the midges had had a bite or two as well.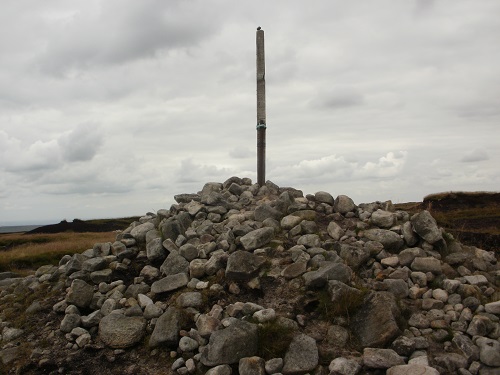 After Snake Road, the slabs disapeared and the path was a lot rougher as we passed through Devils Dyke and up to Bleaklow Head but the path was mainly dry and easy to walk on, much nicer than I was expecting but I knew I still had many days to walk and who knew what lay in front of me? It was mainly downhill from now until Torside reservoir came into view than quite steeply down to the road where my walking companions headed off towards Crowden and I headed off towards my accommodation at Torside, just a short distance from the path. A few other Pennine Way walkers would stay at the same place that night but I didn't see them again after breakfast the next day, who knows if they finished the walk or not?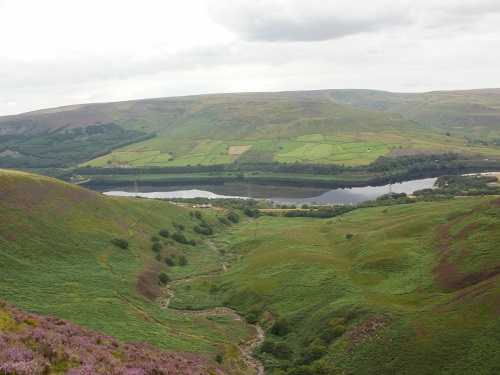 I was staying the night at The Old House bed and breakfast and the room I had was nicer than I was expecting, with a double bed and bunk beds in the room and a self catering kitchen next door to my room. They also have a Tea Room so I sat down looking across the valley over the Reservoir with a can of Cola and a large slice of cake and enjoyed the moment. It had been a great first day on the Pennine Way, I hoped every day would be like this but I knew there would be some good and bad days ahead of me but I was determined to enjoy my holiday, even the bad days.