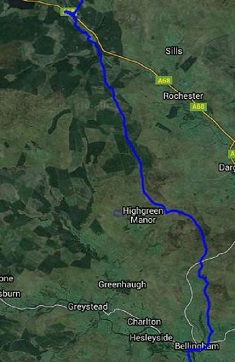 Despite the huge bed and being in more luxurious surroundings than in the last couple of weeks, I didn't sleep too well, maybe the bed was just too comfy for me, I'd got used to hostel bunk beds. I had a nice breakfast though, got a few things from the shop and headed off towards Bryness. I knew from reading peoples websites that today wouldn't be exactly scenic or one that would live long in the memory, just one to get out of the way before the final day of my Pennine Way. At least it was dry and sunny for now but forecast for showers later on and to get heavy in late afternoon but I was hoping that I'd be in Byrness before the rain came.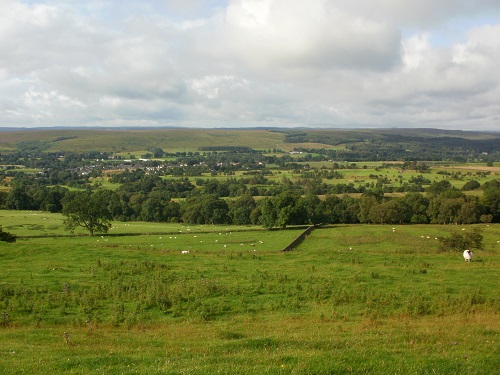 As has seemed to be the case every day apart from Tan Hill, the start was uphill, this time up a steep road then over farmland. It had started out quite nice weather wise but it was getting darker all the time and I turned round just in time to see rain heading my way, waterproofs went on just in time and it poured down for a short time, the going up til then had been ok, a bit soggy in places but avoidable. I found a big flat rock and had a break and removed the waterproofs, hoping I wouldn't need them again that day. Today was going to be less than 16 miles which meant it would be one of the shortest on my Pennine Way and there wasn't a lot of up's and down's so in my mind I was trying to take it a bit easier and save some energy for a much harder day the next day and also because there was no real need to get to Byrness too early as I probably wouldn't be able to get my room until 5pm, the plan was to head on and I knew there was a picnic area a couple of miles from Byrness where I'd stop a while before Byrness.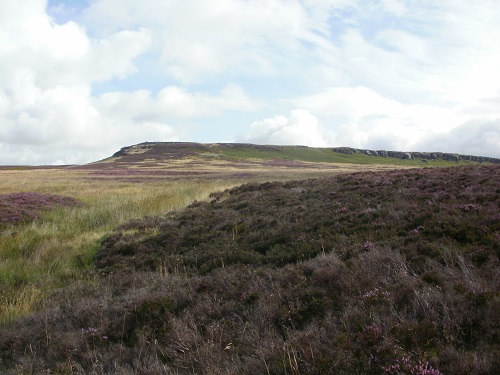 The path came to a road, at this point you have two options, you can either turn left and follow the road that eventually goes through a forest and joins up again with the Pennine Way or you continue straight over Paden Hill. I had been assured by a few people along the way and had read on websites that crossing Paden Hill would result in me being up to the knees in mud in places and it generally being tough going. Maybe if it had been my second day on the walk, I'd have considered this option but it was my second last day and I had no desire to wallow in mud through boring moorland so I followed the road.
When you think about walking through forest paths, they don't usually excite you as you feel hemmed in by trees, no scenery to look at as it's hidden by the mass of trees but this forest track was actually quite scenic, the gaps between the trees being quite wide and as I was in no hurry, I had a nice gentle stroll along the track and enjoyed the scenery in front of me.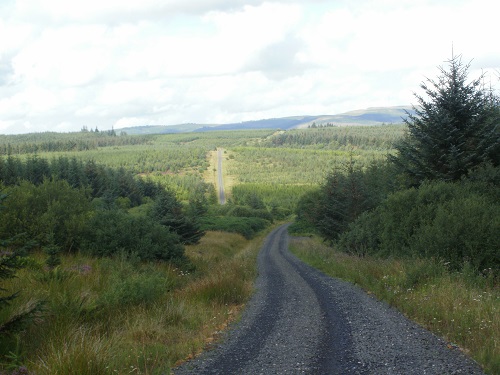 There wasn't really anywhere though to sit down for a break so I just had to take off my rucksack and have my break in the middle of the road but it still felt good to get it off my back, I only had about 5 miles left to go and far too much time. It wasn't that long before I reached the picnic area and had a long break before slowly moving on towards Bryness through the woods, anyone who saw me walking so slow would have thought I was struggling real badly but all I was doing was killing time as there's nothing to do in Byrness. Just as I approached the accommodation, the heavens opened, I got there just in time.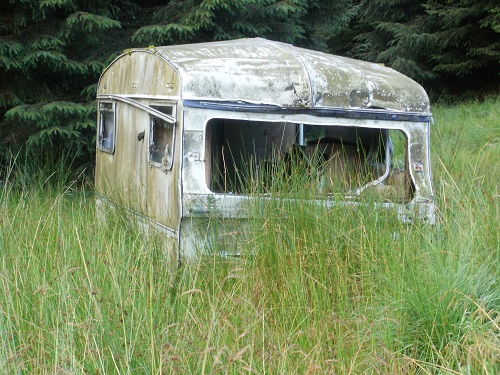 For the last few miles, I'd started to get a sore head, which was gradually getting worse so I was glad to get into my room and have a lie down, hoping that the pain killers would have some effect but for now I was comfortable just lying there, trying to block out the light. I had just finished my lunch not long before and I certainly wasn't hungry. They have a restaurant at the accommodation but food was the last thing I really wanted right now, I just wanted to lie down and then get an early night as I planned to be away at first light in the morning to get finished that day in time to get a bus away from Kirk Yetholm.
This was my last night on the walk and usually I feel quite sad that the walk is nearly over but also looking forward to getting home. Usually on my last night I relax, have a good meal and a few drinks but this was not going to be an option tonight with my sore head, the pain killers not helping. I just hoped that I would feel better in the morning as I had about 24-26 miles to do and plenty of up's and down's before the end of the day.
Click here for the final day, Day 13 - Byrness to Kirk Yetholm