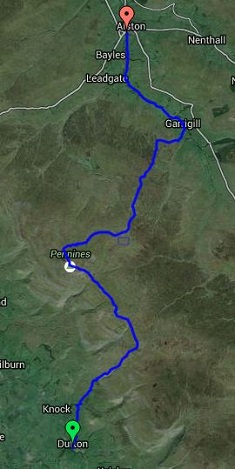 Woke up after a good sleep to a nice sunny day and that eased my nerves a lot about what was ahead of me today, namely Cross Fell. I was obviously hoping to have good visibility up on Cross Fell and the fells before there so I set off hoping it would still be as clear when I reached the tops of the fells. Yesterday had been a good days walking and scenery and this had bucked me up a little after wading through wet fields and boring moorland over the previous day. I was also looking forward to getting to Alston, which had a couple of decent shops plus a chip shop, little things like that kept my spirits up.
From the hostel, it was basically up, up, up all the way on decent paths but as I got higher, the wind got up quite strongly and I ended up with my jacket on, even though the sun was out. The higher I went, the stronger it got and made walking a bit harder as it was side on wind. Going up Green Fell was a bit of a slog in the morning but the views behind were great and gave me an excuse to keep stopping to take a look at the Lake District peaks in the distance and appreciate the size of them from afar. It didn't seem to be take too long before I reached the summit of Knock Fell where I took shelter from the wind behind the large cairn for a short time and looked over to Cross Fell, it's summit totally clear, there was just the not too small matter of a couple of Fells to ascend before then.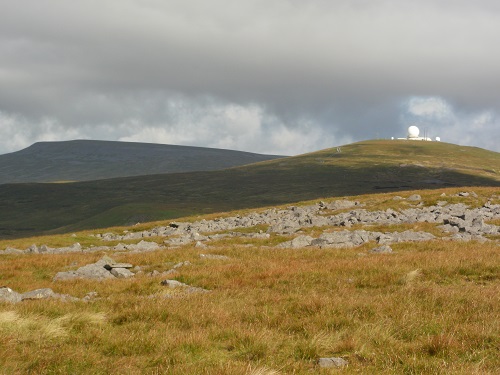 The Radar station at the top of Great Dun Fell can be seen from afar, it's golf ball shaped radar building and it's masts look really out of place so high up. In bad weather, people can take an alternative tarmac road to the radar station from Dufton but luckily for me, today was perfect apart from the strong wind. I've no idea if anyone actually is in the radar station as it looks eerily quiet as you approach it and I wouldn't like to work there in bad weather. It was still a bit of a slog getting up there, on a mixture of paths, slabs and a bit of tarmac but soon I was rounding the side of the radar station and at that point, the wind suddenly dropped for a second and I found myself far too close to the barbed wire fence and brushed against it, ripping a 6 inch hole in my jacket, luckily my swear words were lost in the wind which came back with avengeance as I headed onwards down and then up Little Dun Fell.
As I reached the summit, I saw a couple of stone shelters so took advantage of one of them and had a small break, there was no real hurry today and I knew once I got to Cross Fell, it was all downhill for the rest of the day. I noticed a figure in the distance nearing the top of the climb to the summit of Cross Fell, the first person I had seen all day. The view, out of the wind was very nice and I could have sat here longer but it was time to ascend Cross Fell, a lot of it being on slabs which made things so much easier. After a few scenery breaks and to get my breath back, I was at the summit plateau and the shelter and trig point were in sight. I had seen these many times in photos in peoples websites in the months leading up to my walk so it was nice to see them with my own eyes, especially in clear conditions. I imagine, like many people setting off to do the Pennine Way that we all worry about this day and hope that visability will be good so we can get to the top and then get down again, the visability and views were great and I had worried over nothing.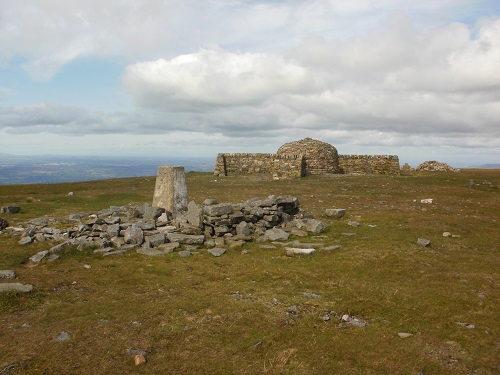 It was still a bit early for lunch when I reached the shelter so I basically just sat and took in the views, it would have been a shame just to have reached the summit and headed straight down the other side without taking everything in. When I was ready, I set off for the short downhill section to Gregs Hut where I would have my lunch out of the wind and basically just to have a look inside it. I would meet up here with an Australian man who was doing the Pennine Way also and have a quick chat before he left the hut, he was doing the West Highland Way after his Pennine Way was finished then heading back to Australia. The hut, I imagine in bad weather would literally be a life saver but today for me, it was a place to sit down and have my lunch out of the cold gusty wind before heading off downhill towards Garrigill along the Corpse Road.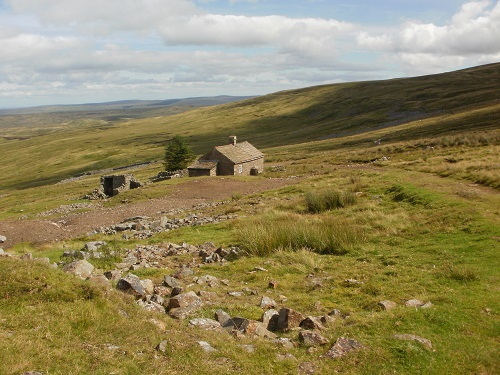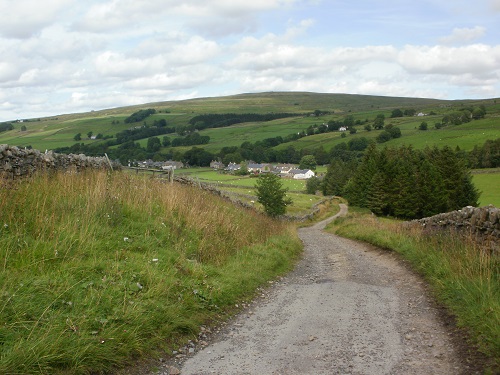 I read in a few blogs that the Corpse road is nice for the first 30 minutes or so and then drags on for the next couple of hours and this is indeed the case. The track itself is nice enough to walk on, but Garrigill in the distance never seems to get any nearer and even when you are nearly there, the path seems to zig zag down to the village. There's a shop in the village but I knew it shut at dinner time, there's also a pub and I thought it would be nice to have a break there and a pint, as you do, before the last bit of walking to Alston. Sadly, the pub wouldn't be open for over an hour so I just sat on the bench outside it to have a rest and a bite to eat, watching quite a lot of cyclists pass by and realising that Garrigill is on the Coast to Coast cycle route. The Australian man caught up with me and joined me for a break, his day was over as he was staying in the village but he was slightly miffed as tomorrow he'd be walking to Alston and the sign in front of us told us that Alston was less than 4 miles away, what a waste of a day it would be for him the next day but he had booked accommodation.
I said goodbye to him and headed off the relatively short walk to Alston, along the South Tyne through plenty of fields with stiles and gates making it stop-start but I was in Alston in no time. I still had an hour to wait to get into the hostel but it was warm and dry so I just sat outside, took my boots off and smiled to myself, ticking another day off in my mind and thinking that I had really enjoyed today despite the wind as the views and Cross Fell had been more than worth it. I would have the whole hostel to myself tonight so after I dumped my bag and explored the local food shops, I visited the chippy and had my tea before using the wifi in the hostel to catch up with things, including the weather forecast which told me that the next day wasn't going to be nice.