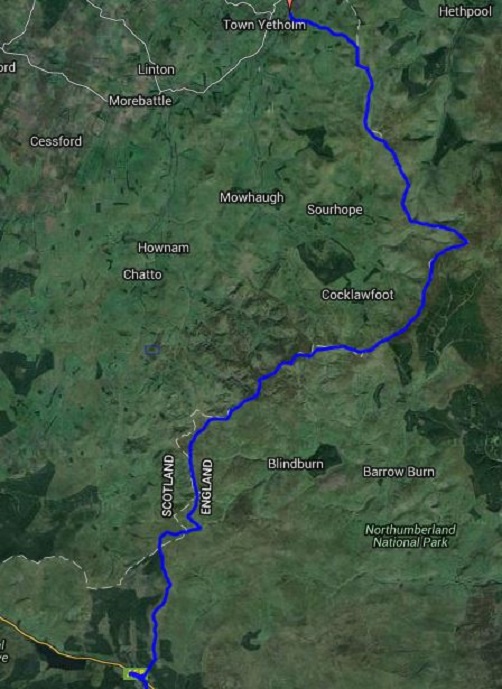 Didn't sleep too great but got up about 5am, it was still dark. I got dressed, made my sandwiches for the day ahead and left before 6am, it still wasn't light but I needed to head off and give myself more time to get to the end. I felt much better and my appetite was back, they had left a few things out for breakfast but there wasn't anything there that I liked so I left it and got on my way, eating a few cereal bars as I headed out of the small village. There was a bit of light rain as I headed off but I didn't bother with waterproofs, something I would regret shortly afterwards as I climbed up a narrow path that was quite slippy with mud, being careful not to fall and the path was surrounded by ferns which were soaking wet so by the time I got out of the ferns near the top of Byrness Hill, my trousers were soaking wet and sticking to my legs. I knew they would dry off quick enough normally but at this point, the rain came on heavy and I had to put the waterproofs on top of the wet trousers, they would stay on until the second refuge hut of the day, about 6 miles from the end as the rain would be off and on for most of the morning, the view being one of low clouds and rain in many areas around me, plus it was still early and a bit dark.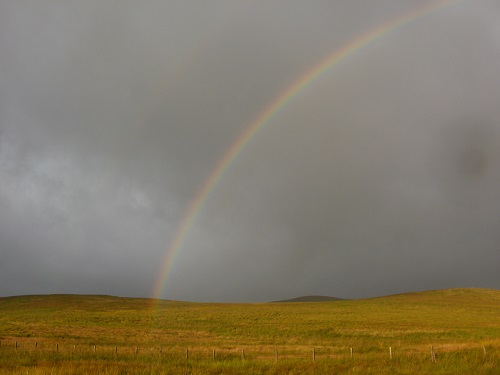 The path from the summit got less slippy but it was a lot soggier underfoot, possibly the worst of the entire walk, or maybe I was just getting on with it today and not really bothering as much about soggy paths due to it being the last day and I'd be heading home, today would be the only day that I had to be at the end by a certain time, to catch my bus, because if I missed it, it meant an expensive taxi ride. Staying the night wasn't an option as there was no bus from Kirk Yetholm the next day (Sunday) and this would also mean an expensive taxi plus buying more train tickets, so it was important to keep a good pace going early on, then hopefully be able to slow down later on in the day. The visability wasn't good at this point so at least I wasn't stopping all the time to take in the views so it wasn't long before I reached the first refuge hut.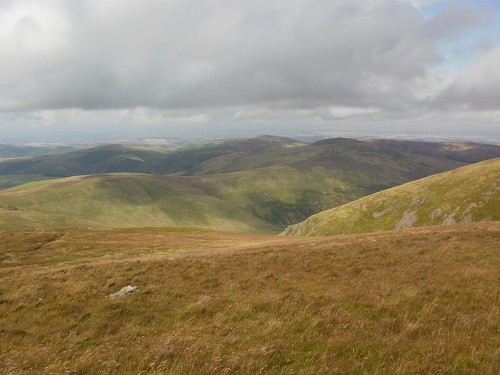 There was a walker in the hut just ready to set off from it, he had said he's spent the night there and was finishing that day but he had no idea if he was going to stay in the village, or if there was any transport out of it. I told him the times of the busses and that he should be able to get the last bus but I was a bit surprised that he hadn't done some homework before he set off, I think it's very important. I didn't stay too long at the hut, I didn't have the time to hang around plus I didn't really feel that I needed a break just yet so I set off not long after the man. For the first time in my walk however, I had wet socks when I set off and I'd wished I had changed them in the hut but it would waste too much time changing them now plus my spare pair would just end up soaking too before long so I decided that I'd change them at the second refuge hut later on if they were still soaking. I looked down at my boots, they certainly didn't look as waterproof as they had when I'd set off 2 weeks earlier and I could see gaps in the stitching, they just had about 15 miles to hold on.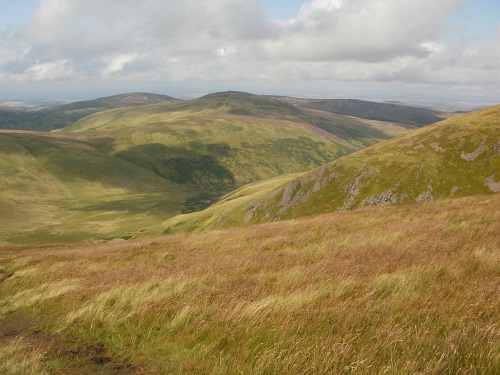 Luckily, the weather got a bit better after the hut and so did the paths with a lot more slabs along the route which were very welcome and progress got a bit faster. I was using an App on my phone to tell me what speed I was averaging so by now I knew I'd get into Kirk Yetholm nearly 2 hours before the bus I wanted to get so I was feeling more relaxed plus the improving weather had meant that I now had better scenery to look at, so I did. I passed the walker from the hut a bit further on, he told me he'd picked up the pace to hopefully get to Kirk Yetholm for the last bus so he felt quite relieved when I told him that he was going to make it with plenty time to spare.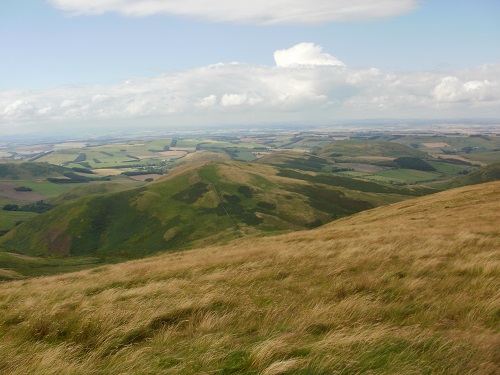 It's about 10 miles between refuge huts and the path was certainly a lot better underfoot thanks to those lovely slabs. I then reached a point where you have the option of detouring to climb The Cheviot hill before returning to that sport or continuing on the Pennine Way, maybe I'd have climbed it at the start of the Pennine Way but why would I want to do it now, so close to the finish? I like climbing hills but I'd never any intention of climbing this one, there would be no reason to do it and it would just waste time, I'd rather waste that time sitting in the pub at Kirk Yetholm, pint in the hand and feeling good after finishing the walk that enduring The Cheviot. The second refuge hut is shortly after this point and I was looking forward to getting inside, changing my socks and having my lunch. I'd walked about 18 miles or so but it was only dinnertime now.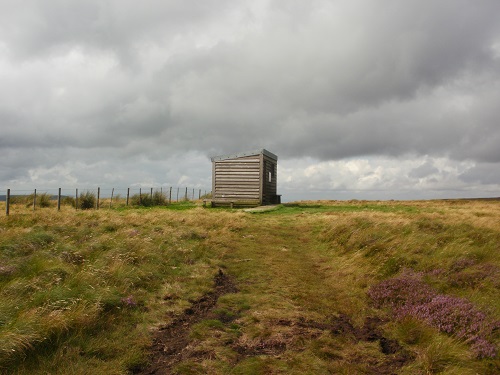 As I got to the hut, with the impressive The Schill looming large behind it, I saw the hut had a bench outside it so I sat down on it and took off my wet socks, putting dry socks on but not putting my boots back on just yet and having my lunch, whilst taking in the view. I had plenty of time on my hands now and I was in my final 7 or so miles so I felt like I was on the final straight, the end being in sight so I was determined to enjoy the scenery and try and take the final few miles in. It had been quite a steep descent from Auchope Cairn and I'd found myself almost jogging down it in places rather than trying to stop my legs. This was one of the best views I had on the Pennine Way while having my lunch and it would be my last break.
A few miles from Kirk Yetholm, there is another choice to be made, a low or high route option. For months I'd always said that no way would I be doing the high route as I'd have done 270+ miles by then and had no desire to do any extra or do any extra climbing when I could take an easier route. I still had that intention when I set off that morning, infact it was still my intention as I approached the signpost that showed the choices and I stopped for a small break and to take my jacket off as it was nice and sunny now. Now, despite everything I'd said over the last few months, I decided to go the high route, maybe because I had plenty of time, maybe because the signpost said it was only half a mile extra or maybe it was just because I wanted the final bit of my Pennine Way walk to last just that bit longer. Who knows but I set off on the high route knowing I'd most likely be cursing myself soon afterwards.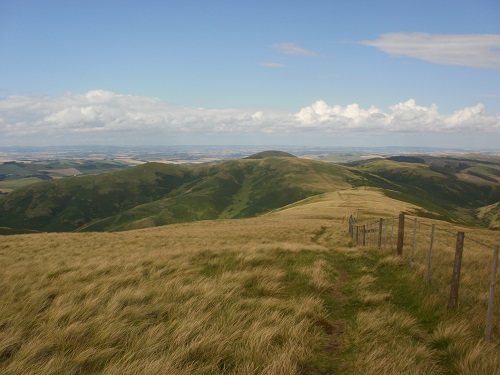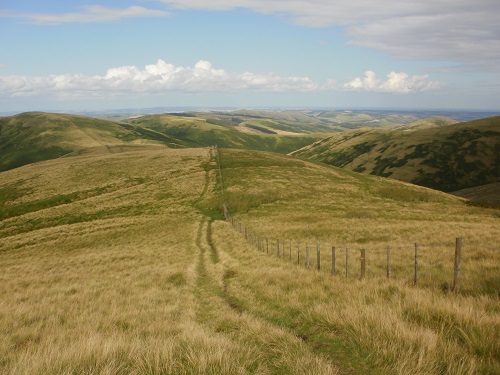 From the signpost, the low route heads downwards towards a road but the high route doesn't go up much as you're already up high. There are a few places along it where you have short steep climbs where you will swear a lot and wish you'd went down the low route, you will even see the raod and think you could have been having a relaxing walk along the tarmac towards the finish but you've chose to walk this high route, the views better be worth it. And, do you know.....they are. The views I got were fantastic all around including the sea on the right hand side but the colours on the hills and the valleys made it a wonderful sight. I was still counting down the miles in my head and noticing how the path was getting busier with day walkers, but I also noticed I was now on the St. Cuthberts Way, and I was now heading downwards towards the road and the point that low and high routes meet again, happy that I'd come the high way.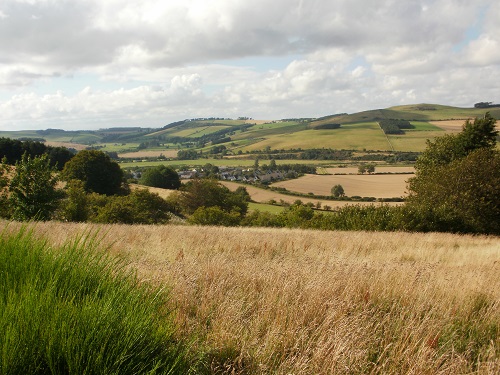 I looked at my map, this road took me into the village, there was no need to look at my map again, the finish was so close. You then follow this road up a very steep hill, which made me swear some more as I did not want to be going uphill, I wanted to be heading down. I crested the hill and started heading down and saw Kirk Yetholm for the first time, what a sight it was for sore eyes as I got an extra burst of energy after 25 miles and headed downwards, resisting the temptation to break into a jog. I entered the village and saw the green, knowing The Border pub was just to my right and....there it was. It might be just a normal pub to everyone else but when you've walked 270+ miles and maybe up to 3 weeks, this is indeed more than just a pub, it's a holy grail. You have thought many times about this moment, how you'll feel when you see it and I felt a mixture of emotions inside me as I approached the pub and saw the big sign high up on the wall.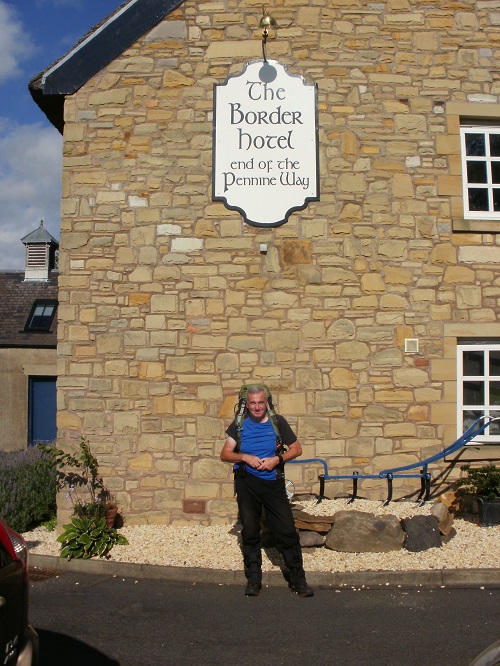 Emotions, pride at what you've achieved, sadness that it's over but also relief that it's over and you can go home to your home comforts. I found myself thinking "what now?", The Pennine Way had been on my mind since February, every day I'd thought about at length, I'd read numerous blogs and websites and I'd done much training to help me do this walk and now it was over and I no longer had an aim, I no longer had all these thoughts in my mind, the Pennine Way would no longer be something in my future but would now be part of my history, I would need to think about my next walk but for now, it would be the Border Inn with a friendly welcome from the man behind the bar who congratulated me, gave me a certificate, a free half pint and the Pennine Way book to sign. Shortly after as I got the bus out of the village, it still hadn't sunk in that I wouldn't have to get up in the morning and put a rucksack on and walk 20+ miles. The bus ride felt strange, you had been at walking pace for 2 weeks and now you were travelling fast, the scenery whizzing before your eyes instead of gradually getting nearer and then disapearing slowly like it had done for the last fortnight.