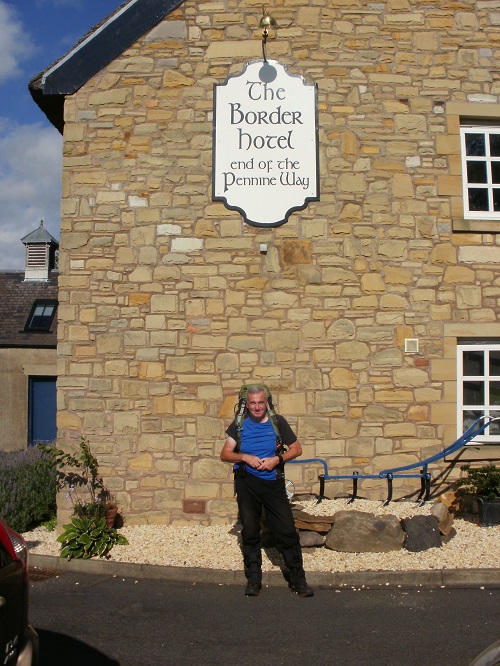 My thoughts after the walk
The first thing I usually ask myself after I've finished a multi day walk is if I would do it again? I have to say that I probably wouldn't walk the Pennine Way again. It's not that I didn't enjoy it, yes there were some days that I didn't enjoy and found either boring or simply lacked anything scenic to make the day worthwhile and I felt I was just ticking the day off. The reason I probably wouldn't do the walk again is simply because I'd rather spend the 2 weeks or more that is needed for this walk, and do a different walk instead, or a couple of walks. Maybe if I wasn't working and had time I would think about it, or maybe if I was doing it with someone else but the Pennine Way was probably my one and only time that I would attempt this.
I didn't find the Pennine Way to be harder physically than the Coast to Coast walk I'd done twice the previous year but I found it mentally more challenging, mainly due to it being a longer walk than the C2C and also due to there being many days where the amount of moorland was a bit more than I liked. Moorland is fine but when you walk for miles and miles over it, with not much else to look at, and even worse if the weather is poor, it will dampen your spirits or simply just bore you. Some days are fantastic for scenery, some are very nice and some are just walked with the feeling that you are ticking that day off as "done" and not much to interest you that day. I guess it would help if you have company but I didn't and found the wet moorland sections to be ones I wanted to get out of the way.
Ok, so I paint a negative picture about the Pennine Way but that's just my opinion after a solo walk, it's still a fantastic walk to do and don't let me put you off. There are many highlights on this walk but it's a walk that will take over 2 weeks and that's a long time to be away from home and your family. Be prepared for bad weather as in Britain, you never know what you're going to get from one day to the other, it's a walk to take gloves but also to take sun cream.
Read plenty of websites and do your homework, don't turn up at Edale just hoping everything will be ok. It's better to set off with too much information than being badly prepared and there's plenty info around on the Web for you to take in. Simple things like knowing what villages you pass through have shops for you to stock up, or maybe a pub at the end of the day for a meal or a drink to wind down or simply to use their wifi to keep up to date with what's happening in the world.
Don't listen to all the horror stories that you might read on websites about the Pennine Way, it's changed a lot over the years and you might get your boots wet some days but gone are the days when you would end up to your middle in bogs, much of the bad stretches are now covered with slabs which not only keep your feet dry and out of bog but also make the walking easier, especially going uphill and by the time you finish your walk, you will look forward to more slabbed sections.
Be prepared but most of all....enjoy yourself, even the not so nice days as you will look back with pride anytime you think about the Pennine Way.