After yesterdays quite boring day, today's walk was the total opposite, the best days walk so far, it was 4 miles longer but felt a lot shorter. I had a good sleep at the hotel and a nice breakfast before heading back to the Pennine Way after stocking up at the shop. The majority of today would be walking beside the river on good paths, first of all passing Low Force and then a bit further on past the impressive High Force, all the recent rain had ensured that both of the forces would be fast flowing and very noisy.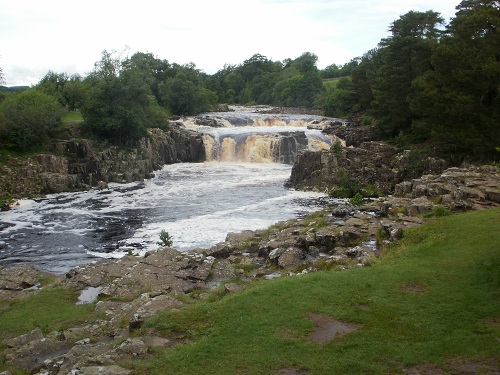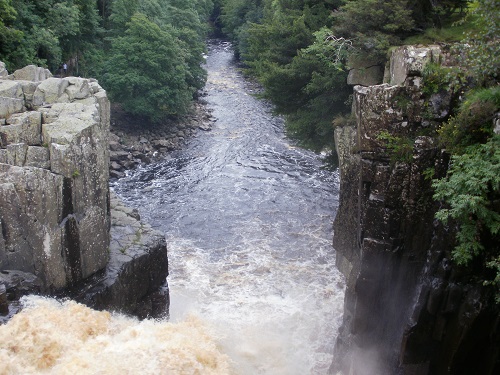 I sat on a rock just past here and had a break beside a quarry before heading on the long walk to Cauldron Snout, taking care over the rocky path at Falcon Clints but at least the rocks were dry, even if the paths weren't. It was quite an easy climb up Cauldron Snout and again the recent rainfall had made this very impressive with water cascading fast down from the top, there is something slightly hypnotising about waterfalls and the three today were in full flow.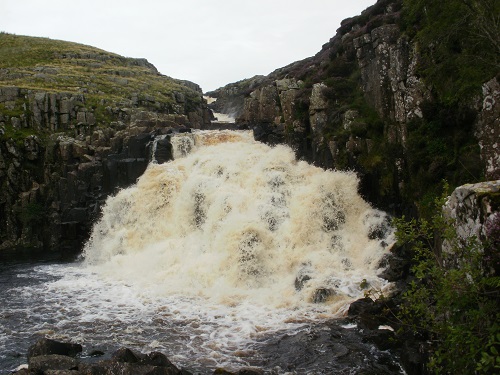 After Cauldron Snout it was a long uphill trek on a track, some of it easier to walk on than other bits which were quite uneven, I found yet another rock to sit on and have something to eat and give my legs a rest, there hadn't been much climbing to do so far today but the track was quite tiring on the legs. I hadn't seen anyone all day but I could see a couple of people ahead of me and I gradually caught them up as I crossed the river and headed towards High Cup.
As you approach High Cup, you can see the sides of it but you don't actually see the scale of it until you are standing right at the edge, and you are walking along and suddenly you are at the edge and it's one of those "wow" moments, I'm so glad that the weather today was ideal and visability perfect as this was one of the highlights of the walk for me and something I was looking forward to seeing, I knew how disapointed I'd be if I got to High Cup only for it to be covered in cloud.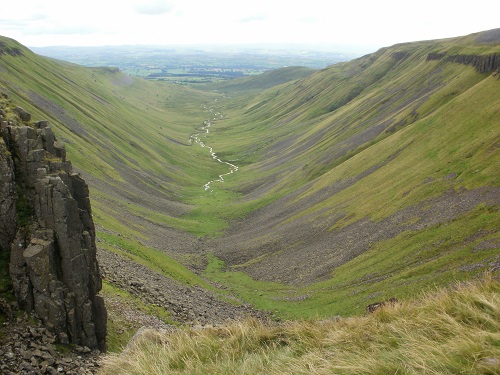 From here, you walk along one side of High Cup for a while, stopping now and again to take in the scenery before moving on. It was only a few miles from here to Dufton, nearly all downhill and with a smile on my face, what a change a day can make when you are doing multi day walks as yesterday's walk was dire but today's walk was fantastic.
I was staying at the youth hostel in Dufton where I got my laundry done and headed over to The Stag pub for my tea and to use the wifi. It was quite a loud pub, full of the locals but the meal was excellent and I headed back to the hostel later quite full and happy. I thought I was getting the dorm to myself but 2 walkers came in about 10pm just as I was starting to drift of to sleep, they were just doing a couple of days along the Pennine Way and hadn't booked anywhere, just hoping there would be room.