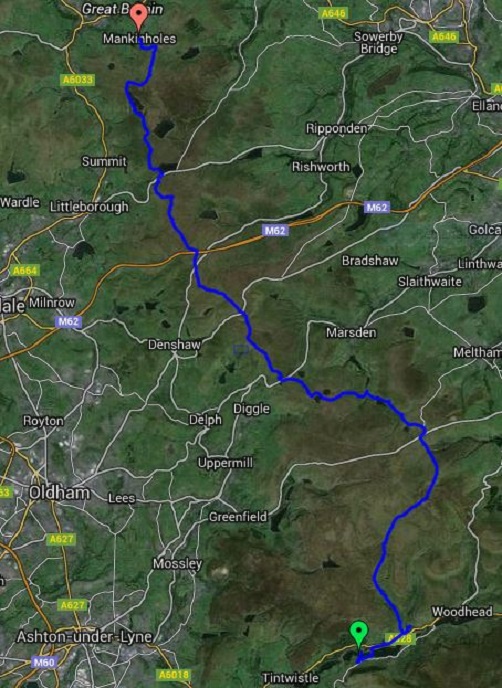 Had a very nice comfortable sleep and woke up to no aches and pains after Day 1, this would be a morning ritual when I got out of bed and placed my weight onto the floor and hoped there would be no problems. After a nice breakfast, I left and set off, the morning being cloudy but dry and warm meaning I could again set off in tshirt and shorts, making the walk a bit more pleasurable. I set off the short journey past Torside Reservoir and headed to the campsite in Crowden as they had a small shop there and I wanted a soft drink and maybe a bar of chocolate for the day ahead as I knew there wouldn't be anywhere along the way today to get things. To call it a shop however is a bit misleading as I probably have more items in my kitchen as they had. There was a choice of 2 kinds of soft drink and a couple different chocolate bars, and iof you were camping there and wanted to buy food for your tea, you wouldn't exactly have much to choose from. It's pretty sad really as the campsite was quite busy and there is no shop anywhere near.
Anyway, I rejoined the Pennine Way path and made steady progress up over the not too difficult climb to Blackchew Head and after that the path turned to slabs again which made the climb up and over Black Hill rather easier than it would have been years ago.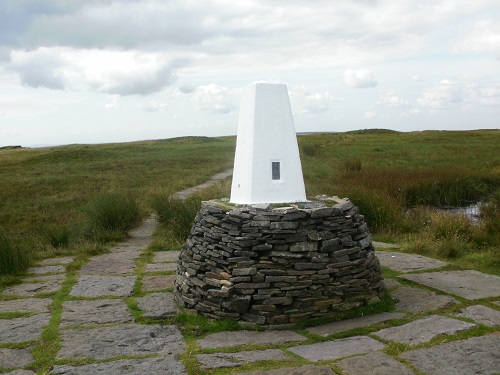 Not long after Black Hill, you come to a road where some days a snack van can be found but not today so I continued a short distance to the car park near Wessended Moor where I found a nice level rock to sit on and have a break. For the previous hour or so I had seen and heard a helicopter flying to and from near the car park, it was picking up bags of some material (possibly fertilizer) and flying a few miles away and dispersing the material over the land, then flying back to pick up more, so this gave me something to watch while I had lunch.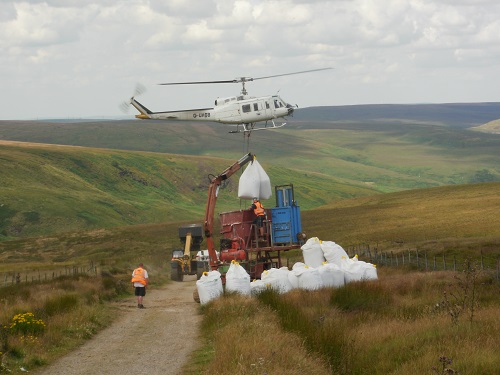 I could have stayed here longer but I had to press on as I had a long day today, about 25 miles in total. I plodded on past a couple of reservoirs and met the boy I had walked with the previous day, but he was heading towards me, which confused me. He said something about going a different way to avoid the steep hill ahead but to be honest it wasn't that bad, one of these hills where you just get your head down and go for it, puffing and panting and stopping for breath as usual. I got to the top of the hill and headed on over more slabs to Black Moss reservoir and looked behind to see the boy from yesterday quite a way bahind me, his alternative route obviously being a longer one.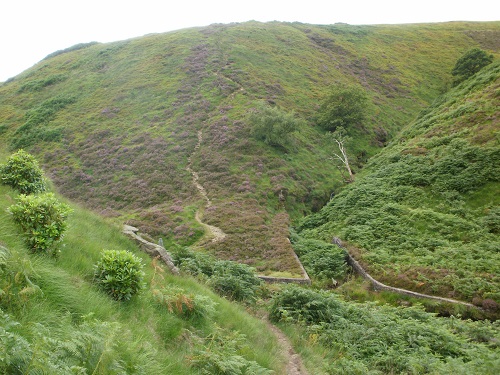 From Black Moss it was an easy walk to the A62 road and over it up to Standedge and this seemed an ideal time to have my lunch and take in the fantastic views around me. It was a warm day today and my 2nd can of lemonade didn't last long and my water was getting low but I was looking forward to getting to the White House Inn a few miles away where I'd stop for a pint and a sit down. Again, this was somewhere I could have sat longer but I didn't want to get to Mankinholes too late as I fancied a pub meal for tea, so I continued along the easy paths to White Hill and then towards the huge mast at Windy Hill, even though it wasn't windy and then went to cross the very busy M62 using the walkers bridge.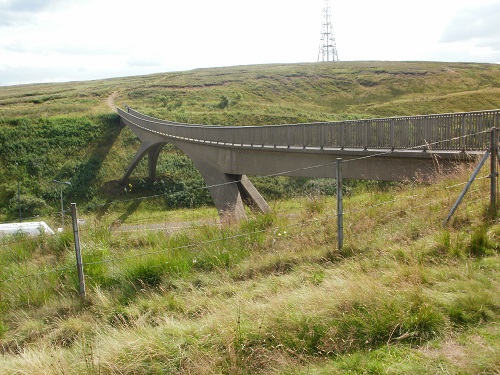 It feels quite strange walking over the motorway as the bridge is quite narrow and the traffic thunders by below you, the noise is deafening and it does make you a bit uneasy and keen to get away from it all and back into your quiet little bubble, just you and the scenery. The noise of the motorway gets gradually louder as you approach it and for a few miles after it. I was glad to get away from the motorway and press on towards Blackstone Edge and then to the A58 and the pub. As I approached I saw a large car park near the pub that was full of cars but the pub's own car park was empty, I hadn't even thought that maybe the pub would only open certain days or certain hours and as I got nearer I realised that the pub wasn't open and my promissed pint wouldn't be drunk, the pub wouldn't open until 2 hours later and I was nearly out of water on this hot day with still about 7 miles left to go.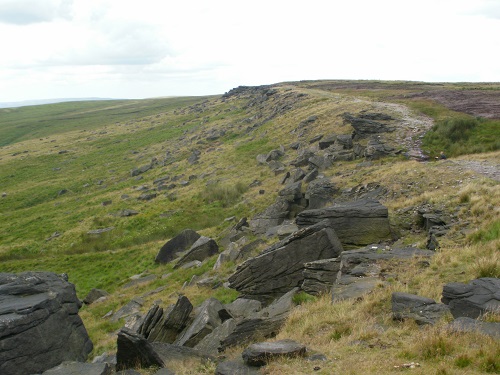 Luckily for me, the walk from the pub was mostly past reservoirs and good level tracks before heading onto more slabs and my first sighting in the distance of Stoodley Pike. I got quite close to it but my cut off to Mankinholes was before the Pike and I'd pass it the next morning. A nice slabbed level path descended steeply down into the village, I knew I'd have to climb up this same path early the next day, I wasn't looking forward to that. I descended to the village and found the Youth Hostel and found that I'd be in a dorm on my own. A quick change and I was off to the Top Brink pub nearby and a lovely big meal and a few pints to rehydrate before heading back to the Hostel and a good nights rest.