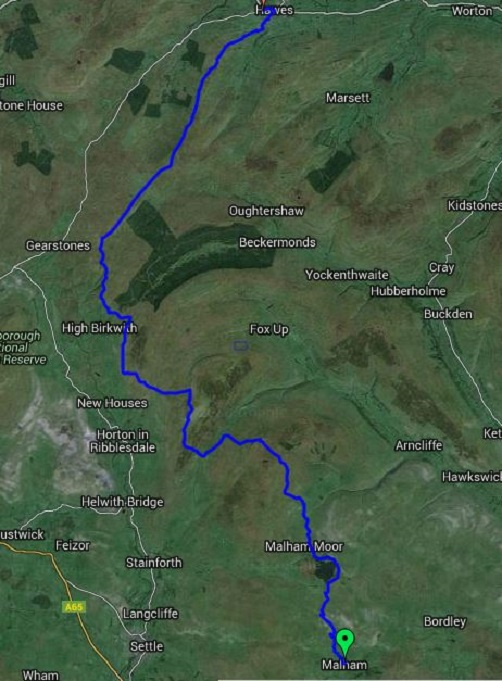 I didn't have a good sleep, this time I had someone restless in the bunk above me, so I was ready to leave the hostel after my breakfast about 7:15am. It was lightly raining so I started off in waterproofs, which thankfully had dried during the night, it probably didn't matter if my boots were dry or not as I knew they would get wet soon enough but at least I knew the first half of the walk would be on a pretty good surface. My legs felt quite tired from the previous day's 29 miles so the walk up to the bottom of Malham Cove felt worse than usual, after all my legs were still half asleep. The visibility was quite poor so it wasn't going to be a day of looking at scenery but I hoped it would brighten up later on, if the weather forecast was going to be correct.
The steps up the side of Malham Cove were as steep as I remember so it was a case of just getting the head down and getting on with it. At the top, you usually get a great view back towards Malham but not today and I carefully crossed the top of the limestone pavement at the top, knowing how slippy it was and that a slip now could be disasterous for my Pennine Way walk. Thankfully I reached the end of the pavement safely and continued on upwards towards Malham Tarn, again something that looks much nicer than it would look today in the light rain and low cloud. I had done this part of the Pennine Way before so at least I didn't feel disapointed at not seeing the great scenery this morning as I had seen it before although on a good day, this will probably be one of peoples favourite days walks on the Pennine Way.
With no scenery to stop and look at or distract me, it wasn't long before I reached the farm which would then see the long slog up Fountains Fell, the cattle looking about as miserable as I was in the morning rain which was now showing signs of going off. Near the summit of Fountains Fell, you cross a wall on a stone stile and I took the opportunity to stop here for a break, using the stile as a seat and the wall to shelter me from the wind and rain. The wet paths had again made the going pretty soft underfoot but the path would soon improve as it headed past the summit and then down towards the road.
From here, you usually get a good view of Pen-Y-Ghent but not today so it was down to the road, the tarmac being a welcome relief as I tried to recover a bit before the ascent of Pen-Y-Ghent. Just because I'd climbed the hill dozens of times before didn't mean that I was going to enjoy climbing it today, with a rucksack on my back.I got to the point where you can miss out the summit and head down to Horton when I saw my first walkers of the day, and I would see quite a few in the next short space of time, I still couldn't see the summit. This was yet another of these just get the head down and keep stopping for a rest now and again and watching your step as the rocks were wet and a small bit of scrambling is required before you reach the summit. It seemed to take me ages to get to the summit so I was happy to finnally reach it and have s eat in the shelter, I'd soon be joined by other people, and I decided to have my lunch here as I didn't know if I'd get somewhere later on to sit down and at least I was sheltered.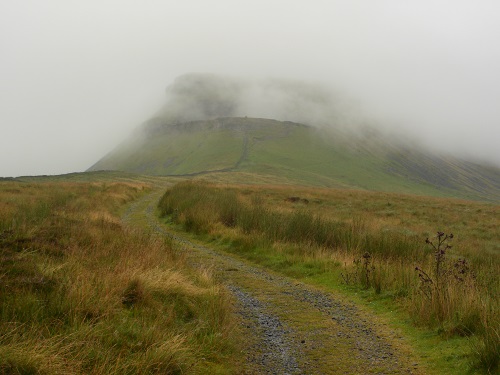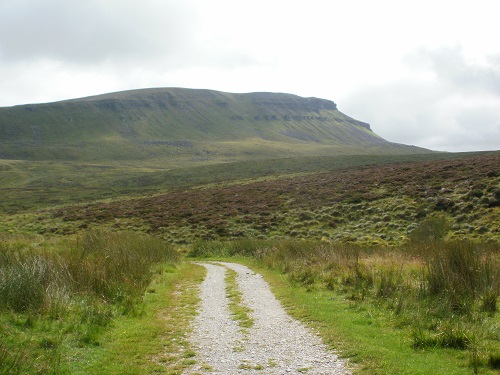 As I set off and started to descend along the 3 peaks path, I got down a short distance and the sun came out. It looked like the rain was off for the day so the waterproofs came off and as I put them away, I looked towards the summit to see that it was in full visability now, how quickly that had changed. It's then a long and quite steep descent towards Horton where you get to a crossing where you continue straight on towards Horton to stop the night or visit the cafe in the village or you turn to the right and follow the 3 peaks path for a short time before it's met by the Pennine Way and you continue towards Hawes.
I had decided that I didn't want to stop the night at Horton mainly because it felt like the day would be short and then the next day to Hawes would also be quite easy so I decided to combine them and I would do the same again if I ever did the walk again because after Pen-Y-Ghent, the only ascent you really do is the Cam Road which is a forestry track that then becomes tarmac for a while so the ascent is not difficult. The Pennine Way means many days walking so combining these two days saved a days walking plus your accommodation options in Horton are 2 Hotels and a bunkhouse or a campsite if you are camping along the way but the general opinion is that Horton has seen better days and you'd be better off saving your money and walking the extra 12 or so miles, none of which are that difficult and saving yourself a days walk.
Once the 3 peaks path meets the Pennine Way coming out of Horton, it's quite a level walk for a while and then the 3 peaks path leaves it and you continue on towards the Cam Road, passing over Ling Gill bridge before the long uphill track but it's a good path and progress is quick and by now the weather had improved so much that I could see the Lakeland Fells to the side of me. The Cam Road is quiet dull but it's fast and soon you are off it and along a track, but at least this had helped my boots get dry and I found a rock at the side of it to have a sit down and a break to let my feet recover and take in the views of the 3 peaks.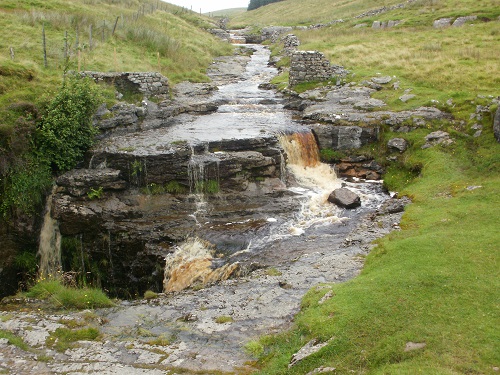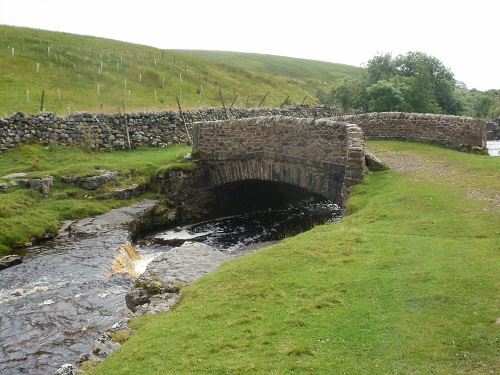 Eventually, you leave the track and head up a grassy path to Ten End and you soon start to descend and see Hawes for the first time, this will raise your spirits if you've had a long day as you know you're not far away from the delights that Hawes has to offer. It wasn't long before I reached Hawes, which felt very strange. After not seeing many people for 5 days, it felt weird to be in a busy town, full of tourists sat in beer gardens or eating their fish and chips or ice cream. I stopped at the shop for a few things and sat in the village for a short time to have a drink as I'd ran out of water some time before and just get my breath back.
The youth hostel isn't far from the town centre and it was pretty quiet so again a bottom bunk was mine. It felt good to get to Hawes because from now on the mileages would be much less than I'd been doing and I'd be basically following the days walks that most guide books recommend so from now on it should be better for my feet. I went into town, got a pizza and ate it at the hostel and started looking forward more to the days ahead, the next walk would be to the famous Tan Hill Inn over Great Shunner Fell.