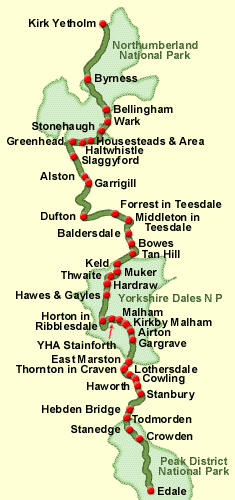 When I am planning to do a multi day long distance walk, one of the most important things I look at is where I can find food and water along the walk. If there are many shops along the walk, it might mean that I don't have to carry food and can simply buy food on my arrival for my tea and then breakfast the next morning if I'm staying in a Hostel and then maybe buy a sandwich for the next day before I set off. I find that shops like Co-op's and Spar's are good as they usually open about 07:00 and many are open late night until after 22:00 which is good if you arrive at your destination after most other shops are closed.
If there is not a shop at the end of the day, it could mean having to carry food that day with you (or pack some in your baggage if someone is carrying it for you) or finding somewhere along the days walk to pick up some supplies. You don't want to be carrying any more weight than you need to so there's no point carrying food for 20 miles if you know that there is a shop at the end of the day or along the route.
I have listed below some shops that I found along the Pennine Way when I walked it in August 2015 to help your planning. These shops were open when I wrote this in 2015, hopefully they will all still be open when you do your Pennine Way. Remember that shops may be open later in Summer and sometimes closed more often in the Winter.
Places to buy food along the Pennine Way
Edale only has a small shop in the village, beside the cafe but there's no other shop along this part of the Pennine Way so you may have to carry food this day.
Crowden campsite has a small shop in it but there was not much food or drink in it when I visited. It might do you for grabbing a chocolate bar and a can of soft drink but don't rely on it for food for an evening meal or breakfast.
Hebden Bridge is slightly off the main route but many people choose to take the Hebden Bridge Loop and stay the night there. I didn't but there are shops here including a Co-op which is open from 07:00 until 22:00 during the week and 11:00 until 17:00 on Sundays.
Colden is just a tiny little hamlet but it's home to the very popular Aladdins Cave shop. Open daily from 07:00 until 21:00 and about 100 metres from the Pennine Way, this shop will supply you not only with a great choice of food to take with you or to eat outside at one of their benches but will also supply you with non-food items e.g. blister plasters that you by now feel you need.
Haworth is a town about 3 miles from the Pennine Way but possibly somewhere you might choose to stay the night. There are many shops here including a Spar which opens 07:30 until 22:30 every day.
Gargrave has a couple of Cafe's and also a Co-op which is open 07:00 until 23:00 every day. It's a good idea to stock up here as there won't be a change to get any shops until Hawes which might be two days later.
Hawes is a busy town with a few takeaways, many shops including Outdoor shops and of course a Spar shop which is open from 06:00 each day and closes most days at 18:00 but is open later on Fri and Sat. I think they have shorter hours during winter.
Keld has a small Cafe and a good place to stop for a break and maybe grab a few items to take away with you as the next shopping opportunity won't be until Middleton In Teesdale which might be two days away.
Middleton In Teesdale is a good place to spend the night and has a few takeaways and shops including a Co-op which is open 07:00 until 22:00 every day.
Dufton has no shop so either bring supplies from Middleton In Teesdale or choose to eat at the local Pub or the Youth Hostel if you are staying there. The Hostel has a very small shop, but you can grab some chocolate or soft drinks here.
Garrigill is a small village that you pass through after Cross Fell and has a small shop and a pub, but these aren't open all day. Alston is only about 4 miles away though.
Alston is a nice little town with a few shops, chip shop and has a Spar in the Patrol Station open 06:00 until 22:00 and a Co-op open 07:00 until 22:00. Might be a good idea to stock up here as the next shop may be Bellingham.
Haltwhistle might not be on the Pennine Way but it's possible that you might choose to stay here or walk through it before you proceed to Greenhead. It has a few shops including a Co-op open from 07:00 until 22:00
Greenhead has no shop but it has a nice pub serving meals which is handy if you stay the night there or in the Hostel over the road. There is also a Tea Room where you might have a snack or buy some scones or cakes for the next day along Hadrians Wall.
Bellingham has a couple of shops including a Co-op open 07:00 until 22:00 which you will want to stock up at as there is no shop until the end of the Pennine Way.
Kirk Yetholm has no shop but if after walking over 270 miles you feel like walking an extra mile or so, Town Yetholm has a village shop open 07:00 until 18:00 Mon to Sat and 09:00 until 16:00 on Sundays. Personally, after walking over 270 miles, I did not want to walk an extra mile and chose to wait until I got off the bus in Kelso and chose to spend the time waiting for my bus in Kirk Yetholm in the comfort of the Border Hotel congratulating myself with a few pints of beer before heading home.