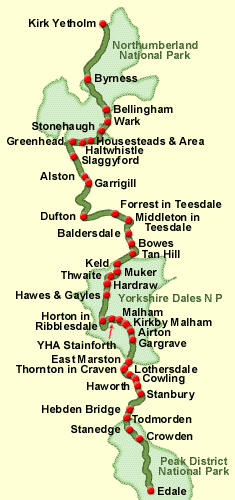 When you plan the Pennine Way walk, you will find that some days are easier than others to book accommodation. Some of your planned stops will be in rural areas with not much choice, so the earlier you book, the better chance you have of getting accommodation. You might find that you have to detour from the path to seek accommodation, either by walking there, getting public transport to your accommodation and then back again in the morning, or in some places the owner of your accommodation may offer to come and get you at the end of the day and return you to the Pennine Way in the morning after breakfast. Below is a list of places where I stayed and an approximate distance from the start at Edale, and also some suggestions, bear in mind that I walked quite far distances the first 5 days.
Edale - 0 Miles
It's probably a good idea to stay the night in Edale before setting off in the morning, that way you can start nice and early and also fresh and raring to go. You will also want to take some time taking the obligatory photos at the start and maybe visit the shop or the cafe if you haven't already eaten. I stayed the night at the Edale Youth Hostel which is a short walk from Edale in the morning but it was cheaper than staying in the village. It is however quite a popular Hostel, especially for schools so has large Dorms which means it's not the quietest place you will stay at during your trip. Alternatively, there are a couple of pubs and guest houses in the village and a campsite if you choose to do some camping on the Pennine Way.
Crowden/Torside - 15/16 Miles
Many people choose to stop here at the end of day 1. There used to be a youth hostel here but this is no more. I stayed at The Old House at Torside which is a short walk from the Pennine Way. They have Bed and Breakfast available or you can just pay for a room with shared facilities, breakfast optional. They will offer to drive you to the nearby pub for a couple of pounds and bring you back if you want but I chose to use the kitchens in the shared facilities block to cook my own tea. They also have a small cafe which is open to the public and a good way to end your day by sitting on the terrace eating chocolate cake. There is a campsite at Crowden with a small shop.
Mankinholes - 38 Miles
A long day for me but I chose Mankinholes to stay at Mankinholes Youth Hostel which is a short descent from the Pennine Way. The hostel has seen better days, it has to be said but was cheap and I had the room to myself. The Brink Inn, which is just accroos the field from the hostel is an ideal place for a bite to eat if you're not cooking at the Hostel. There are a few places before Mankinholes that you might think about stopping for the night, slightly off the path e.g. Marsden and Standedge. Your plan though might be to detour to Hebden Bridge at the end of your day.
Haworth - 57 Miles
I was rather hasty when booking Haworth Youth Hostel as Haworth appears in many Pennine Way guide books but I found out after I booked it that it's about 4 miles away, which I ended up walking. Haworth is a good place to stay the night so if you want to stop here, I'd advise you to leave the Pennine Way path near Stanbury (which also has accommodation) and get the bus to Haworth and back in the morning. If I did this walk again however, I'd probably continue along the Way to Cowling, which also has a guest house and also a campsite.
Malham - 78 Miles
Another long day for me, you might want to split this and stay the night at Thornton In Craven or Gargrave which has plenty of shops and also a campsite. I however plodded on to Malham Youth Hostel where I had stayed a few times before. There's a pub serving meals next door and another one in the village if you don't want to cook.
Hawes - 107 Miles
Another long day, most people will split this day and stay the night at Horton In Ribblesdale at one of the pubs, the bunkhouses or camping in the village. I however chose to walk onto Hawes which has many shops as well as a wide choice of accommodation, I stayed at Hawes Youth Hostel which was very nice and on the edge of the town and just a few minutes away from all the shops, pubs and cafe's.
Tan Hill Inn - 124 Miles
When you leave Hawes, you might choose to stay the night in Thwaite, Muker or Keld or continue a few miles further on to the Tan Hill Inn. I stayed at the Tan Hill Inn in their bunkhouse and didn't really enjoy it but this was probably because it was a Saturday night and there was a festival going on that weekend which meant not much sleep as people were playing musical instruments downstairs until after 3am. It also meant getting food or somewhere to sit and eat it was never going to be possible for one single walker on his own (me) and because it was so busy, there always seemed to be a queue for the toilet at the bunkhouse.
Middleton In Teesdale - 142 Miles
Some people prefer to do the Bowes Loop and stay the night in Bowes but there's not much to do there and it's not very far from Tan Hill if you've stayed the night there so I preferred to walk the original route and stop at Middleton In Teesdale which has a choice of accommodation and also a few shops and takeaways. There is a campsite but I chose to stay at the Teesdale Hotel which was a bit on the expensive side and my single room was very small indeed but I chose here as I'd been staying in shared accommodation so far and thought I might prefer a room to myself about the half way point of the Pennine Way and a cooked breakfast in the morning.
Dufton - 161 Miles
There's not much choice really but to stay in Dufton, unless you can arrange with a local guest house to collect you and bring you back next day as many do. I stayed at the Dufton Youth Hostel and dined over the road at the Stag Inn. The hostel was quite nice and also quiet in August. Other alternatives would be Coney Garth farmhouse nearby or Brow Farm bed and breakfast.
Alston - 180 Miles
I stayed at Alston Youth Hostel and had the dorm to myself, infact I think I had the whole hostel to myself. Alston has a few shops and also takeaways if you don't want to cook at the Hostel. Alston also has a couple of hotels and guesthouses plus a bunkhouse or you might prefer to stay the night 4 miles earlier in Garrigill.
Greenhead - 200 Miles
Not really much choice on this bit of the Pennine Way, it's either Greenhead or detour off the path and stay somewhere like Haltwhistle. I stayed at Greenhead Hostel which used to be the youth hostel. The Greenhead Hotel accross the road owns this and also has accommodation but obviously more expensive, but they do nice meals. There are a couple more guest houses in Greenhead.
Bellingham - 223 Miles
Quite a long day with not much options before Bellingham. Once Brewed youth hostel is an option but this is closed for refurbishment and won't be open until summer 2017 and Twice Brewed which is nearby I found to be too pricey. I continued on to Bellinham where I stayed at the Cheviot Hotel which was a very nice room and in the middle of the village beside the shops. A bit pricey but it was worth it for the posh bath and king size bed as well as the cooked breakfast in the morning. There is also a bunkhouse in Bellingham where I had originally booked and paid for but they then claimed to have made a double booking and would repay me, which annoyed me as I'd booked my whole Pennine Way journey and now had to hope I could get somewhere else, luckily I did. They then had the cheek to email me a few weeks later to say that they now had room if I was interested, grr.
Byrness - 238 Miles
At this stage of the Pennine Way, accommodation is very limited and there really is no choice but to stay at Byrness, either in the campsite or the old youth hostel. I stayed there, it's called the Forest View Inn and has single rooms, plus a bar and restaurant. Bear in mind that after Byrness, you have to either walk the full 26 miles or so to the end of the Pennine Way, stay the night in a cold mountain refuge hut if you have a sleeping bag or use Forest Views service. You can book 2 nights there and they will come and get you the next day from the half way point then return you on the final morning after breakfast where you will continue onto Kirk Yetholm.
Kirk Yetholm - 266 Miles
When you finish the Pennine Way, you have the option to stay in the village or head home or at least start the journey home if you can't get all the way home that day. I'd prefer to stay in the village and not worry about bus times and just relax and take in the achievement of completing the Pennine Way. If you prefer to make a start on your journey home, the bus will take you to Kelso where there is a choice of accommodation or you can get a bus to Carlisle or Berwick and stay the night there or continue onwards towards home.