A wet final day to finish the TMB on
After nine fantastic days walking with only a short period of rain, today would be a very damp ending to the TMB. I woke up and looked out the window but all I saw was clouds and the forecast was for heavy rain all day so the camera didn't see much action and stayed mostly dry in my pocket. It was a slight anticlimax to the end of my adventure but overall the weather had been better than expected so I can't complain and the previous nine days more than lived up to my expectations so I would descend wet but very happy.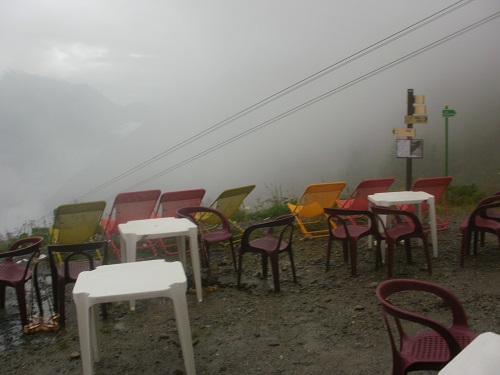 The mood in the Refuge matched the weather, no one was really looking forward to leaving and some were thinking about getting the cable car down to Chamonix as it was clear that there would be no views today. I decided to set off and head a few miles to Plan Praz and then make a decision either to climb Le Brevent or to take the alternative route down to Chamonix depending on how the weather was looking.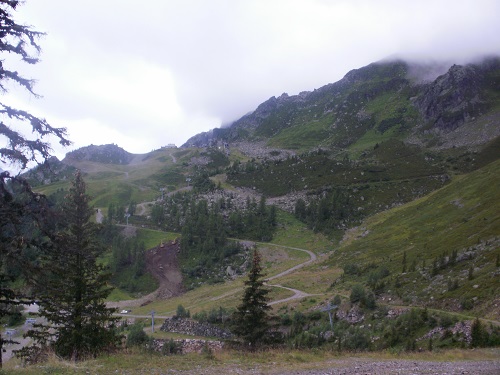 On leaving the Refuge, the path was relatively level but there were plenty of wet and slippery rocks around to contend with plus the path was quite wet and muddy in places. There were no real views down or over the valley and Le Brevent which was a possible choice was hidden with clouds. I kept hoping that as I got nearer it would clear but deep down I knew my walk would be cut short as there was no point walking in the clouds with no views. I have had nine magnificent day's walking, taking the higher routes for the best scenery so one missed hill wouldn't be much of a loss. I could see walkers disappearing into the gloom but I also saw walkers heading down towards the Chamonix path and I was happy to join them.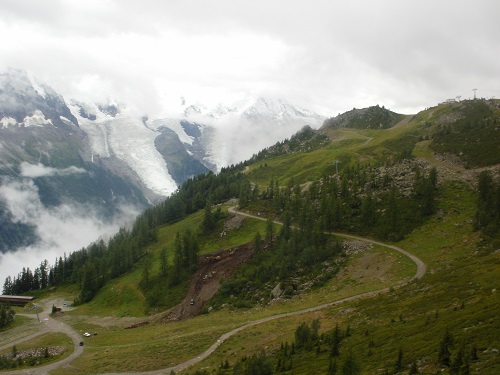 From Plan Praz, it was a long way down and more of these blooming zigzags and narrow paths, again taking care crossing wet rocks. There was no shelter against the persistent rain sadly so it was just a case of head down and get on with it, and no views to at least ease the boredom. No views also meant the camera was staying in the safety of my backpack.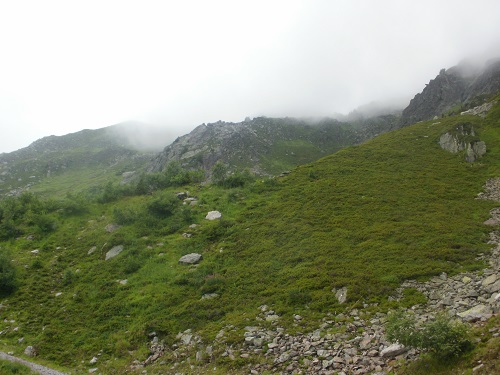 I had about 3280ft/1000m to descend before reaching Chamonix and it was slow and careful going. After what seemed an eternity I entered woodland and at least got a little bit of shelter. By now I had started to hear the traffic noise coming from Chamonix below me but still couldn't see it. Down and down I went, just looking forward to getting to Chamonix and then my bus to my Hotel in Les Houches earlier than expected. I could have taken alternative paths before reaching Chamonix that would take me towards Les Houches but I was happy enough to get finished and dry out than more trudging through woodland for more miles with no scenery.
I was happy enough to descend into Chamonix and finish my TMB there and eventually I passed under the cable car from Plan Praz and into the start of the town which was busy with tourists and I wondered how many of them had just arrived, would be setting off on their own TMB the next day and being disappointed with the weather. As I stood in the shelter waiting for my bus feeling very content I hoped that the people just arriving would enjoy their TMB adventure as much as I had done.
After ten days, it was nice to get a shower and then get changed into jeans and trainers and walk into Les Houches from my Hotel with no backpack on, (ironically the rain had stopped) and buy lots of goodies and touristy gifts knowing that I didn't have to do any more walking, my TMB adventure was over and I was so glad that I had experienced it for myself.
Staying in Les Houches before/after the TMB
I stayed at the Hotel Chris-Tal in Les Houches before and after I walked the TMB. It is on the edge of the town but only a few minutes walk from the Centre where there is a good little supermarket as well as a couple of sports shops, cafes and gift shops. The Hotel also have a service where you can leave your baggage with them until you return for a small fee, meaning you can leave clothes in your case to change into when you finish or to spend a few days locally. The Hotel has a restaurant but I didn't use it and also has a breakfast option. I chose the cheapest room which was basically just a double bed and a TV, with a shared bathroom but it was quite cheap compared to the other local Hotels and did me just fine. I'd be happy enough to stay here again if I was in Les Houches.