A hard day on the knees and legs
It was a lovely morning when I woke up in Champex and the forecast was good but with possible rain about 4pm so I decided to do the variant route over the Fenetre D'Arpette. I knew it would be a tough day but if the weather is good, I recommend doing the higher routes. The sign said that there was about 90 minutes difference in time between the two routes.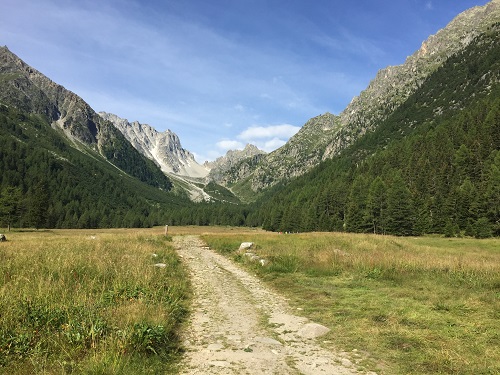 I left Champex through the village and turned off and passed under cable cars before starting a gentle climb on a forest path that then got steeper before it joined a track. The early morning sun was warm and I stopped for a short break, I had plenty time today and also needed all my energy for the steeper part of the day ahead. The track lasted a short time before cutting off onto a thin path which rose gently beside a gully. Ahead of me I could see that it was going to start getting steep shortly.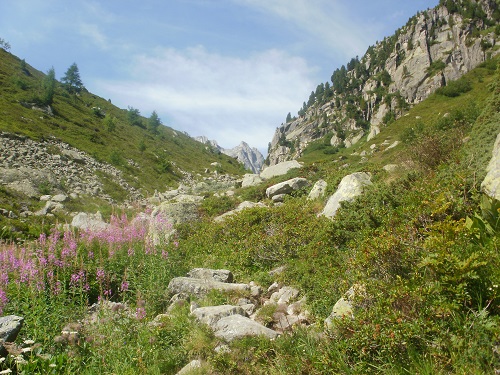 The path soon headed steeper and a short bit of scrambling over the occasional rocks until I reached a false summit from where the Fenetre D'Arpette came into view high above.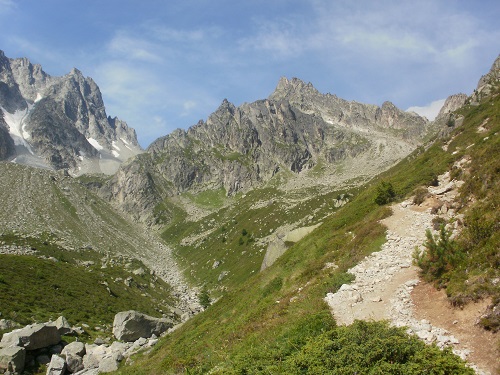 From here the path zigzagged for a while before leveling off a little. I could see many people walking slowly ahead of me and many zigzagging near the summit. I still had a lot of ascent left and first off was a long uphill stretch of boulders to cross over and upwards, using the red and white markings on the rocks above as a guide to help find an easier climb.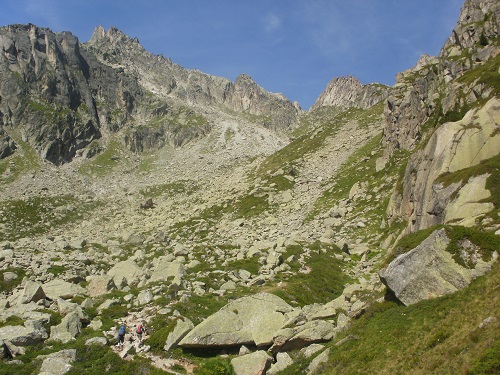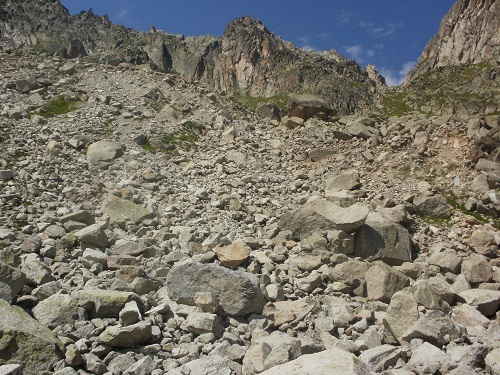 I didn't like the boulder fields but at least the rocks weren't wet. Eventually I looked up and could see where the boulders ended and the last of the zigzags started but it took a long time to get that far. I was relieved though to eventually reach it as the zigzags were easier to walk on. The summit was very close above me and busy and with a sigh of relief I joined them, moved away from the path and had my lunch looking back down the valley that I'd climbed while my legs recovered and also over the other side of the summit where I would be descending after lunch.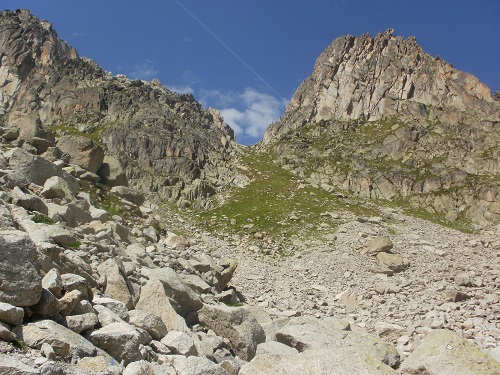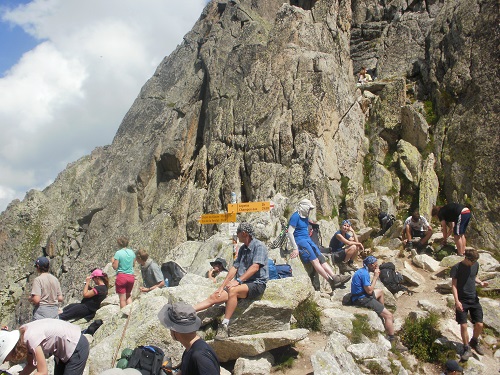 I could have stayed longer but I left once I had eaten my lunch, the summit was a bit busy with people coming in both directions. Heading down was also very steep and slow and I had to stop every now and again to admire the new scenery including the fantastic Glacier Du Trient facing me.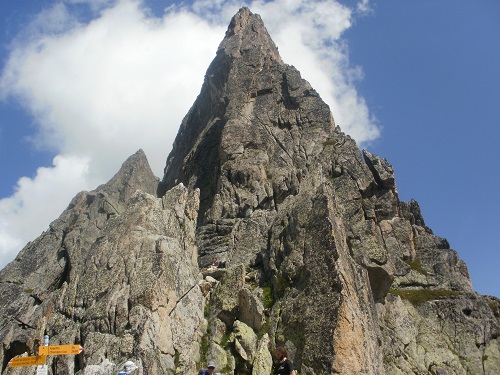 It was a long and slow steep descent with only occasional level bits of path as I headed down the valley in the direction of Trient and the Col de la Forclaz. My legs, knees and feet were starting to get sore with all the downhill walking so I was glad to see the path leveling out. I soon saw a small cafe and easily persuaded myself to stop for a drink and to give my legs a rest, they deserved it. I looked at my phone and it said I had only walked about 6.6 miles/10.6km, it felt so much further than that.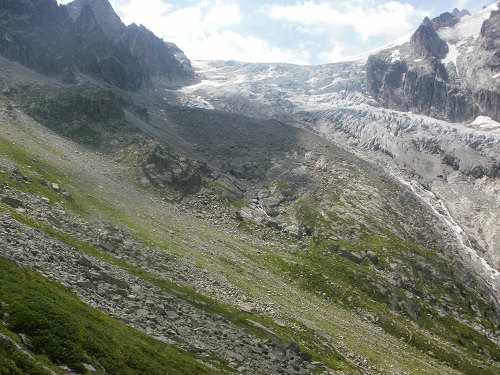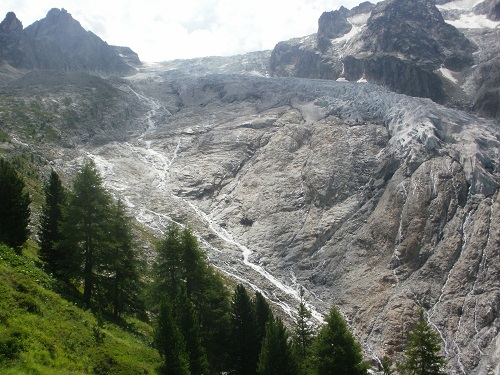 The skies were getting darker now and a sign told me I had about an hour left to walk, I hoped I would make it before any rain. A nice level easy path high through the forest after the cafe went on for ages before I saw a sign directing me to Trient where I was staying the night. This would be a gentle grassy zigzag path descending to the main road then over it.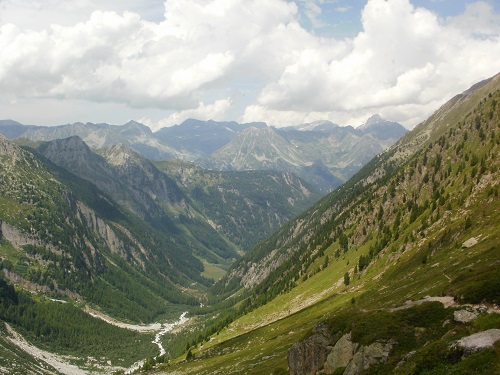 I soon reached the village of Trient and the Auberge du Mont Blanc where I was staying the night, checked in and bought a drink just as the rain started falling, I had just made it in time. I relaxed with my drink and let my feet recover as I watched the wet walkers arrive at the Auberge.
It had been a tough day, both uphill and downhill, a day where the distance passed really slowly but this route had been my choice. I could have done the easier and quicker route but I would be kicking myself for missing out on more magnificent views. If you have good weather, take the harder but more rewarding route over the Fenetre D'Arpette.
The Auberge du Mont Blanc in Trient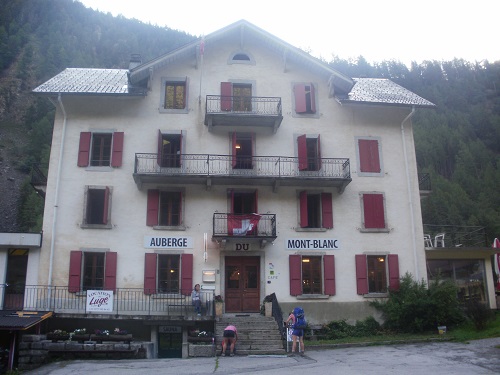 There isn't a lot of places around here to stay the night so the Auberge was very busy and I found the Dorm's quite cramped and the beds seemed narrow. At least here you had a choice of two different meals, there was fondue or pork and rice, the other places I stayed at didn't offer a choice. The food was tasty enough but I could have done with a bit more after a hard day. Here there were toilets and showers for men OR women rather than the shared ones that I'd had in some places. They also do a packed lunch picnic for the next day but I felt it was a waste of money as you have no choice about what sandwich, drink, chocolate bar and fruit you get.