A long day split into two easier sections
Due to time restraints I only had ten days to do the TMB so I decided to merge two shorter days walking into one long one and would walk from Courmayeur to La Fouly (with an easy 4 hour day to follow to Champex the next day) but I'd advise you to do it in two days if you have the time. I've written about Courmayeur to Rifugio Bonatti on this page and on the next page I have written about the stage between Rifugio Bonatti to La Fouly.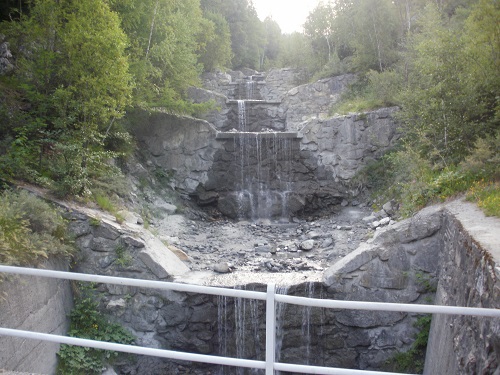 It would be an early start from Courmayeur and very soon I was heading steeply up a road which eventually became a track. Leaving this early meant at least that the sun was still hidden behind a mountain for a while so it was much cooler and more pleasant. Having said that, it was still warm and I was sweating already with the effort. This is a day where there are two different options, there's a Val Sapin varient but I chose the longer route, although it ended up being totally different to my guide book and map and seemed to find a third route but it was spectacular.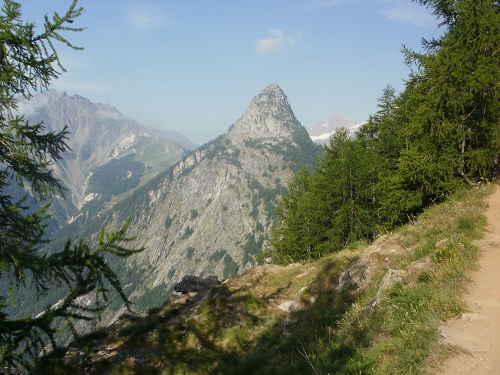 At the point where the paths split and the Val Sapin variante route goes straight on, I headed up through the woods and lost count of the many zigzags involved. By now I was high enough for the sun to shine on me but at least the trees gave me some shade. Now and again there was a clear sight down to Courmayeur just showing how high up I had come in a short time. The zigzags just went on and on until eventually the trees started thinning out and I could see the Rifugio Bertone just above me.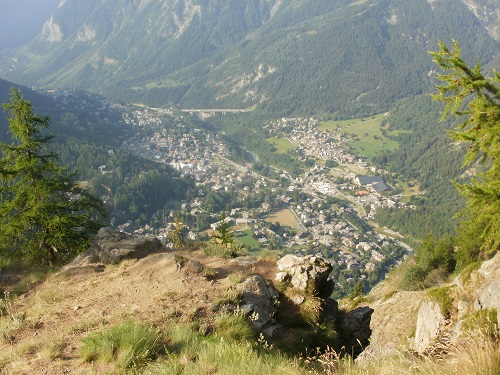 I soon reached the Rifugio but with my early start and long day ahead of me, it was a bit early to stop for a beer, even for me, so I continued heading onwards and upwards. A few minutes later, I was facing right over to Mont Blanc, the first time I had seen it. It looked amazing with no clouds covering it and just blue sky. It was a truly magical sight to finally see it after walking round it for four days without seeing it's summit.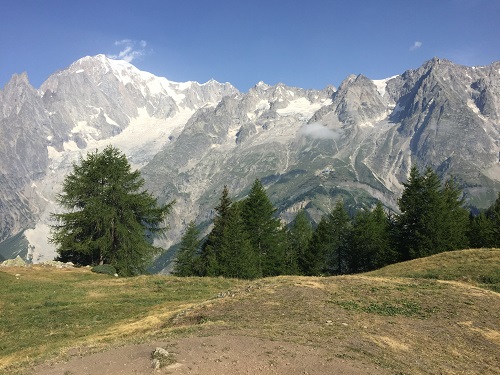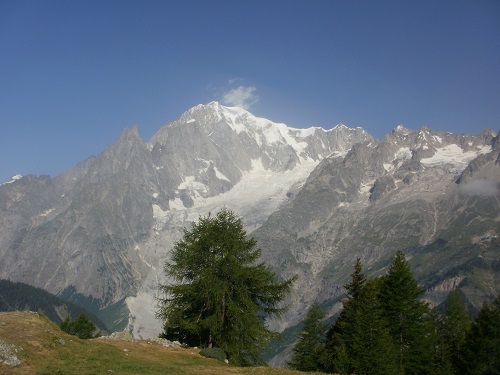 I was hypnotised by it's beauty but I had to move on as I still had a long way to go today. It was here that my map and guide book told me the route was up the hill but the signposts suggested the official TMB path went a different way and round the side of the hill. I decided to go the suggested way as I assumed it would go uphill eventually but it didn't. This path was smooth and contoured around the hillside for over 4 miles/6.5km, which is just as well as I spent more time looking at Mont Blanc than looking at the path, with uninterrupted views across to the Mont Blanc massive and Grandes Jorasses, this would be my favourite stretch of path on the whole of the TMB.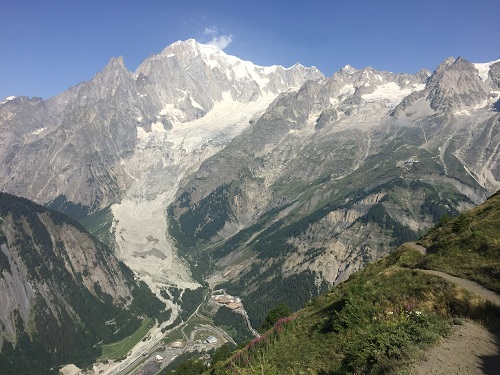 The only downside was the sound of traffic heading to and from the Mont Blanc tunnel far below me, which was a shame. I kept waiting for this path to go uphill but it didn't and instead took you through lovely pasture land with colourful flowers and butterflies. The path was so smooth that I was just below Rifugio Bonatti in under four hours, time had passed so quickly with the fantastic views and the quick path beneath my feet. A short but steep walk uphill then took me to the Rifugio where I stopped for a little rest and a snack before moving onwards for Part 2 of the day's walk.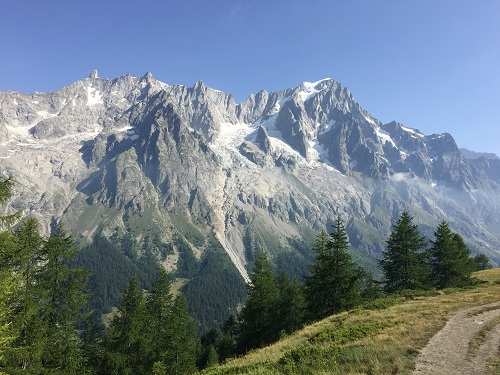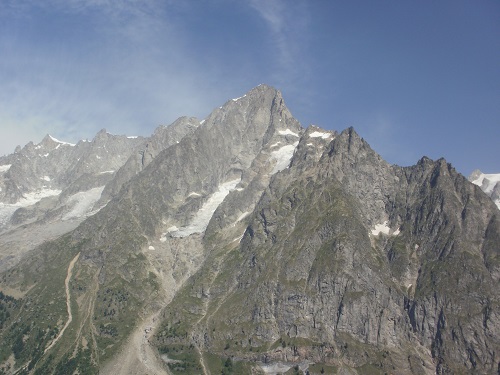 Stop at Rifugio Bonatti or go onto Rifugio Elena?
If you were walking from Courmayeur to Rifugio Bonatti I would recommend that you went on to Rifugio Elena which is a couple of hours further on from Rifugio Bonatti and mostly an easy path rather than finishing after four hours, this would mean a shorter next stage to La Fouly the next day, and being fresh for the big climb straight after Rifugio Elena over the border into Switzerland over the Grand Col Ferret.
It took me about four hours to get to Rifugio Bonatti and then just over another two hours to Rifugio Elena so this would be a six hour day. If however you feel energetic (or mad) you can continue on to La Fouly which would then be over four more hours from Rifugio Elena over the Grand Col Ferret. It was a long day for me, especially the descent into La Fouly but I knew the next day would be very short and would be quite easy on my tired legs and I'd have plenty of time to let them recover in Champex.