The last day of great scenery on the TMB
Today would be my shortest day on the TMB in terms of mileage but I still set off quite early so that I could finish the day about 1pm and relax and enjoy the views at the Refuge de la Flegere on my arival. The start of the day was a gentle walk through the woodland although my GPS was telling me to walk up a path that didn't seem to exist so I had to backtrack and find an alternative path through the woods.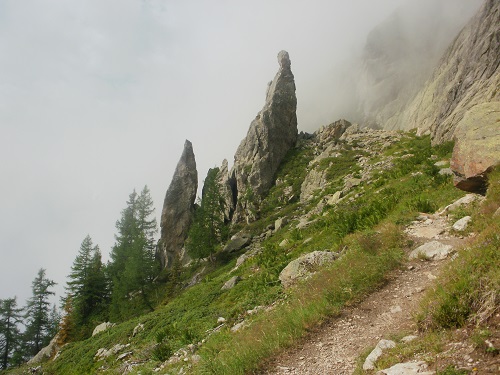 Soon I was on my way through Les Frasserands and back on track. I was looking forward to reaching Lac Blanc but not so much looking forward to the steep ladder section before Tete Au Vents and this was on my mind as I slowly made my way zigzagging uphill looking at the morning mist covered hills over the Chamonix valley. The same mist would occasionally spoil my view as I walked in it towards the pointed rocks of Aguillette D'Argentiere, it was here I finally saw the ladder section.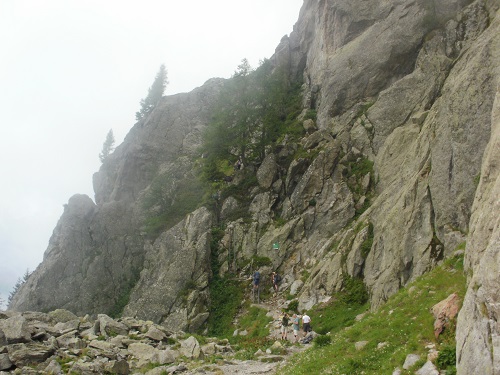 There was a group of walkers before me, just starting on the ladders and taking photos of each other. I, on the other hand approached a bit more nervous and made sure everything was put away in my backpack to avoid it falling back down. I carefully made my way up the first few sets of ladders, thinking how glad I was that they were dry and not looking down.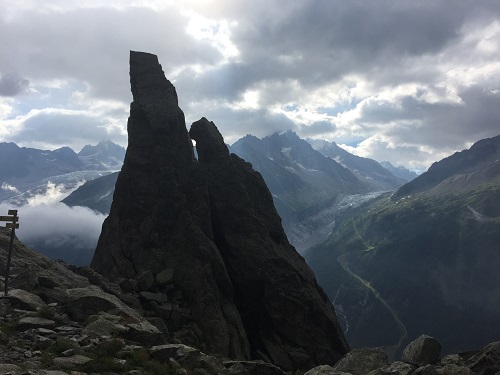 There were quite a few sections of ladders plus wooden and metal steps to climb, but it wasn't as bad as I'd feared it might be and at least they were dry. There was still a steep rocky section to climb before reaching the summit. From here there was two options, either the low section to Flegere or the higher route via Lac Blanc. I chose the higher route. At this point I was surprised to hear someone call my name and turned round to see the Scottish men that I'd seen on the first day on the TMB near Col da Voza, I hadn't been expecting to see them again as they were taking one day less but it turns out they had changed their plans and taking an extra day. It was nice to see them before they took the lower route.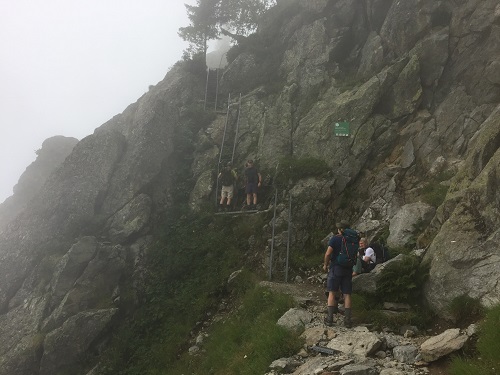 It was an easy enough path to climb and then a final bit of ladders to concentrate on before I saw the Refuge at Lac Blanc not far above me. I soon reached the pretty Lac Blanc and saw how busy it was and found a quiet spot and sat and had a break and something to eat which I watched the masses of people arriving from the Flegere side of the Lake and not the side I'd walked up from Montroc or Argentiere.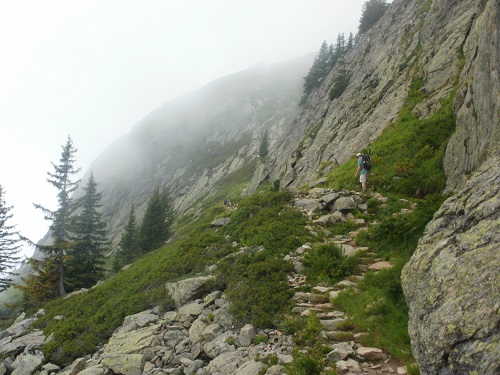 The route up to the lake had been quite quiet with just walkers on it but the path down to La Flegere was anything but quiet. I didn't enjoy the descent, the path was easy enough but the streams of tourists walking in the opposite direction took a bit of enjoyment out of it. I must admit I'm greedy and would like the hills all to myself at times.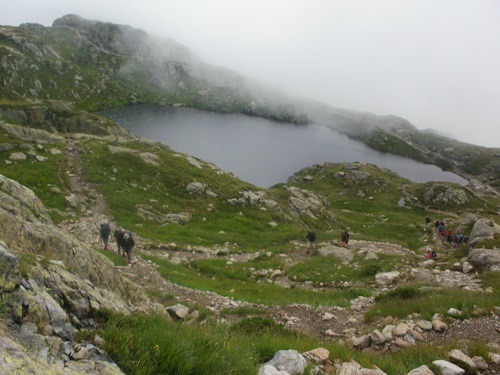 The views over the valley from here to Mont Blanc would be fantastic but for now the mountain was mainly covered in clouds. More people came and went, they get the cable car to La Flegere and then walk to Lac Blanc and most seemed to want to walk into me rather than round me.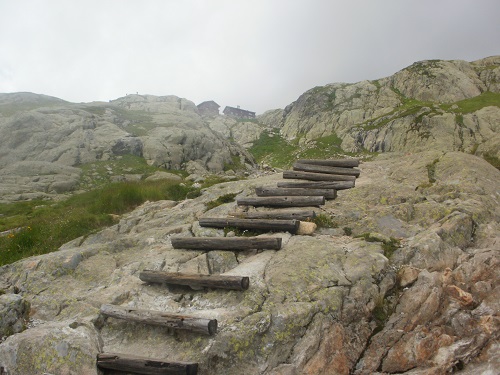 To my relief I saw La Flegere not far away and only a few tourists to avoid before the last little climb up to the Refuge. I was one of the first to arrive so I quickly got a shower and changed before sitting outside for hours relaxing and taking in the magnificent views down towards Chamonix and up at Mont Blanc which was now free of clouds. These hours were very relaxing and I was joined by a few people who I'd met on previous days and were all excited about finishing the next day.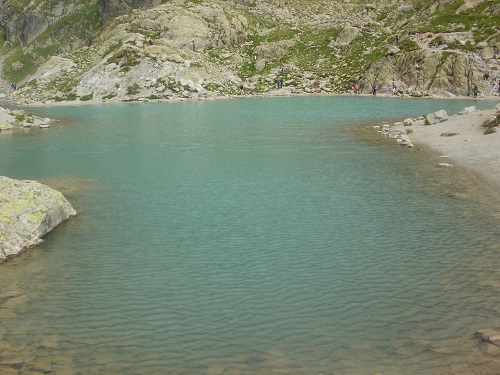 Today had been yet another dry day, tomorrow's forecast is for rain and lots of it all day. I really can't complain though if it rains as I've only had the waterproofs on once in nine days. Tomorrow will be my last day on the trail, a Hotel awaits so if I'm wet I won't mind as much as I'll have my own room, shower and I'm especially looking forward to the choice of food in Les Houches. If the forecast is accurate though I may have to take a different route down and miss out Le Brevent and instead head directly down steeply into Chamonix but I won't mind as I won't get views in the clouds on Le Brevent if I climb it and I've had 9 fantastic scenic days on the TMB so taking a wet weather route will not be a disapointment.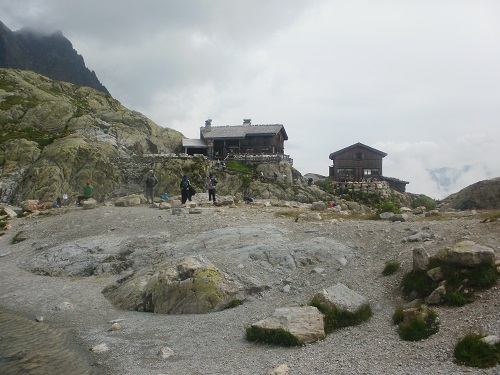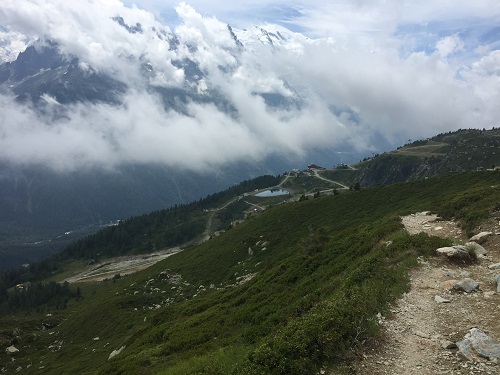 Staying the night at the Refuge de la Flegere
The Refuge de la Flegere is a popular place to stay the night before heading down to Les Houches the next day to finish the TMB mainly because there's nowhere else around for miles. The good points about the Refuge would be that it has fantastic scenery on clear days and the food was very tasty but still not enough for my appetite. The Dorm I was in was clean, roomy, had a great view and even had a single bed, which I was lucky enough to grab. The main negative point about the Refuge is the fact that it's entirely made out of wood and when someone walks up and down the stairs it's like an elephant. Sadly, if the Refuge is very busy, there will always be people walking up and down the corridors and stairs into the early hours and also during the night which makes it difficult to get a good sleep because of the noise. Obviously this also happens in the morning when people are up and about from about 5am and you still want a couple of hours more sleep. Great Refuge, great location, just a shame that the great character of the Refuge makes it so hard to sleep.