After months of planning, I was now on my way.
Today was the day I had waited for since I planned and booked the Tour du Mont Blanc seven months earlier. It was all about to become a reality and I couldn't wait. All the photos and videos that I had seen online for months and in the many blogs and websites that I'd visited, I would soon be actually see with my own eyes. I had only ever walked in the UK so it felt strange starting the day from Les Houches as this is already higher than England's highest mountain, Scafell Pike. Les Houches is a pretty place with pretty houses, Scafell Pike however is a bleak rocky place.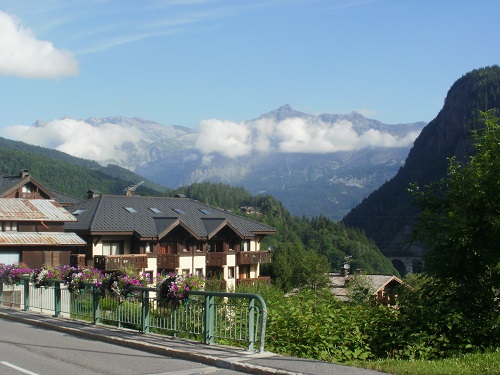 There is no designated starting point for the TMB as it's a circular walk, so I chose to start at an information board at a point near my hotel where hopefully in 10 days I would then return to. I took the usual photos and headed off along the road towards the village center and the shop, I was finally walking the TMB for real and not just in my head.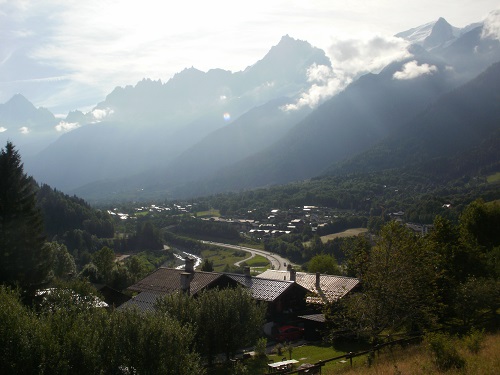 I visited the shop then a gentle walk through the village until I saw the direction sign to head uphill, this is a very well signposted walk if day 1 is anything to go by. The walk would see my first section being from the village up to Col de Voza and it was basically uphill all the way, firstly on a steep road and then a track, there was no hurry which is just as well as it was slow going. On this section though I saw many other hikers and I knew that this would be a very busy but friendly trail.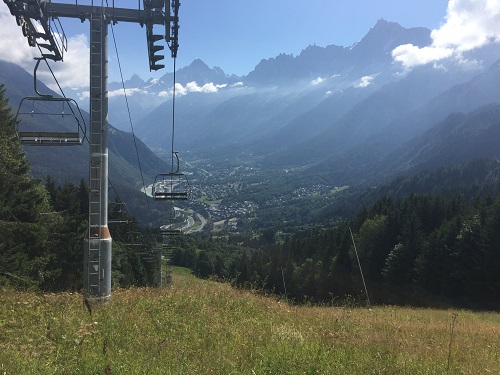 As I got higher, the views got better and better, the views down towards Les Houches and Chamonix told me how high I had come already. In front of me I could see a gap in the hills where I assumed Col de Voza was. After lots of slow ascent on track I came to a cafe which was closed but many people were having a rest on the seats and tables so I did too. I then heard a couple of Scottish accents which was nice as I had only heard French. Ian and Robert were from Glasgow and I would see them a couple of times but they are doing the walk in nine days so will be in front of me.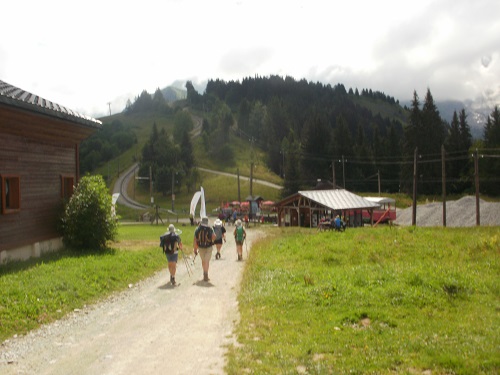 After my break I headed the short distance to Col de Voza and resisted the expensive beer and ice creams, I would soon learn that food and drink is expensive at every Refuge, Auberge etc. on the trail usually because they have their goods flown in by helicopter. At this point there are 2 options, either take the official TMB route to Les Contamines which is the easier option or take a varient route over the Col de Tricot which would mean more climbing but greater scenery rewards and as it was a lovely day, it seemed a shame to waste it. I intended to do all the high routes that I could if the weather would alow on the trail.
From Col de Voza the path followed the Tramway du Mont Blanc railway line for a while then a gentle path through woods with the occasional rocky parts, the surrounding hills looked huge but fantastic. The path then got thinner and steeper and more crowded as people going in both directions tried to pass each other. The path zigzagged for a while downwards as the sound of running water coming from the Glacier de Bionnassay high above to the left of me got louder.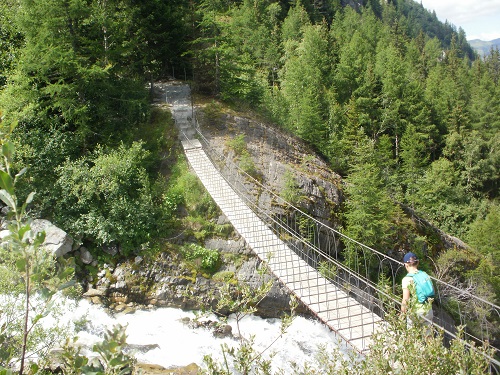 After a while walking down in a line of people, I came to a wooden bridge over the cascading water and a line of people slowly walking over it, holding tightly to the sides and I did the same as I bounced over it. It would be steep uphill now to the Col de Tricot and eventually I found a nice spot with flat rocks to stop for my lunch and enjoy the amazing views. Soon Ian and Robert caught me up and we chatted a while.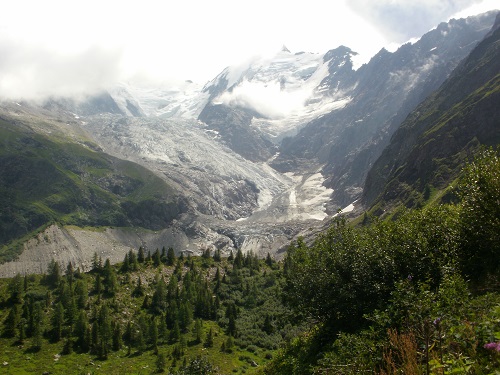 Lunch over, I continued uphill but my legs were fresher and I could see the top and the many people who had stopped there. When I got there, I could see why, with even more fantastic views and also the steep path down to Chalets De Miage with Auberge Du Truc in the distance, my stopping place for the night. It was a long and steep zigzagged descent, hard on the legs and I was glad I wasn't walking in the other direction.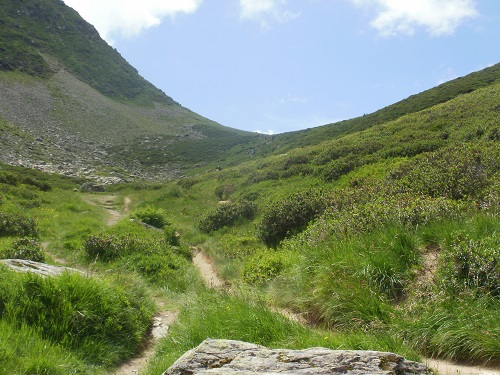 As I neared Miage I could see the many umbrellas far down below me which meant a cafe at the Refuge and I decided to give my sore legs and knees a break and have a beer and sat looking back up at the Col de Tricot and the Domes de Miage which looked huge but fantastic towering above me covered in snow. I could have sat here a lot longer but I still had about a mile to walk, mostly uphill so I reluctantly left the Refuge.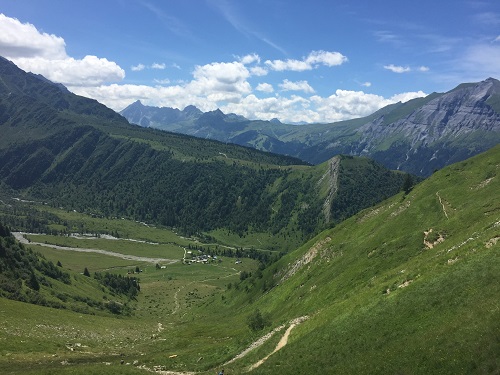 I reluctantly left my comfy seat and headed off, the path would zig zag up through woods before leveling out and a welcome sign told me my Auberge was 5 mins away. I arrived, the views over the valley were as fantastic as all the other ones today. The sound of cow bells all around me, something you don't get in the UK. Todays amazing walk was over.
They say the first day is an introduction to the walk and if that's the case, I am going to have the most amazing walk. I can only hope the weather stays as good as the views will take my mind of my tired bones.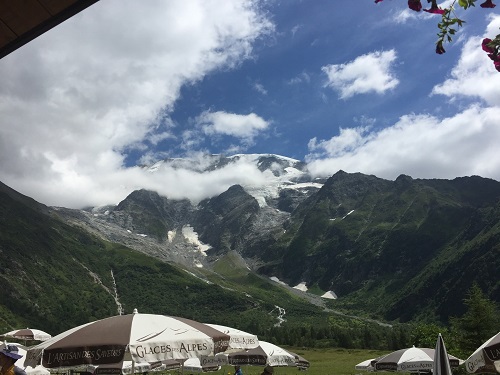 My Accommodation - The Auberge du Truc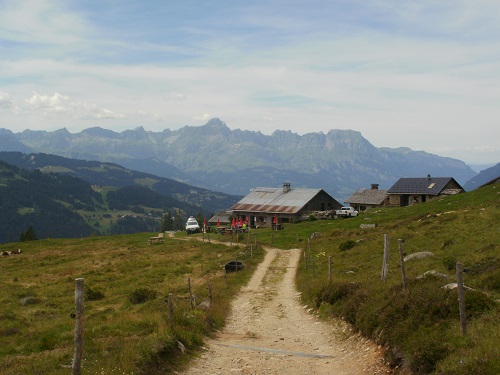 I would spend my first night on the trail at Auberge du Truc which is on the varient route between Miage and Les Contamines. The Auberge was very basic, had no hot water or showers which was not ideal after a hot sweaty day on the trail, one toilet plus no electricity in the Dorm. Having said that, I liked the peaceful location and the view and I got a good sleep here and it did not cost a lot of money to stay the night so if you are on a budget this Auberge would be ideal. I can't comment on the food as I brought my own here and ate at one of the picnic tables outside the Dorm. If I did the walk again I would be happy to stay here again but would walk the short extra distance to Les Contamines to have a room to myself, some shops and a shorter walk the next day.
Click here to go to Day 2 - Auberge du Truc to Croix de la Bonhomme