A half day and deserved relaxation in Champex
For the first time on my journey I woke up to the sound of rain but it was forecast so I wasn't surprised. I had read that today's stage was the easiest on the Tour and half was walking through forest and nothing high. It was only going to be around four hours walking so the rain wasn't a big problem and it couldn't be anything like the storm of the previous day.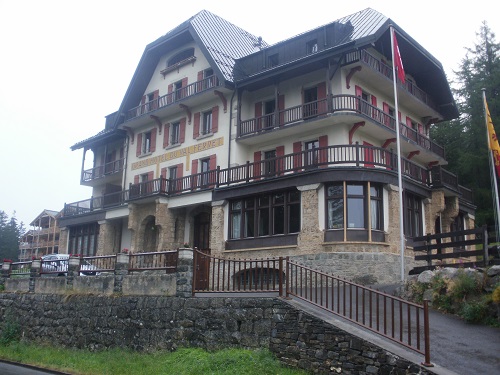 I had breakfast and headed off later than usual as there was no hurry today, I'd be in Champex just after lunch time. The low clouds meant there would be no views of hills just now so I just plodded on through the village, past the shop and the campsite before following the river.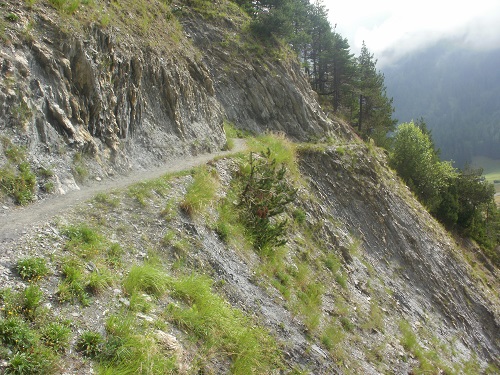 I had only walked about ten minutes and I realised it was no longer raining and another five minutes would see me taking my waterproofs off as it was now warm. A nice gentle track would eventually climb gently on a narrower path, occasionally with chains on the rocks when there was a steep drop. The clouds were now lifting and the surrounding hills started coming into view between the trees as I continued walking.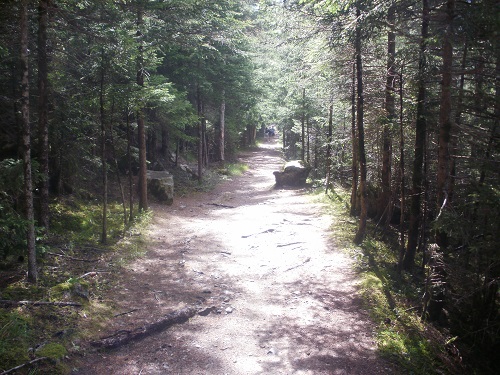 The path turned and started heading down on a nice grassy ridge with a seat at the bottom so I took a break. I continued soon after and passed through a lovely little place called Praz De Fort, it's wooden houses all looked different and it looked more like a holiday village. At this point I could see Champex in the distance, perched up on a hill. Les Arlaches followed with equally nice wooden houses but most of these were older.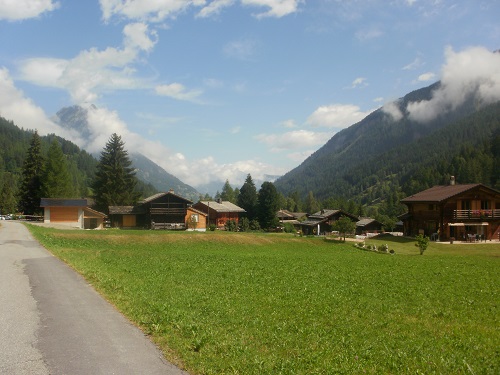 A short walk took me to the main road at Issert, and not as nice houses before I crossed over onto a forest track, this would be where today's walk would started to get tougher. For some reason a woman was walking backwards down this hill and was still walking backwards when I spotted her later on, I can only assume she was doing the whole thing that way.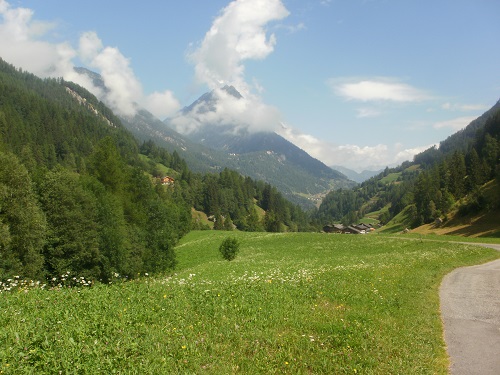 From here it was all uphill through the forest, passing many small wooden carvings on the way. It wasn't as steep or long as previous days but it was still hurting. I took advantage of a couple of benches along the way to take a break and admire the views over the valley below.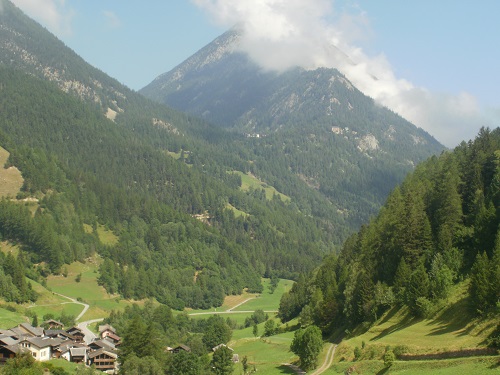 I eventually reached a sign welcoming me to Champex but my climbing wasn't over for the day. There was still plenty work to do after passing the first couple of Hotels before my first view of the lovely lake at Champex. As I walked around it I could see some fellow hikers sitting with their feet in the water and the town was quite busy, many people with backpacks.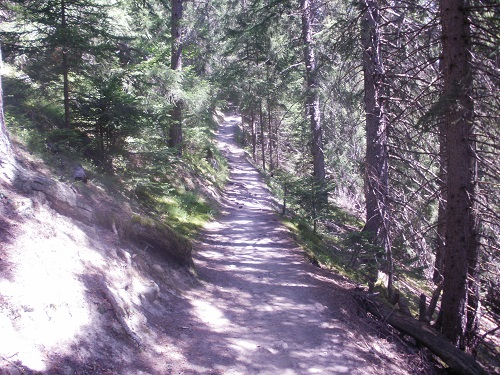 I decided to go to the shop but bizarrely it was shut at dinner time so I checked into my accommodation instead. I was looking forward to it as I'd booked an Apartment rather than a room and I had a balcony to relax and enjoy the view over the Lake and the surrounding hills. I sat there for hours just relaxing, having my tea and enjoying life on the trail.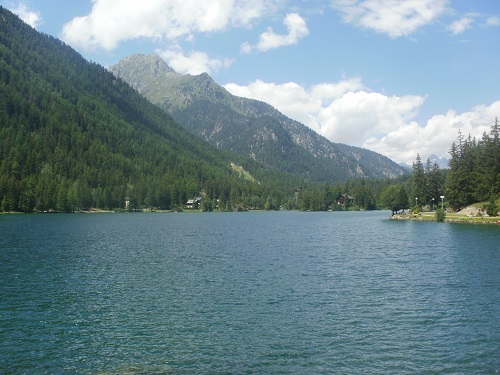 Today had been a walk of two halves, the first half being an easy walk through forest and small villages and the second half being all uphill and tougher going but it had been the easiest day on the TMB so far. I relaxed but I knew tomorrow would be far harder, especially if the weather was good as I could do the TMB variant route over Fenetre D'Arpette rather than the lower and quicker route to Trient.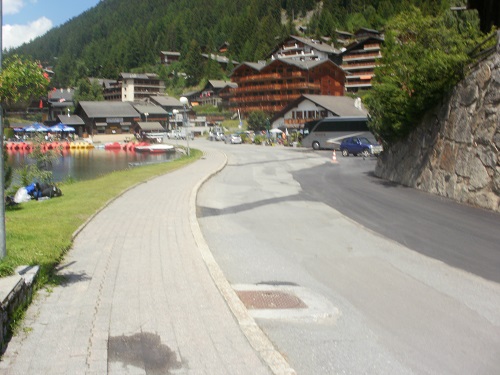 The Au View Champex apartments in Champex
It would be a short day to Champex so I booked an apartment for some relaxation. My apartment had a double bed, shower room, a lounge area, a kitchenette with cooker, microwave and a fridge and also a balcony looking over the Lake at Champex where I spent much of the day just chilling. The apartments are also just across the road from the shop. It was a bit more expensive that I'd usually pay but it was worth it just to be able to relax and recover for the few remaining days on the Tour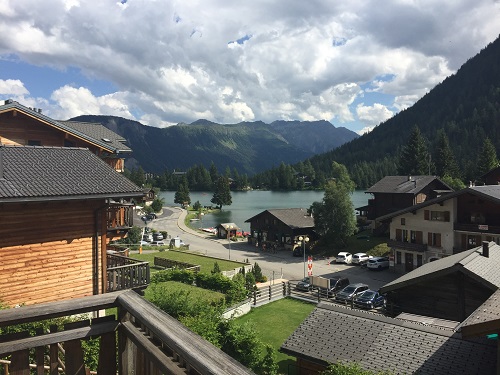 Day 7 - from Champex to Trient over the Fenetre D'Arpette route