Today ended up with a lot of road walking, some of it planned and some of it not. A good thing about staying in a pub/hotel or bed and breakfast is that there's a breakfast for you in the morning but sometimes this can mean you don't set off until later than you planned. At least in hostels you can have breakfast when you want it and set off when you like, which would have probably meant I set off earlier than 9am which is about when I started today. Today was a long distance to walk, about 24 miles and I already felt like I was behind schedule. Mind you, that didn't stop me popping into the Co-op shop for some food for the day ahead.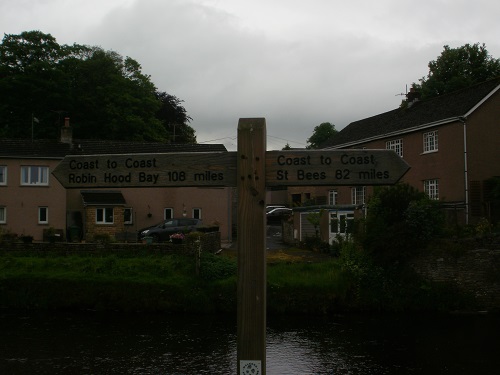 From Kirkby Stephen, it's quite a long slog up a tarmac road, passing a quarry before you leave the road and head up a track towards Nine Standards Rigg. You then have 3 choices of route depending to the time of year, the boggy section probably one you should only attempt in the summer and I had no desire to try and navigate through that as it was chilly, windy and the rain had started which meant visability wasn't very good. I chose the route that avoids the summit and heads down to the road but this was far from dry and by the time I waded through the soggy grass, my shoes were soaking. The plan was to walk along the road for a little while then rejoin the path and head towards Keld but I figured that I'd make up a bit of the time lost at breakfast by just staying on the road to Keld, the low cloud meaning that I wasn't missing any scenery. The road was closed as they were re-surfacing part of it so that meant I had the road to myself and the miles passed quickly and I was soon approaching Keld.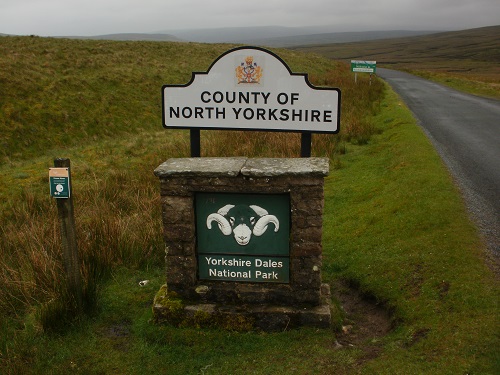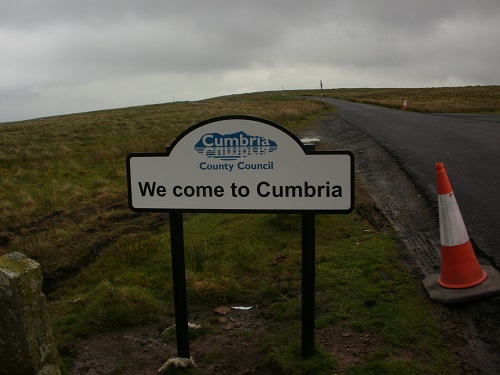 Although the rain had now gone off, I decided to pop into Keld Lodge to have a break and a pint and to dry my shoes off a little beside a radiator and looked at my map and realised that I was now at the half way point of the Coast to Coast walk. I could have walked road the road to Reeth from here but I thought that would be too much tarmac on my feet so I decided I'd follow the Coast to Coast route, or at least that was the plan when I left Keld Lodge and past the cafe in the village and started walking beside the river. The path was nice and the weather was improving and there were quite a lot of people about but I soon started to get the idea that I'd missed my turn off and when I looked at my map and guide book, I was right. To be honest I was enjoying this part of the walk so much that I hadn't been looking at my map and just assumed I'd be staying on this path but I was wrong.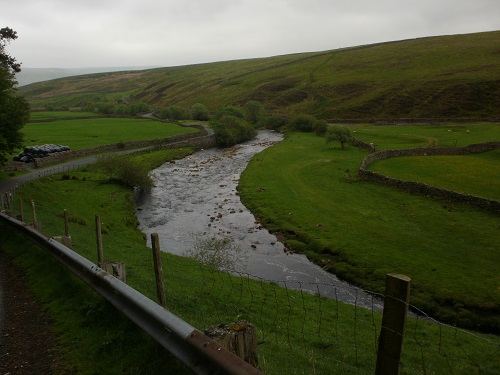 To go back and find the original path would have meant more time and more mileage so instead I followed this path then a road to Gunnerside where I had another rest and look at my map. I was now back near the Coast to Coast route but I noticed on the map that I could follow a road and then a coutry lane that would take me to Grinton and miss out Reeth. I knew that by the time I got to Reeth the shop would be closed so there didn't seem much point passing through it so I'd save a couple of miles and as it was all tarmac I'd make up some time even if it wasn't going to be great on my feet. I followed the road from Gunnerside and a few miles later I left it and headed along the country lane which had plenty of up's and downs but nice views and before long I could see Reeth so I knew Grinton wasn't far away either. By the time I finally reached Grinton though, my legs and feet were tired with all the tarmac today and I was looking forward to getting the shoes off and relax.
The last half a mile was up a steep hill to the youth hostel which hurt and I was glad to finally get to the hostel, earlier than I thought I would after the late start. It gave me plenty of time to get my clothes and shoes into the drying room and relax for a while after my tea but it wasn't long before I could feel my eyes closing, today had taken more out of me than I expected it to, maybe it was all the tarmac and being able to walk fast but today had taken more out of me than any of the days that I'd had in the Lakes. My concern though as I started to drift off to sleep was the fact that the next day would be even longer but I was now past the half way point of the Coast to Coast walk and only 4 more days to walk, I just hoped conditions the next day and the path would be better than today and my feet would be ok in the morning.
Click here to go to Day 7 of the Coast To Coast Walk - Grinton to Danby Wiske