I woke up and got out of bed, very happy that my legs and feet felt just as good as they did when I left St. Bees, not a blister in sight, the only problem this morning was the sunburn from the previous day. I ate my cooked breakfast in the pub knowing that this would be my last day and that my adventure would soon be over, I felt happy but also felt sad that I would soon be finished. The weather had been reasonably kind to me on my journey and today would see a bit of drizzle when I started off but then it would stay dry for the rest of the day.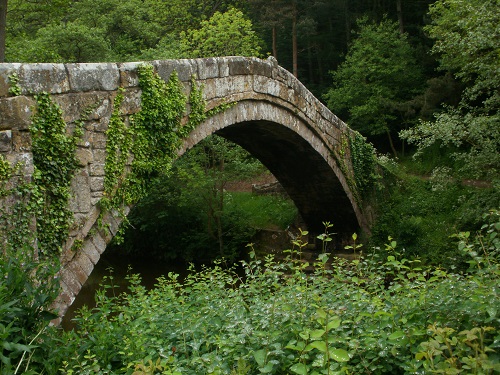 I left the pub and passed the Beggars Bridge near the station and headed through some muddy woodland for a few miles until I reached Egton Bridge followed by a walk along the old toll road that took me to Grosmont which was only about 6 miles from Glaisdale but I stopped for a break at the station, partly to look at the steam trains but also partly because I was in no hurry and didn't really want the day to end so quickly.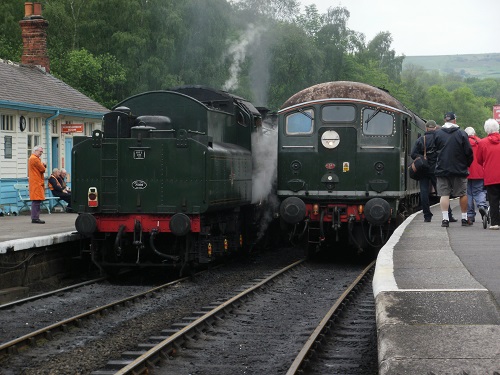 A few goodies bought from a little shop and then it was time to head off, I was counting down the miles left in my head, it was almost in single figures. The road out of Grosmont is very steep and seems to go on forever before it levels out and you're back into moorland. If the weather is ok, you will be able to see Whitby and also the sea from here (as I found out on my second Coast To Coast in September) but today was quite dull and Whitby was not very visible in the gloom, the sea couldn't be seen.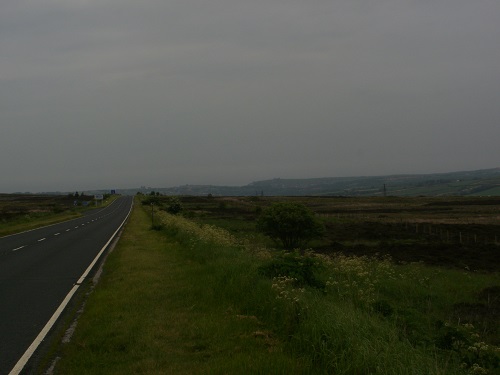 After walking alongside the busy A169 road I headed down to little beck and then through the woodland passing The Hermitage and Falling Foss which was barely visible through the trees, the path being quite slippy and muddy before reaching the car park and the road that would take me up to a farm where a path then cut off over quite wet ground before reaching another road. You walk along it for a short time, you could continue straight ahead and take a short cut to the end at Robin Hoods Bay along roads if you wanted to get finished but that would mean missing out the last 3 miles along the coast, which is a much nicer way to finish, I think.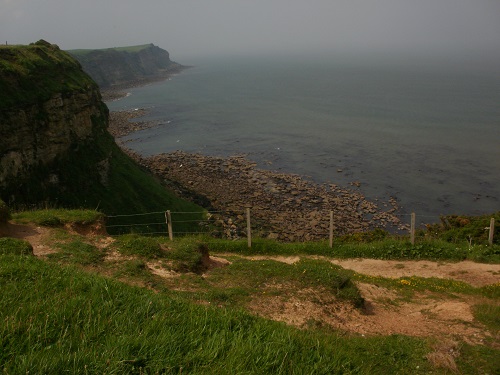 Some quite easy moorland walking followed and you are actually walking away from Robin Hoods Bay if you look at it on the map but I was quite happy to do the extra mileage as I didn't really want the walk to end. I was soon on a road that would take me to the caravan parks at Hawsker, one of them has a shop so it seemed like a good place to have my final rest. However, when I got there, I found the shop was only open certain days and today it was closed so I just had a sit down for a while.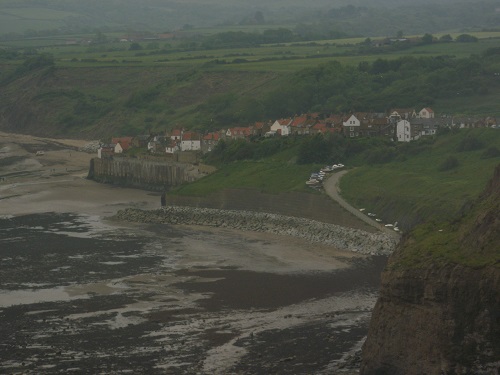 If the day hadn't been so gloomy, I would have seen the sea for quite a few miles but I still hadn't seen it yet and here I was at Hawsker, the sea was only a few hundred meters away, I had nearly walked from coast to coast but yet it was not to be seen. I knew when I set off from my break that I had about 3 miles until the end, I was on the final straight now and had so many different emotions as I headed downhill through the caravan park and finally got my first glimpse of the North Sea.
I had walked this stretch of coastline many times before but this time it felt different, I didn't know whether to speed up or to slow down. I knew I wouldn't see Robin Hoods Bay until I got to Ness Point and there were still a few up's and down's along the coast path to walk along first. Your first look at Robin Hoods Bay will bring a big smile onto your face, the end is now visible. You'll also be looking to see if the tide is in or out, as you'll no doubt want to dip your feet in the sea at the end. The tide was way out when I got to the end which meant a longer walk to the sea, passing bemused tourists who probably wondered why someone in a rucksack was heading out to sea.
From Ness Point, it's a short walk until you actually enter Robin Hoods Bay and start to descend through the village, past the shop and then start to walk down the steep steps and road to the beach and there it is....the sea. After 200 miles, the sea is only a few yards away, just the sand to walk over to reach it. The tide is out so it takes me a little time to get there but there's no hurry and I dip my boots in the water and I realise that I've finished, I've completed the Coast to Coast walk.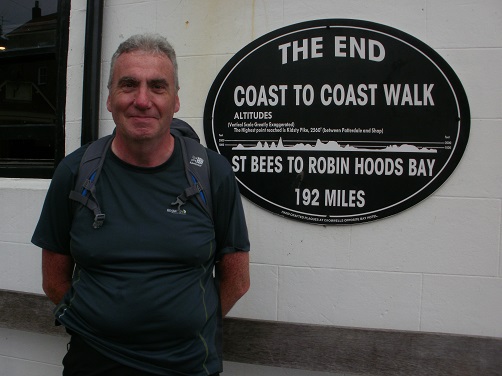 Click here to go to my thoughts about the Coast to Coast Walk