I woke up in the hostel and I did that morning ritual, where to prepare to stand up, not knowing if your legs, knees and feet are going to be sore or stiff so it was a relief to stand up and feel as good as I did when I set off on Day 1. Quite an early start as it is quite a long day to Patterdale, stopping about halfway at Grasmere for some lunch. Many people choose to stop for the day at Grasmere and then go to Patterdale the day after, there is plenty of accommodation in Grasmere and plenty of shops too if you want to stock upWhen I did this days walk in May, I was in Grasmere at dinnertime and in Patterdale before 4pm. After two good days weather, the forecast for the day wasn't as good with showers forecast.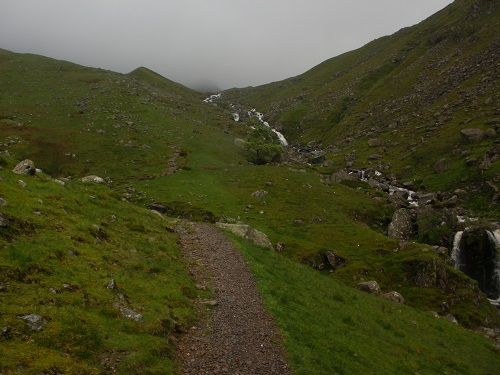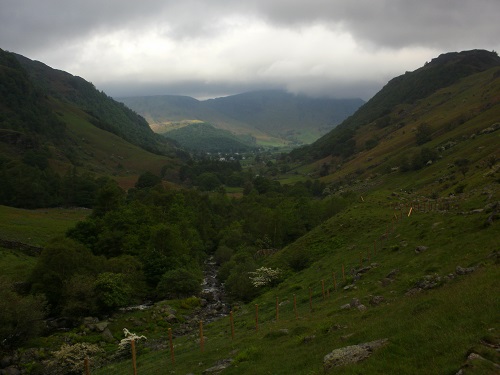 Just before setting off, I noticed red squirrels in the hostel grounds, it's not very often that I see red ones, usually just grey ones. We set off, through Rossthwaite and along Greenup Gill where we noticed that the hilltops were all covered in cloud. It's quite a long steady climb towards Greenup Edge but nothing really bad until near the top where you get a small rocky face to climb up, in May this was like a waterfall so I was happy this time to see that there was no water coming down it. I was dissapointed to reach the top and be in cloud as I was in cloud the first time I did it as well, so no views yet from this summit. It wasn't the best of weather so we didn't stay here long and continued through a section that was boggy in May but not in September until we got to a junction of paths. One path heads down towards Grasmere and the other takes in 3 Wainwrights and we took that path and climbed Calf Crag, Gibson Knott and Helm Crag before a steep descent down to Grasmere for some lunch. By now the cloud had moved from the tops of the hills and the great views returned.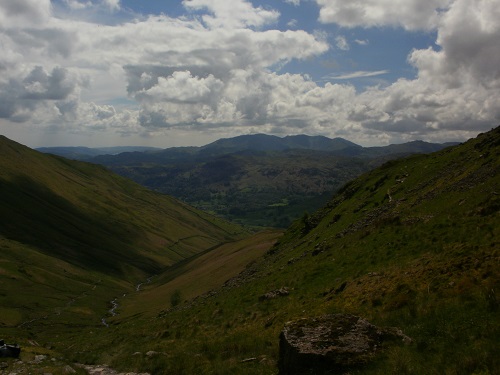 Grasmere is a very busy place and well stocked for the tourists so you won't starve here and after a good break and a couple of pies, it was time to head off towards Patterdale. When you leave the village, you start heading up Tounge Gill towards Grisedale Tarn and this section is quite long and quite steep in places and a real energy sapper, you just seem to be heading up, up and up but don't foget to turn round and take in the fantastic views back down towards Grasmere.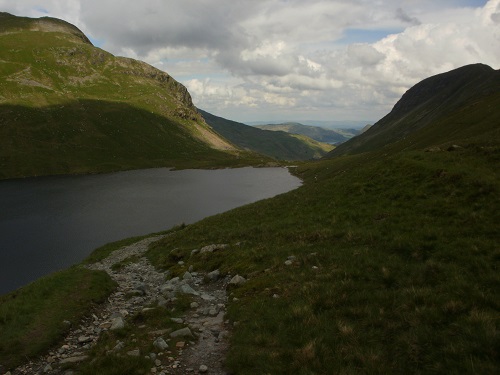 Eventually reaching Grisedale Tarn, take a while to get your breath back and then walk around the large but pretty tarn before descending towards Patterdale away in the distance. It's one of those days where your legs are hurting and the end never seems to get any nearer, by now I'm starting to wish that I hadn't had 2 pies for lunch. The initial plan to walk up St. Sunday Crag on the right hand side of the tarn was changed due to us being later than planned. Eventually we dropped down into Patterdale and towards the Youth Hostel, didn't get a chance to visit the shop at Patterdale but we had got a few things in Grasmere for our tea, food was never in short supply on this trip.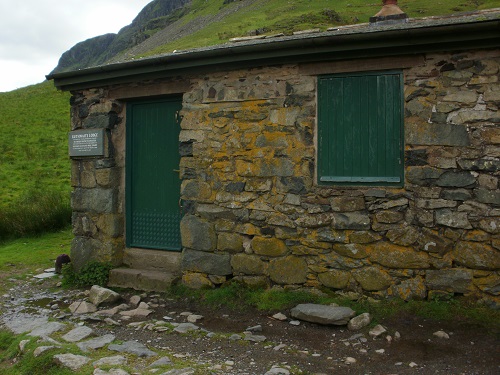 Patterdale Youth Hostel dorms are the biggest that I've stayed in, with plenty of space in the rooms that I've been in. The beds also are very good because they are bigger than the usual hostel beds and attached to the walls so that they don't move, even in the night, so I had quite a good sleep here. Kitchens are large enough with a large dining area and lounge. sadly though, this Hostel is up for sale so who knows what will happen to it in the future. I hope the new owners will still use it as a hostel as Patterdale is a place where nearly every person doing the walk stays the night, so if this closes you will have to look elsewhere for accommodation. The hostel was also good though for large groups of walkers and catching up with people who you had seen on previous days on the walk.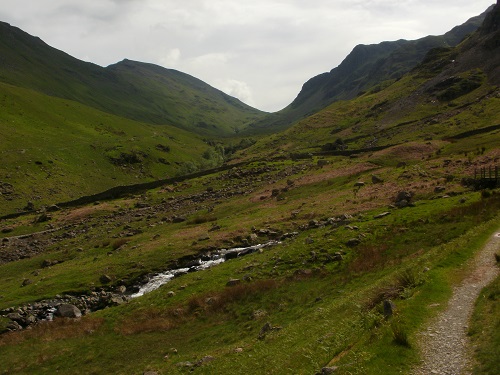 Click here to go to Day 4 of the Coast To Coast Walk - Patterdale to Shap