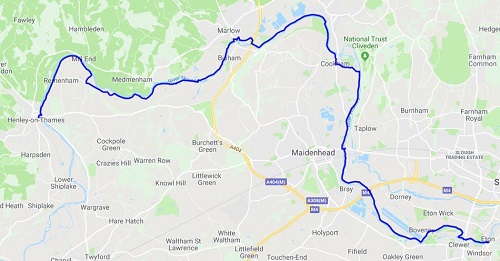 Today would feel even further than it actually was, partly due to me carrying all of my stuff today as I was changing accommodation but also because it ended up a very hot day and not much shelter in the afternoon. The weather forecast for day suggested warm and dry so I was surprised to see rain falling as my train got nearer to Windsor but that would be the only rain of the day.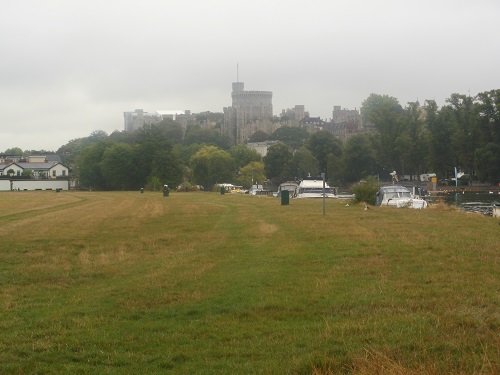 I began the day with a nice walk over grassy fields, making sure to keep looking back for good views of Windsor Castle but after a short time, the open fields finished and I found myself walking on a narrow enclosed path with very little views of the river, boats or houses and it would be like this most of the way to Maidenhead. After a couple of miles the sound of traffic was getting louder so I knew that the Motorway was near.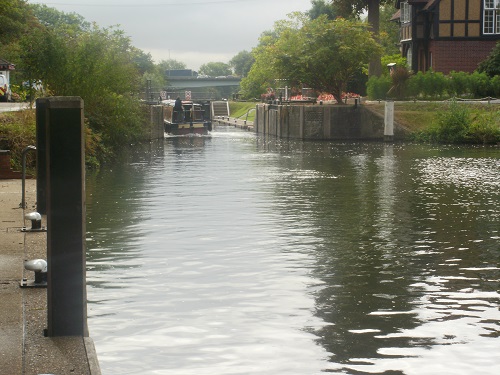 Thankfully once I passed under it, things improved greatly starting off with a nice path through the bottom of gardens then a road taking me to Maidenhead Bridge where I stopped for a break. I had done six miles really quickly but there wasn't much to look at anyway. After the bridge I enjoyed my day more.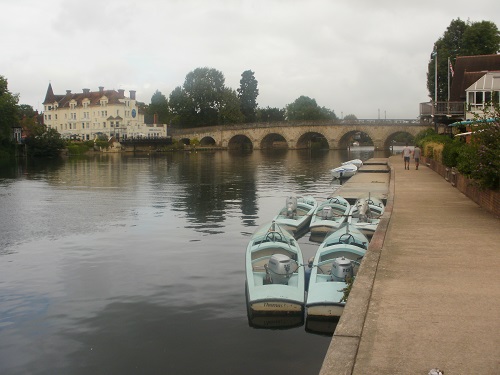 I crossed the bridge to the other bank and walked along a pavement by the river, looking at the nice new houses being built and telling myself that I would buy an extra lottery ticket, I can dream. I soon came to Boulters Lock which was very busy and a pretty walk beside it and then into woodland but there were plenty views of the river. Like every day so far, the path was level and made the miles go quickly and I was soon leaving the riverbank and heading down a road to the busy little village of Cookham and through a church.
After Cookham was a delightful grassy walk round the river at Cock Marsh with all the dog walkers before crossing a narrow bridge over the river into Bourne End where a very narrow path took me to a marina. After this I entered a field and I'd be walking through it until I was nearly at Marlow.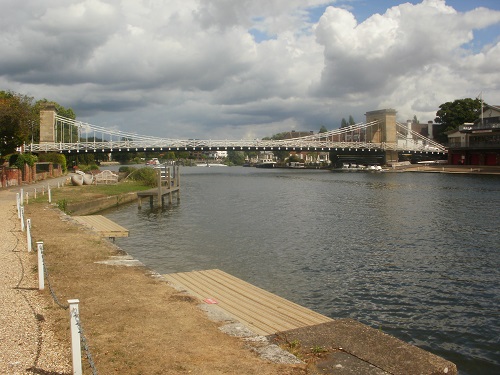 As I approached Marlow the noise of traffic got louder again and I passed under a busy road but then came a diversion away from the river and through many side streets and alleyways before I found myself near the bridge. I turned right and went to the shop for some lunch and a welcome sit down in the sun.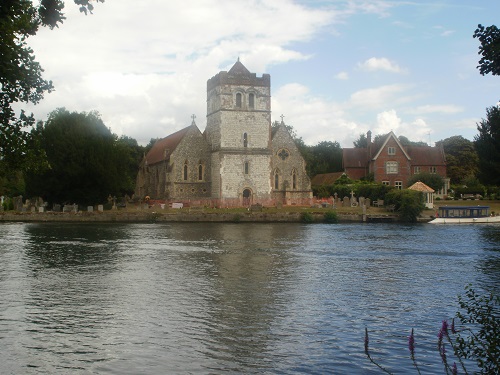 I still had about nine miles to go and I'd have been happy to have finished there and watch the world go by but I was soon back to the riverside again beside the lovely bridge. I ventured onwards, there would be a couple of Locks to pass, they were as busy as the other ones before I reached a large wooden bridge over the river which surprisingly sapped my energy before reaching yet another Lock and having a welcome break.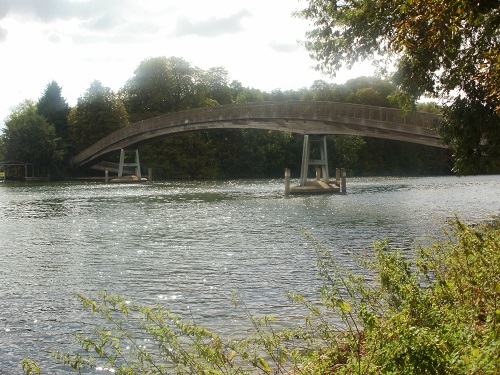 I would now be walking in open grass and no shelter from the sun for a while then the path left the river and headed through a deer park where hundreds of them were grazing, I thought they were sheep at first glance as they were white. Along a road I went, gradually climbing and I saw I was quite high above the river for a change. Soon though I would turn and head down through Aston to rejoin the river.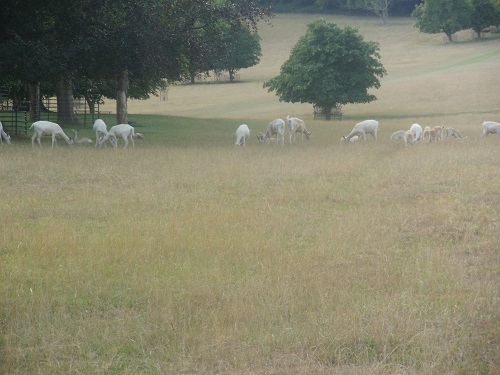 I only had about three miles left but I was walking in the opposite direction to Henley. Another bit of field would take me to my final Lock of the day and a break in the shade. All that was left to do was walk round the long bend and then the long straight section of river into Henley. As I was turning the bend, to the left of me were hundreds of tents as well as a stage as this weekend would see the Rewind 80s music festival so the area was fenced off.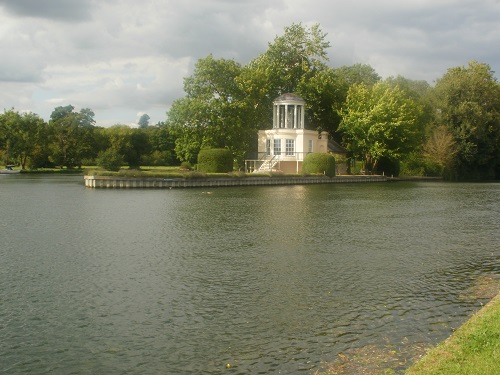 I had been to the festival before so I had already walked this section before into Henley, mind you I did it with fresh legs and feet then and not after walking more than twenty miles. I could see the bridge at Henley in the distance and it didn't take long to reach it past lots of houseboats. I crossed over the bridge and made my way towards the train station to catch a train to Goring where I would spend the next two nights at the nearby Streatley Youth Hostel.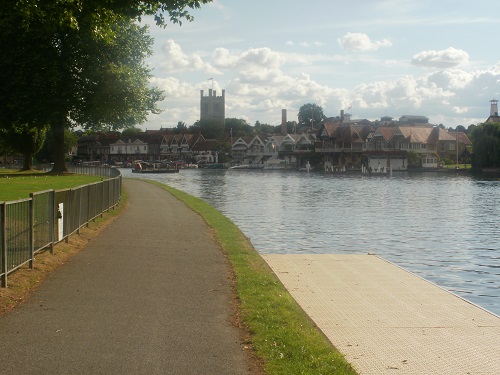 I was glad to finally finish and have a seat in the Station although my legs were very stiff when I tried to walk onto the platform. It was a long day but I expected to suffer so I wasn't surprised. The good thing is that it's over and tomorrow will see me return to Henley with a very light bag and walk to Streatley where my stuff will be at the Youth Hostel.