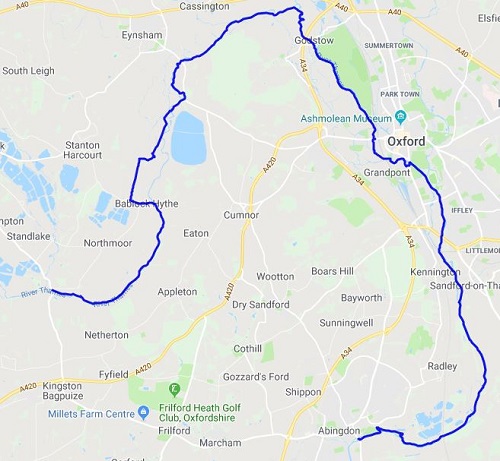 I hadn't enjoyed yesterday's walk but today's would be much better and that was despite the heavy rain that lasted the first few hours of the day making it soggy underfoot. Maybe it just felt better as I'm getting near the end of the Thames Path but even though it was three miles longer, my feet and legs didn't seem to suffer as much as they had done in the previous day, possibly because of the softer surface I was walking on rather than the hard paths of the earlier days.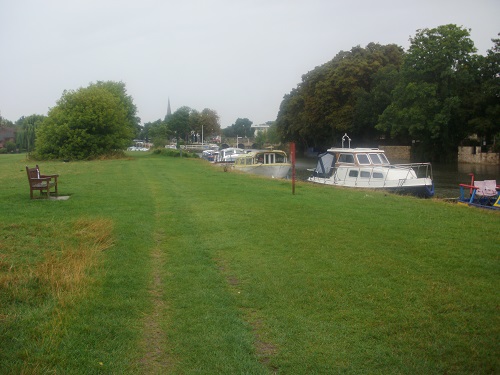 I woke up to the sound of rain, the weather forecast had predicted heavy rain and it would be accurate for once. Full waterproofs went on before I left the Youth Hostel and would be on until Oxford. I got off the bus at Abingdon and made my way to the bridge where I rejoined the Path, the wet grass would soon change to a narrow woodland path which was blocked by a tree with no way around it so I had to try and get through it.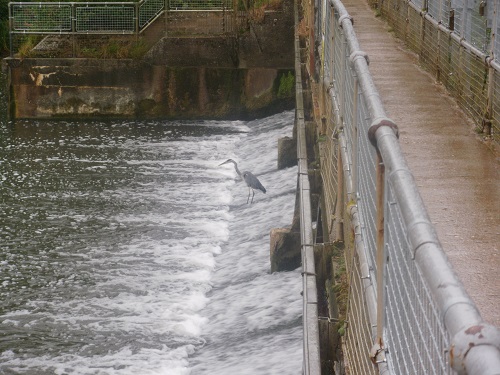 There wasn't too much of interest at the start of the walk, a bridge or a Lock being the highlight and not many boats moving on the river in the rain. I had to watch my step as the path was narrow and slippery in places and a bit overgrown in places because of the rain. It was a case of just getting my head down and get on with it as I knew the rain would stop about lunch time.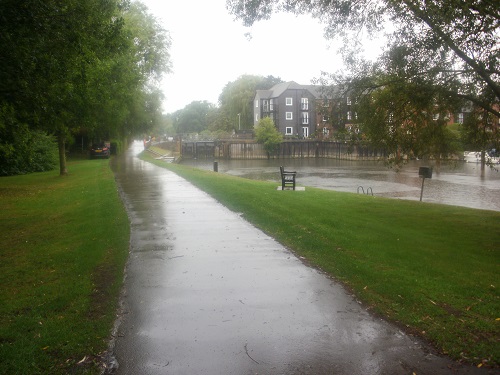 I took a slight detour from the path at Kennington to visit the shop to grab some food for later and the rain stopped as I rejoined the path. It got wider as I got nearer Oxford and the amount of moored boats increased although some looked abandoned. A nice stretch of path took me into Oxford then I followed the path around the edge of the city as it passed near the Youth Hostel where I decided to stop to eat my lunch and have a rest.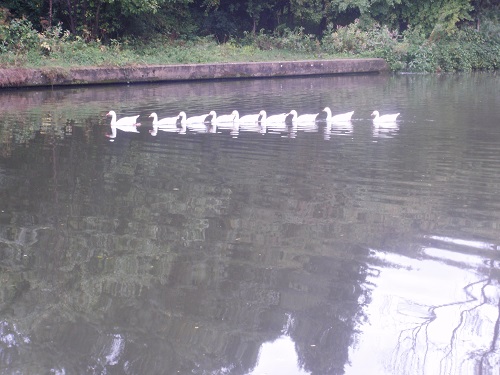 I changed bags here as my small one wasn't very waterproof and I also removed my waterproof clothing making the rest of the day better. I had my lunch and resisted the temptation to just finish the day here as I was staying here anyway that night again. Reluctantly I set off soon after but it was a far nicer day and the path was wide and drying.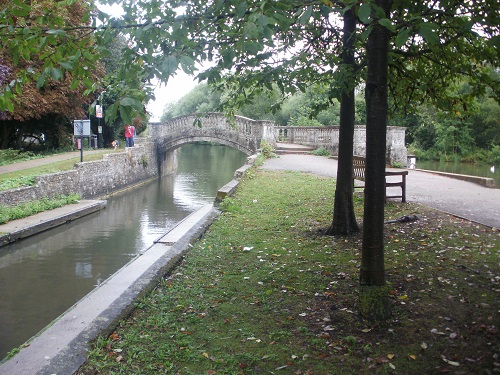 As I left Oxford behind me and walked through nice wide grassy fields, the sound of traffic started to get louder and I eventually passed under a main road. At least that meant the noise would die down a bit and thankfully it would be peaceful for the rest of the day.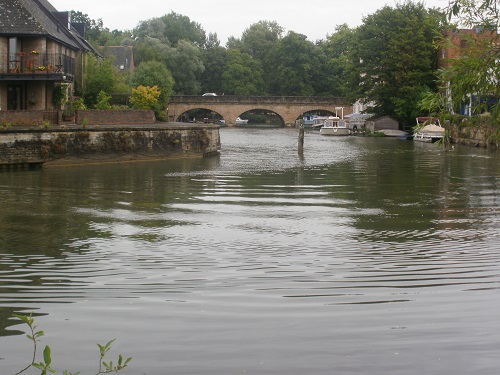 The next few miles passed really quickly, it was fast walking as the surface was smooth and dry. The path then turned 180 degrees and I was now facing the sun plus the wind was now into my face. This cooled me down but it also slowed me down as well. I stopped at Pirnhill Lock a bit later on for a break and to watch a couple of boats go through before heading off again, soon crossing the river once more before going through fields full of sheep and sheep shit.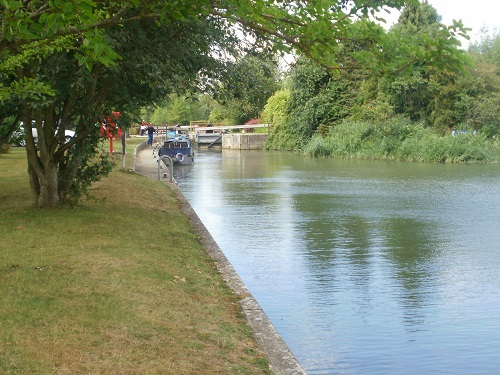 I was now heading away from the river and wouldn't see it for a little while so I had to make sure to head the right way in some of the fields with no visible path in it. Eventually I got near the river again at the Thameside Court Residential Park and caravan site and a pub. A couple of boats would follow me until the end as they took that long going through Northmoor Lock that they only caught up with me nearer the end.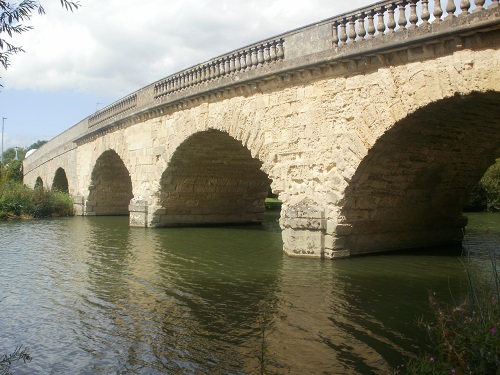 Between Northmoor Lock and the end would see lots of grassy fields and by now my legs started to feel tired which wasn't a surprise as I'd walked nearly 22 miles at this point and the end wasn't far away, I could see traffic ahead off me on a road and knew that was my finish point, the Rose Revived pub. I had about 50 minutes before my bus so I forced myself to have a drink and a sit down when I reached it, I had deserved it.
As I sat on the bus back to Oxford I thought about the long day I'd just finished and that it had been better than expected especially after the early heavy rain. I have two more days left and I'm now at that stage where I'm looking forward to my own bed, a large takeaway and especially a day on the sofa with my feet up. Before that though I have an extremely long day tomorrow and an early rise.