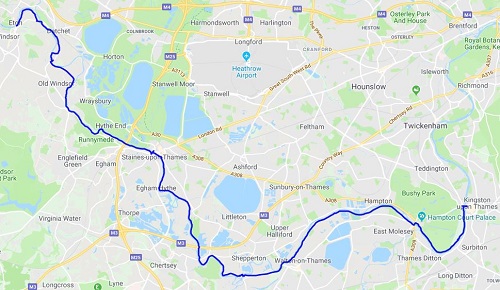 Today would be a good day, the predicted rain never really materialised which was a bonus and the joggers and cyclists would disappear after lunch time making the rest of the day quieter and even more enjoyable. It would also be the first time that I would walk on the other side of the river and grassy paths would start as well. There would be a lot of variety today and a long but very enjoyable walk.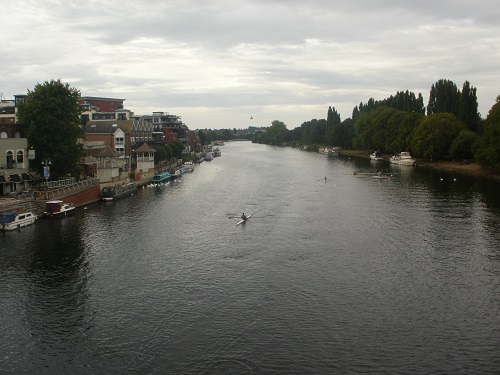 I got the train back to Kingston and grabbed some breakfast and also some food for later on and headed back to Kingston Bridge where I left the Path the day before. The start of the day would see me cross over the bridge and see me walking on the other side of the Thames for the first time. A lovely riverside walk, shared with early morning joggers and cyclists on a road before the path left it. The views over the river were lovely as were the expensive houses including some on an island, which got me wondering how they got their mail.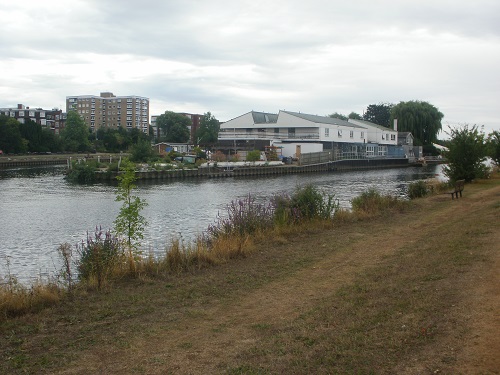 This stretch of the path would see lots of anglers, this would be a common sight today on the river and on the many days to come. A couple of miles further on I passed the huge Hampton Court Palace which as you might expect was crowded with tourists. After the Palace, I crossed over the Hanpton Bridge and onto my usual side of the river again. This section would see me pass more expensive houses and houseboats, many of which were on more than one level.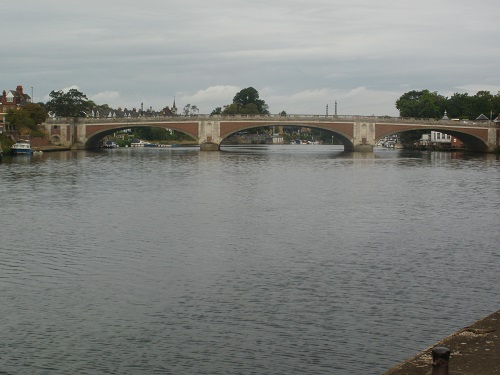 I passed by Sunbury Lock and watched a couple of boats pass through, infact I would see them at the next few Locks which meant I was walking about the same speed as they were going. Soon I would reach Walton and have to make a choice between two paths to Shepperton, the usual one which means getting a small ferry over the Thames (and paying for it) or a longer route that didn't follow the Thames. I decided to take the traditional route and take the ferry.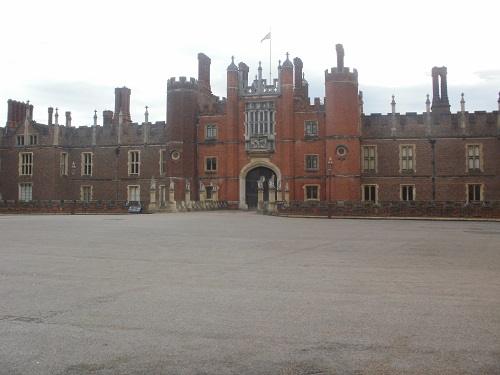 When you reach the ferry point, there's a bell that you ring at the specified times to alert the owner over the other side and I did so and paid my money. I was probably in the boat a couple of minutes and I was across the river. Later on I would spend the same amount of money on an ice cream and I know what one was better value. Anyway, my wallet lighter I continued on to the Lock where I decided it was time for lunch as I watched the boats I saw earlier pass through them. At this point the rain started lightly and my jacket went on but it never really came to much, to my relief.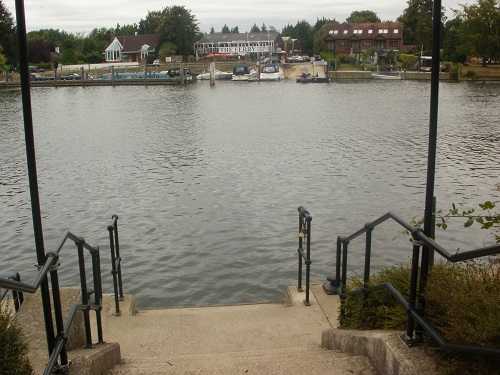 I headed onwards and the Thames Path changed, I was now walking beside a road on a path as it curved round and then onto a grassy meadow which felt nice on my feet. The expensive houseboats and riverside houses were very much in evidence here, some were for sale but probably a bit too much for an average Postie. Soon they would disappear and the sound of traffic got louder as I got nearer a Motorway, which probably explains why there were no houseboats moored here.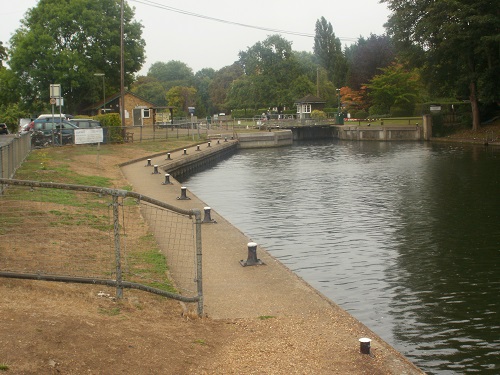 After the Motorway I walked beside a road which passed a campsite which had a little funfair in it at Laleham before leaving it behind and heading towards Staines where I would cross the river again. There were less bridges than yesterday and much smaller and not as pretty. The next one I would see would be the one the busy M25 crossed above me. After this I passed yet another Rowing club and I entered a park at Runnymede and stopped for a break. I guess I was on the flight path from London Heathrow today as planes were passing overhead after take off every couple of minutes and in the park they were right above me.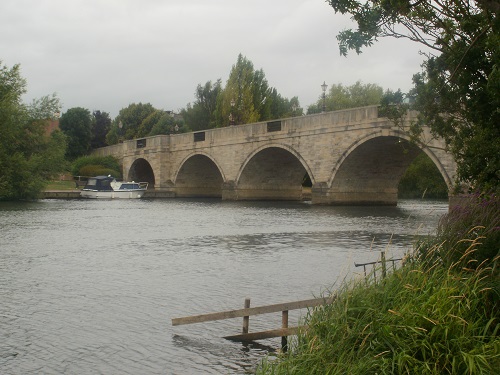 A lovely grassy path followed for a while, passing a statue of the Queen before following the main road and eventually to another Lock. After this, the river was more like a Canal, it was so narrow but it soon widened when it met the rest of the river. I soon entered Old Windsor and onto a street called Straight Road but I don't know if this is true as the path soon left it.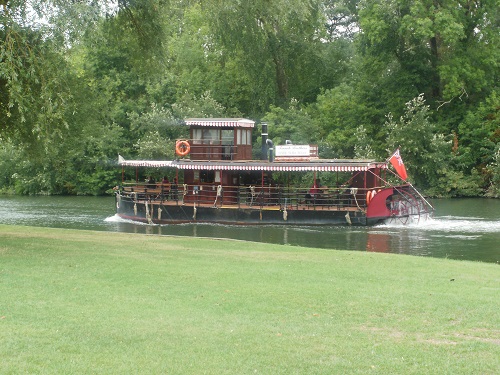 A little further on I came to Albert Bridge which I crossed to change riverbanks once more, the narrow path curved round for a while before I came onto a road taking me into Datchet. The pavement was quite hard on my feet that had done more than 20 miles already so they were glad when I crossed over it and onto a path that took me up steps and onto the Victoria Bridge. At the end of the bridge I crossed over and into Home Park, the grass felt nice.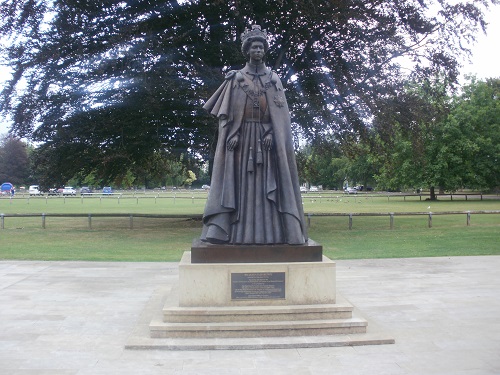 Annoyingly the path followed the river in a horseshoe shape so I was heading away from the end for a while on a path before it eventually changed direction and heading towards Windsor which I soon reached. Luckily for my now tired legs and feet, one of the first things you pass is one of the two railway stations in Windsor and this was the one I'd be getting my train from. I had plenty time though so went for something to eat before getting my train. Windsor was very busy with tourists even though it was early evening so I waited a while to get my food.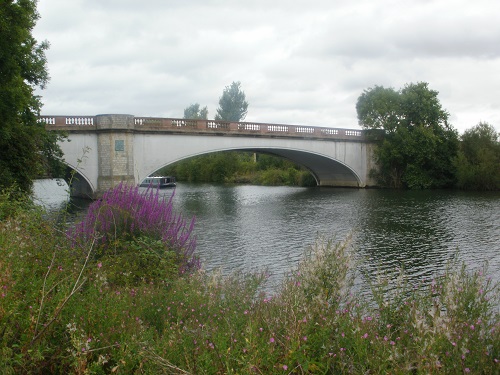 Back at the station, I got my train back to my Youth Hostel in London and relaxed. It had been another long day but a good one, it seems to get nicer as you get further away from London. The predicted rain hadn't come which was good and the forecast for tomorrow looks ok. Tomorrow will see me return to Windsor and another long day to Henley where I will then head onto Streatley Youth Hostel beside Goring for my first night of two so I shall be carrying a full pack instead of a little bag with only a few things in it, it'll be a long day.