It had to rain sometime, and it finally did
After 7 days walking with no rain, my luck finally ran out but I can't complain. The rain wasn't that heavy but the wind was strong, making the rain seem worse but it was mostly behind me today. Even so, my clothes were soaked when I finished, I guess the waterproofs weren't as waterproof as I thought they would be. I should point out that I was finishing today in Newport but there's more than 1 Newport in Wales. This one is in Pembrokeshire but there's a much larger Newport in Gwent so remember that if you're booking accommodation, don't get mixed up.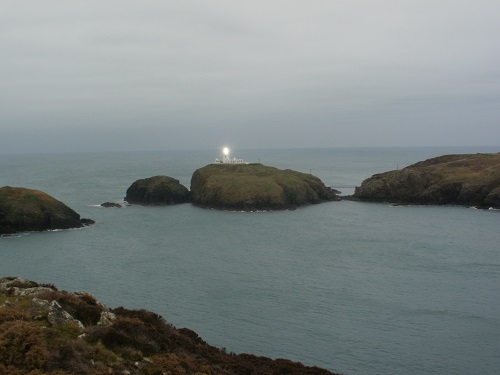 I left Pwll Deri about 7:30am, the view outside nowhere as spectacular as the previous evening, low cloud meant less visability, today's photos would reflect that. My legs were still tired, far too many long mileage days in a row but this would be my last 20+ mile days and food and drink at the half way point at Fishguard and at the end of the day at Newport, I hoped my brain would tell my legs all these positives.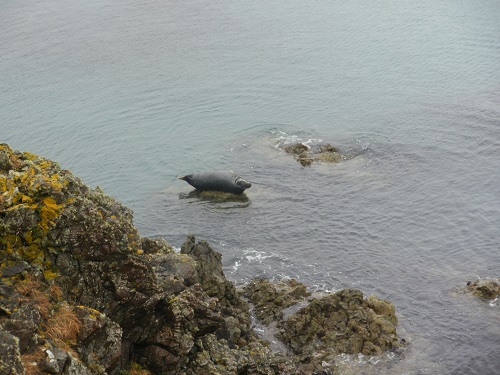 Todays path to Fishguard was quite rocky and narrow in places and I would see no one until I was nearly at Fishguard, this was quite a remote stretch and the path wasnt as worn as the rest on the trail in previous days. After a while I reached Strumble Head where the lighthouse was, it's flashing could be seen from soon after the start. After that, there were a few up's and downs and slippy rocky paths to endure but also some nicer paths where I could walk faster.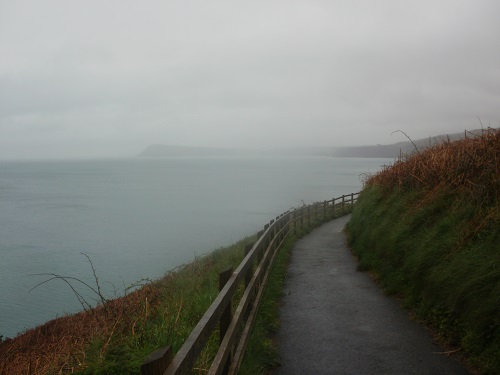 After about 2 miles, with the wind and rain into the side of my face or into it, I was hoping for some shelter from the elements and hopefully a sit down, but this seemed unlikely, there were no benches around here. I then headed down into the woodland at Aberfelin and I was pleased to see a rope swing by the small stream, this was ideal for a 10 minute break before heading off again towards Goodwick and Fishguard.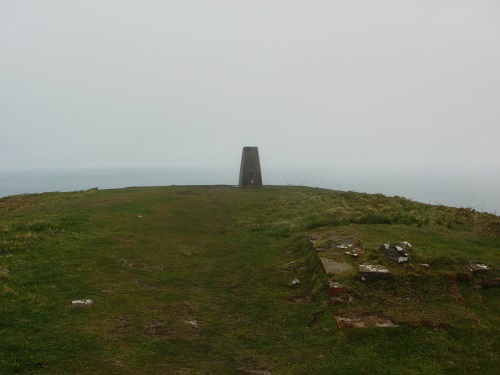 After my break, it was a climb out of Aberfelin, my legs a bit refreshed and I looked down and could see a seal a long way below me in the water but only a small glimpse. I was happy I had at least seen one. I got round the corner and got a much better view of one as it swam below me for a few seconds but the best was still to come. Just minutes later I came to another bay and looked down to see a few rocks, but then realised that one of them wasn't a rock, it was a seal having a rest on top of one and not far from me. It kept looking at me like it wanted me to let it get some sleep as it lay mainly on its side. After a minute or two, I said goodby to it and thanked it.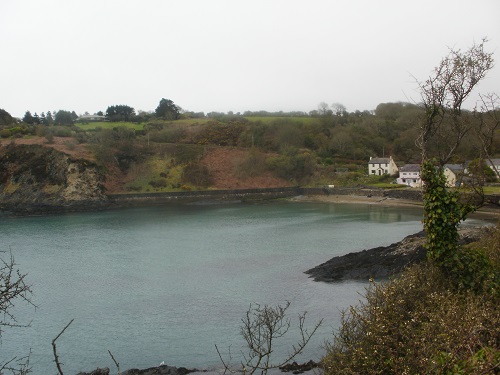 Soon I would be heading South towards Goodwick and Fishguard and at this point the rain got heavier, right into my face. I could just about see the two places in the bad visibility but soon I was on tarmac heading into Goodwick then a zig zag path and cross the road that goes to the ferry. I could see the small Tesco shop in the distance and I was happy to get in out of the rain and pick up a few snacks and something to drink. The only shelter I could get was sitting in a bus shelter but I was dry and eating goodies but I was feeling the cold, gloves and hat went on as my fingers got colder.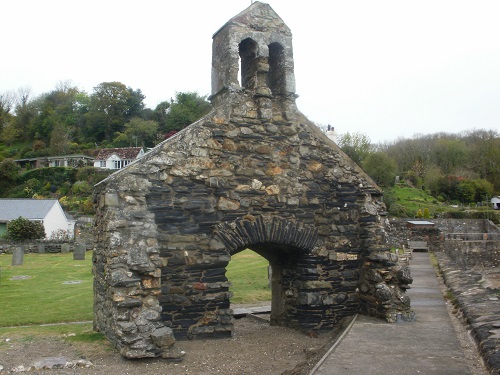 I headed off after about 30 mins towards Fishguard, but the path misses it out and instead follows a nice tarmaced path for a while, until it reaches the harbour at the old town, then it's a steep pavement until you turn off and back onto path again. My main aim now would be getting to Dinas Island, which I could barely see in the distance through the rain. The path was a good one and lots of level grassy sections but my legs were still suffering even on less steep climbs. Dinas Island never seemed to get any nearer and Goodwick could hardly be seen over the bay, it was really just a case of head down and get on, the consolation being that the wind was now behind me.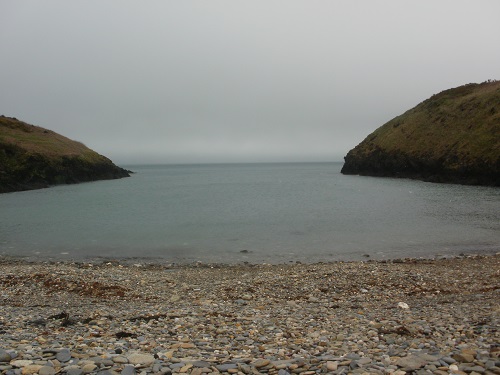 I tried to have a break any time I got some kind if shelter but there wasn't much, Dinas Island still seemed to be as far away as it looked an hour earlier. Eventually, after a few ups and downs and passing through a caravan site, I saw the car park at Pwllgwaelod. This is the point where you have the option to miss out the Dinas Island peninsula and head over to Cwm-Yr-Eglwys if you're not bothered about doing the whole walk but it would be a shame to miss Dinas Island. I had a rest on the wall by the bay and had some goodies to try and find some energy for the steep climb ahead.
The break over, I set off up the hill and my legs for once seemed to be working, maybe it was the break or the chocolate or maybe it was the strong wind behind helping but whatever it was, it worked and soon I reached the Trig Point and could see Newport in the distance in the gloom but at least it didn't look too far away. A nice walk then took me down to the car park at Cwm-Yr-Eglwys and I had a rest on the benches by the bay, beside the ruins of St. Brynach's Church. An ice cream van was in the car park but no one was in it, boo. A small climb up a tarmac road and I was on a nice cliff top path, level but with no real views as the vegitation was over head height. I knew the end of the day wasn't too far away as I headed towards Newport past lots of high cliffs, but they didn't look as spectacular in the gloom as they had on previous days in the sun.
A steady stream of walkers were in evidence now, meaning Newport couldn't be far away and sure enough I was walking into the village and headed uphill to find the main road to then find the Hostel easier. A quick stop at the local shop for lots of goodies and the Hostel was next street away. It was Bank Holiday weekend but there was only one more person down to be in the dorm but he didn't show up until about 9pm and then he went into town to find a pub, I was sleeping by the time he got back.
I drifted off to sleep, full of food and looking forward to less miles tomorrow and a later start, hopefully my legs will get me through one final day. My legs are wanting to stop but I'm enjoying this walk so much that I don't want it to end, it's been very scenic and better than I was hoping for.
Click here for the final day of my walk - Newport To St. Dogmaels