A long Journey to Amroth, where the path starts
It would be a long journey for me, leaving home at 5:30am and arriving in Amroth about 4:30pm after 3 trains, time spent waiting on trains and then an hours walk from the train station at Kilgetty to the start of the walk at Amroth. I was glad to get off the train at Kilgetty and stretch my legs for the 3 mile walk to Amroth but the narrow lanes were busy with traffic and I was glad to reach the pavement beside the beach at Amroth, but the actual starting point of the walk would be about a mile along the road at the New Inn. It had been a sunny April day and I hoped there would be many similar days ahead for me on the Pembrokeshire Coast Path.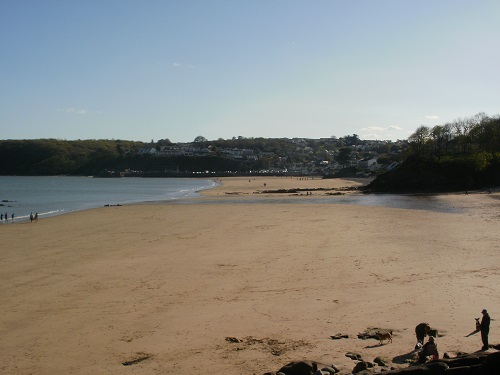 The Pembrokeshire Coast Path walk begins.
It was fleece and trousers at the start but it was warmish and sunny so I knew the fleece would be off soon, and it was. The start from the New Inn is about a mile or so of pavement and you can look across the bay and see Saundersfoot, a village you will pass in about an hour as it's only about 3 miles away. Amroth can be quite busy with tourists so I was glad to leave the pavement and head up steep steps and puff and pant for a while before it levelled out and a pleasant walk past Wisemans Bridge and then through 3 long tunnels, one of which had small red LED lighs along the bottom of the tunnel to help lighten it up, but it was still very dark and busy with tourists.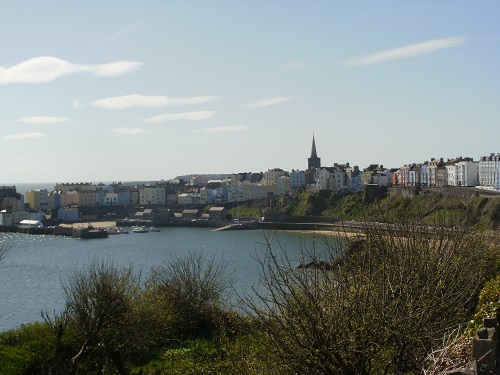 When you come out the last tunnel, you have reached Saundersfoot, a nice seaside village with shops and chip shops if you're hungry. Tenby is only another 3 miles away though and nore shops if you're stocking up.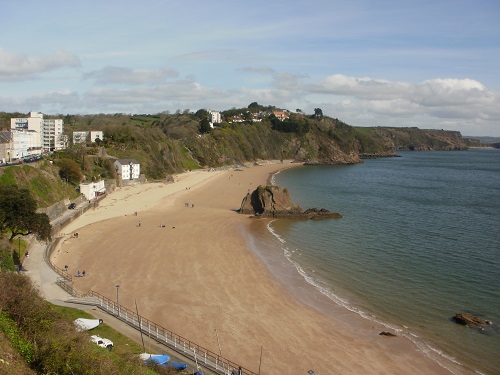 From Saundersfoot to Tenby, it's normal coastal path with it's up's and down's but spectacular cliff scenery. Don't forget to keep looking backwards to get different views of the scenery you have just passed as well. You will soon be at Tenby, a busy seaside village but plenty shops to stock up at and to have a break.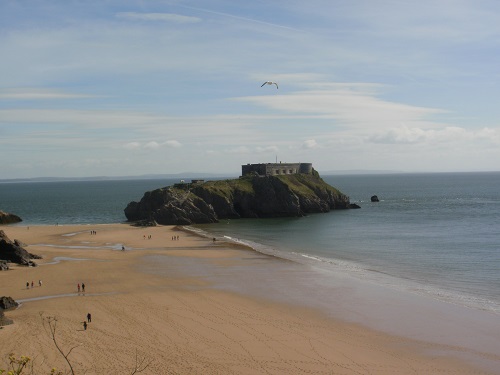 You can have a nice long walk along the beach here almost to Penally, which you will have to walk through if the path is closed ahead as it's a firing range for the Army. The red flag was flying when I got there which meant that the path was closed so I had to divert along the road to Penally then rejoin the path soon after and a pleasant walk up and down to the beach at Lydstep Haven where I walked along the beach rather than walk through the caravan site. There are plenty of rocks here if you want to have a sit down or a few benches further on in the caravan site. From here it was a short cliff top walk before reaching a car park and the sign pointing you to the YHA at Manorbier, which is where I'd be staying at the end of Day 1 of the Pembrokeshire Coast Path.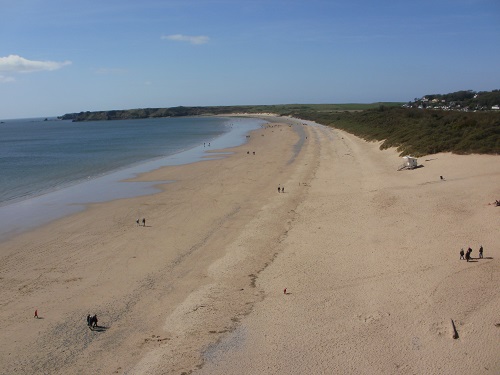 My first days walk was a lovely start to the Pembrokeshire Coast Path, mostly done wearing tshirt and shorts, sun hat and sunglasses too. The YHA was nice and I was talking to a few other people who were staying including an American woman who was also doing the walk and I enjoyed listening to their stories about places they had walked in the world, made me quite jealous that I'd only ever walked in the United Kingdom. I went to bed quite early as the next day would be a long day for me and an early start but if the rest of the walk was anything like the first days walk, I knew I'd enjoy the whole of my walk along the Pembrokeshire Coast Path.