A walk of two halves today
One thing I don't like about staying in Hotels, Pubs or Bed and Breakfasts is that by the time you have had breakfast, it's maybe after 9am and I like to be up and away long before then, especially if I'm awake at 7am and ready to go but have to wait an hour or so for breakfast, one of the reasons I like to stay in Hostels. By the time I finished breakfast and had a chat with the Hotel owner in Pembroke, it was after 9:30am and I had a long day ahead of me so I felt like I was having to walk faster than I wanted, just to catch up. A reason for hopefully starting early was that there were 2 places along todays walk that you can only cross when the tide is low. If the tide is high it means long detours of over an hour both times.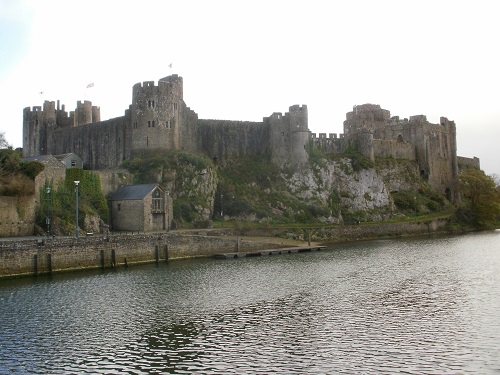 Anyway, I left Pembroke and the castle and followed the signs through some woodland and through some fields but in one filed, the path just seemed to disappear or maybe I went wrong somewhere so I took another path that took me to Pembroke Dock where I soon rejoined the original path. A short walk downhill to the docks and houses would lead me towards the Toll bridge where the wind returned for a short time before I crossed the bridge and down to the riverside and a bit of shelter again and walked through a couple of small quiet villages.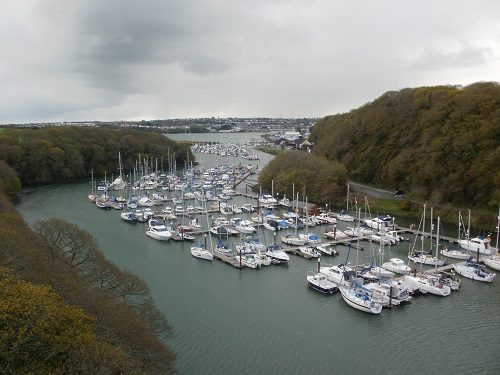 Today would be a walk of 2 halves, the first being housing and then passing through Milford Haven and it's industry, which you can see for days on this walk. It wasn't as bad as some people suggest and I was soon in the town and sitting looking over the water as I had my lunch on one of the many benches before the town centre. After lunch, a short detour into the town and a shop to get something for my tea and some goodies as I didn't fancy going back out to the pub once I reached Dale,(there is a Tesco near the Station if you want to stock up). A few miles after Milford Haven, you pass the last of the many pipelines, or over them on wire bridges which don't feel very safe and the 2nd part of todays walk starts and the good scenery begins again.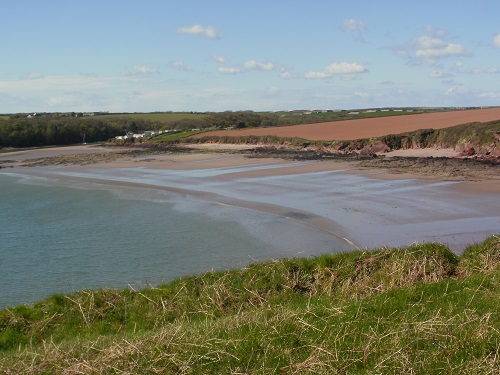 A nice fast grassy path took me to Sunny Haven and I was glad to see that the tide was low so that I could cross the bridge and not have an extra hours detour, this also meant that I'd be OK for the 2nd bridge further on, near Dale. This was now a walk through vegitation in the sun which meant lots of flying insects and bees.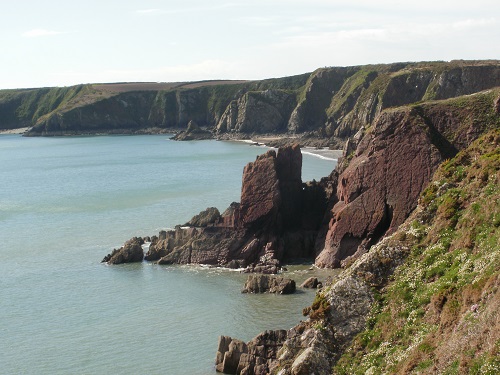 Dale was visible by now and the tide was so far out that you could almost walk straight across the sand but I played safe and walked along the stoney beach and then crossed the wooden bridges when I came to them and then a bit more beach and along a road and I was in Dale and looking for my Bed and Breakfast.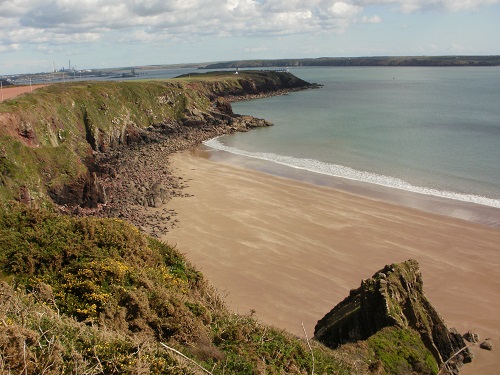 I was glad to sit down in the Bed and Breakfast and eat the food I'd bought in Milford Haven rather than going to the pub and relax after a long but enjoyable walk, not as dull as I had feared and very scenic once I passed through MIlford Haven. Very soon though my eyes were tired and I was sleeping in no time, I was looking forward to the next few days and a return to the coast.