A sunny end to a fantastic Coast Path
It was a wet and miserable morning when I set off but at least I could leave a bit later as it was a shorter day today, also the final day which I hoped would help my tired legs. A good sleep and a quick visit to the shop for some food for lunch and later, I just hoped I could find somewhere a bit sheltered to eat it as it was raining quite heavy and still gusty wind, as it had been nearly all my walk.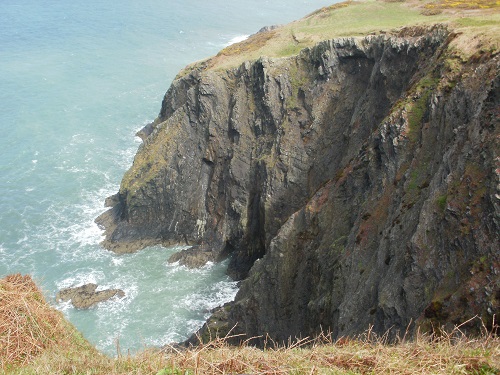 I set off just behind 5 guys who were doing the walk in the opposite direction, this was their second day and second day of rain. I felt sorry for them as they were heading into the wind and rain and they certainly weren't seeing the best of this walk so far, unlike me. I had been quite lucky with the weather, dry but chilly for 7 days then rain on day 8 and it would rain for half of this last day and it would finish in lovely sunshine.
A gentle walk over the bridge and through the golf course, no one daft enough to be playing on a day like today. There was a man in the hut at the car park to take money but I didn't think he was going to be very busy today. I was heading northwards with the wind at the side, I knew this would help me later on and it did. There were a few steep ups but it was a case of head down and get on with it and look out for early morning joggers, on the left Dinas Island was still in the gloom.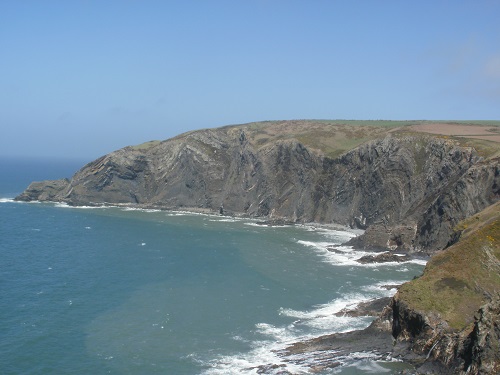 I eventually started heading East, the rain now behind me, this felt better. Soon I was looking for a place to have lunch, I doubted I would find a bench around this stretch and the grass and rocks were wet so no sitting down. By now, blue sky was around me and soon the sun came out. I headed down into a bay where there was a small wooden bridge over a stream, this would do nicely for dinner time.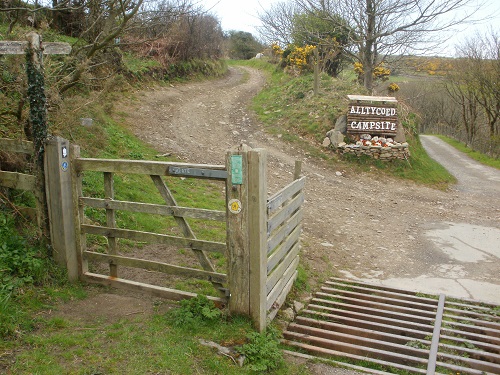 This was at the Witchs Cauldron and after my dinner I went a short distance up and down into Ceibwr Bay and past a few benches, typical really. I decided at this point to remove the waterproofs, my trousers and jersey under them were soaking and I hoped the wind would dry them quickly. Once they dried, the walk felt more comfy. By now I felt I was on a countdown, not far to go and I could see the huge cliffs ahead of me with curious rock formations and I knew once I got over them, it would soon be a case of heading south for the last few miles.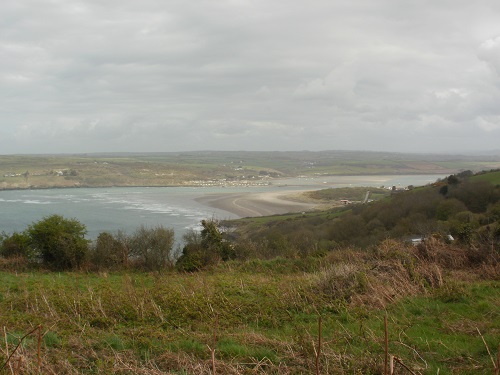 My legs worked good today, maybe it was the wind behind helping? Maybe it was the fact it was my last day and less mileage? Who know but I felt I was striding up the hills rather than struggling but the sidewinds made walking in straight lines difficult as the grooves in the path were quite narrow as I was being blown off them. It didn't take long til I was near the cliff face and admiring the rock formations and heading up the side of it just to get to the top and see another cliff ahead, another down and up path. The wind was stronger here and I almost ran up it.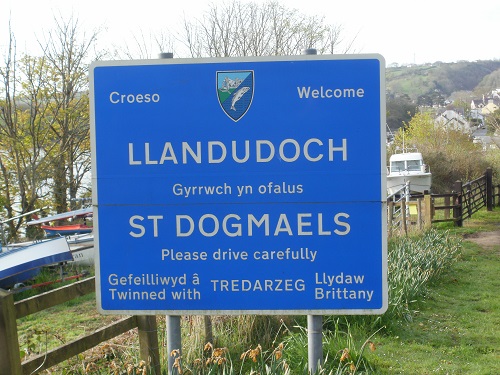 Got to the top, headed East for a short time then turned the corner. I could now almost see the finish at St. Dogmael and Cardigan as I headed south and down past the camp site at Allt-Y-Coed and through Gate Number 1 of the Pembrokeshire Coast Path (there are 543 in total) and then down the road past Poppit Sands YHA and just one small final climb up the road before passing the car park and striding out and seeing the slipway and the finishing line, what a nice site it was and a lovely setting for a finish/start of a Long Distance Walk. Photos taken, it was a small walk into Cardigan to await my bus to Haverfordwest and my long train journey home, feeling really good about my fantastic scenic Pembrokeshire Coast Path walk.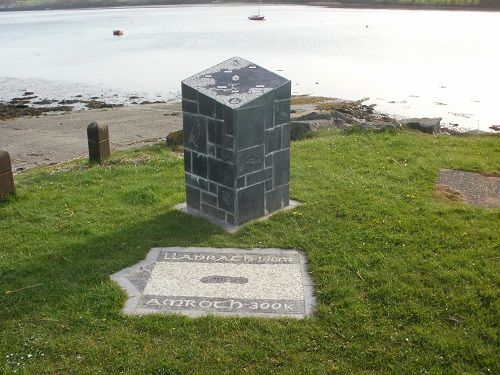 Click here for my final thoughts about the Pembrokeshire Coast Path