Having my lunch listening to gun fire.....unusual
It was going to be almost 29 miles today so it meant an early start so I was off and away by 6:30am, the sky cloudier than the previous day and it would be a much cooler day because of a strong wind so it was waterproof jacket and hat for most of the morning. The first few hours were quite fast walking on good paths but plenty of fantastic scenery to look at, I stopped at a bench near Freshwater East for a break. The next couple of hours saw some fantastic scenery including Barafundle Bay beach and rock formations but also cliff top walking which meant it was fast going and it wasn't long before I was walking over the dunes at Broad Haven beach near Bosherton.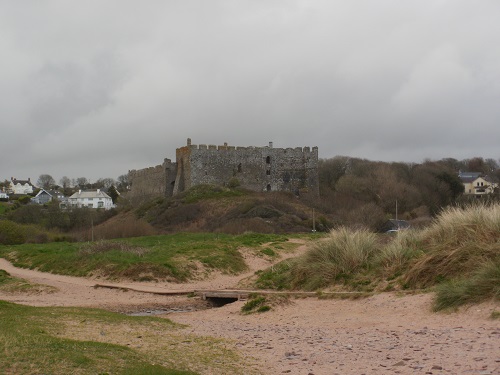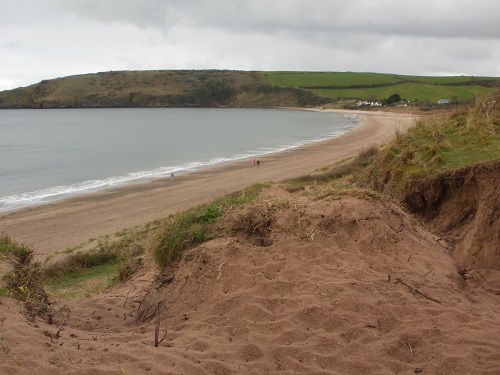 The next part was closed, as I thought it might be, the army were on the firing range so the detour took me past the lovely lily ponds to Bosherton and then a really long section of lanes and roads which are nowhere near the coast until I got to Castlemartin and had a seat on a bench at the roundabout and had my lunch, the sound of gunfire and tanks firing as I ate my sandwiches. This road section is probably one of the only parts of the Pembrokeshire Coast Path that I didn't like...I can walk along road anywhere, I wanted to be by the coast.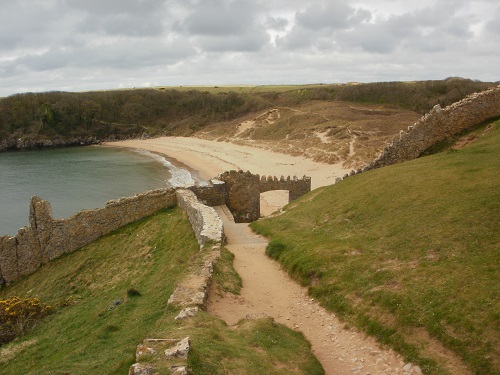 The previous 2 hours had been all road and boring and there was more road to come but at least I was heading towards the coast again at Freshwater West, a lovely huge beach and empty today. It was nice to walk along the beach for a change of walking surface although the strong wind was in my face and the short walk over the dunes to get back onto the path at the end of the beach was quite sapping on my tired legs.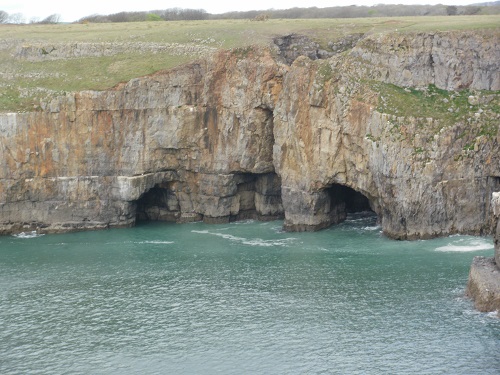 The wind was strong and in my face and the next section was like a roller coaster, which really sapped my energy. The sun had been out for hours but it was still cold enough to have a jacket and hat on but everytime I went down into a cove, I would be sheltered from the wind and the sun made sure that I sweated like mad walking back up the hill only to reach the top and be subjected to the strong wind again. My legs were quite tired by now but I'd done over 20 miles at this point so it wasn't a surprise. The views I was getting though of the rock formations, cliffs and the lovely blue sea took my mind away from how my tired legs were feeling.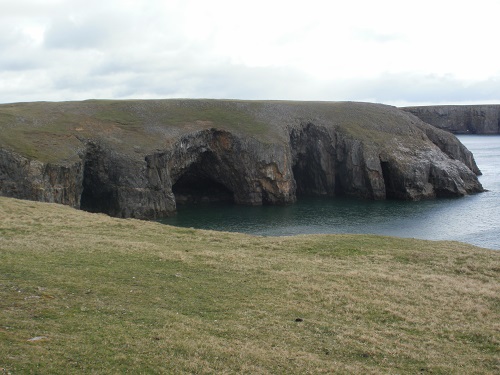 The roller coaster hills went on for ages until I reached an old ruin and after that it got more gentle and it was quite a pleasant cliff top walk from the ruin to Angle Bay West, passing Thorne Island which looks like Alcatraz and also looking over at coastline that I'd be walking around in 3 days time, I could almost swim over as it seemed that near but the Pembrokeshire Coast is anything but straight. I stopped at the Cafe at Angle Bay West for an ice cream and a drink, at this point you could take a short cut to Angle and make the day shorter and then do a few miles extra the next day (or if you were suffering you could just miss out the Angle Peninsula as some people do) but I felt good, it was sunny and the wind was more behind me now and it was only another hour along cliff tops, fields and lots of gates before I was in Angle and checking into my Bed and Breakfast overlooking Angle Bay and watching the tide come in.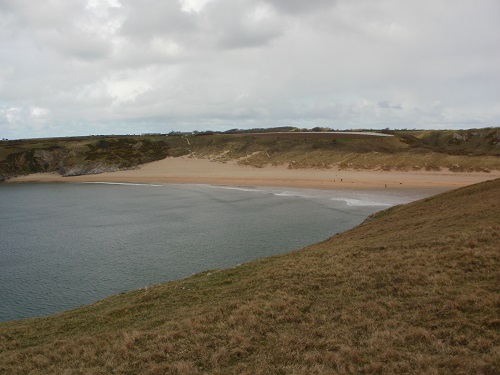 The bed and breakfast was quite expensive but along this stretch of the Trail, there's not a lot of accommodation so you don't have a lot of choice. The room was lovely, the owners were charming and the breakfast next morning was very good but it's still a lot of money when you are just wanting a bed for the night. Anyway, I picked up a few goodies from the shop in Angle (open 7am til 7pm most days)and then a meal at the Hibernia Inn, which was tasty and sat and reflected on a long but rewarding days walk knowing the next day would only be about 11 easy miles to Pembroke. I also realised at this point that I'd caught the sun quite a lot today, my red face and nose being quite evident of this, you tend to think that because it's quite chilly in the strong wind that the sun won't be as strong, but it obviously was.