Does it ever stop being windy along the Coast?
Well, what a long and gruelling day this would be, ending up doing 27 miles instead of 24 as I did a couple of detours and also took a wrong turning at the end trying to find the Youth Hostel just outside Whitesands Bay.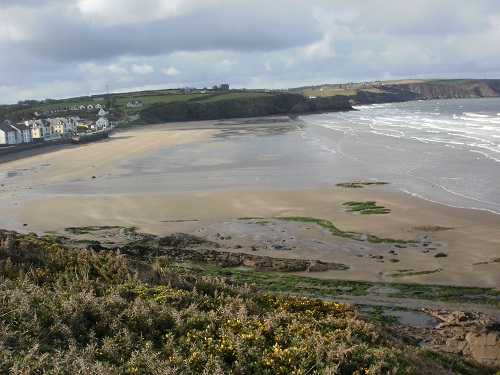 I left Broad Haven just after 8am into a very cold and blustery wind (why did the wind always seem to be in my face every day, no matter which direction I was heading?) but at least it was dry again, the consolation was that the wind would die down later. It was a morning for gloves and warm hat, even under the waterproof jacket. Today's plan was to have a break at Newgale and then later to stop at the shop in Solva to get some lunch and buy food for tea.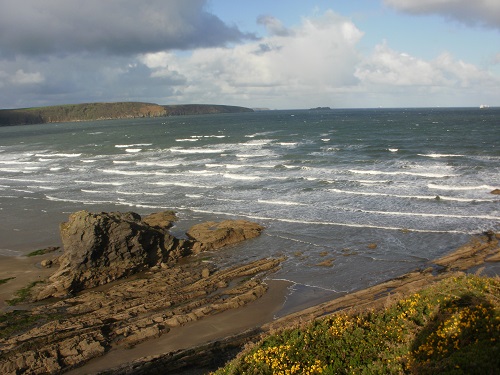 It was straightforward to Newgale into the biting wind, I didn't have a long break as I just wanted to keep walking and keep warm. After Newgale it was quite a roller coaster path but great scenery and I could feel the wind lessening and the sun finally came out. I reached the pretty village of Solva and tried to locate the shop in Upper Solva, a short detour from the path but it didn't seem to be where the guide book suggested it would be but my guide book was a few years old. A quick look online and I found that it was further up the hill which annoyed me as I'd almost walked that far then turned round thinking I'd walked too far. I found the shop, stocked up with probably too much as my bag was heavy now but at least I wouldn't be hungry or thirsty and I headed back towards the path that I'd taken up to Upper Solva but I couldn't find it so ended up walking down the road to Solva to rejoin the main path at the harbour, Solva had cost me an extra mile or so and I was glad to be leaving it and continuing my journey.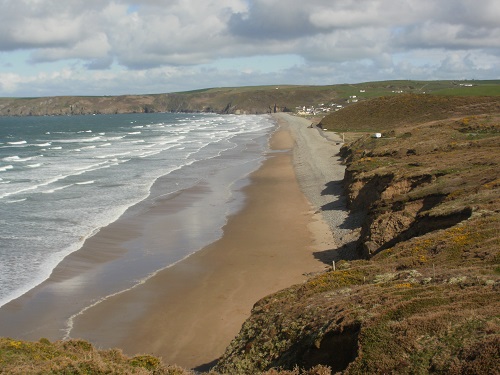 A few miles of up's and downs in the sun meant that the jacket came off and the sunhat went on which meant a more comfortable walk. The scenery yet again was fantastic and I had to keep stopping to take photos or I'd end up tripping over. The ground was a lot flatter now and I made good time.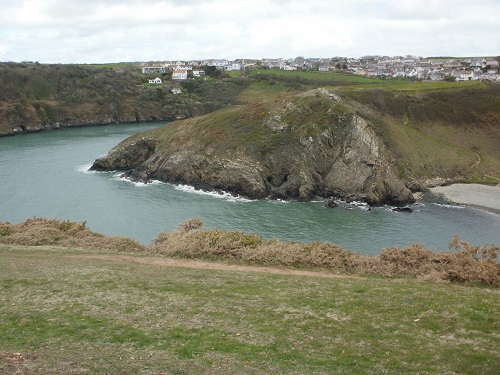 A break was taken on a bench in a car park at a caravan site and I headed off again, the path changed from flat and smooth to quite rocky so you had to walk carefully. I kept hoping I'd reach Ramsey Sound as this would mean that I didn't have far to go but it seemed to take ages as the rocky path was slowing things down.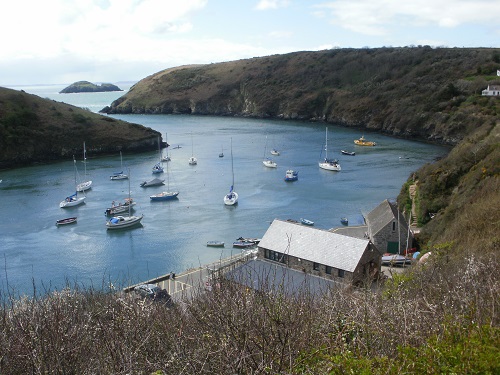 Eventually Ramsey Sound was reached, aplace they say is good for seeing Dolphins or maybe a porpoise as they like the fast flowing water. I changed direction and felt that I was on my last few miles but as always, the last few miles dragged on. Eventually I saw a sign saying Whitesands Bay was only 2 miles away and it was now a race to get there before the rain that was heading my way over the ocean. It was a long 2 miles before I reached the sands, the path seemed to go all over the place instead of direct, which kind of sums up the whole Pembrokeshire Coast Path really.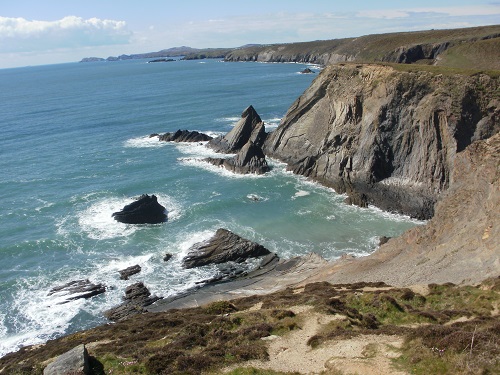 It was just a simple case of finding the Hostel but it's not very well signposted. Luckily I had my map but I still took a wrong turning which cost me an extra 15 minutes and maybe a mile more than I wanted to do. I was getting a bit fed up by now and I saw a sign saying the Hostel was still half a mile away, my legs were tired and I just wanted to sit down rather than keeping on plodding along a road.
This Hostel was probably the busiest one I stayed in during the walk and most of the people seemed to be doing the Pembrokeshire Coast Path, some were having a rest day, some were heading the opposite way and a couple just seemed to be doing bits here and there, it was a nice friendly place. I had walked nearly a week now and I was still loving the Pembrokeshire Coast Path and I only had 3 more days to walk, this was a shame as I was enjoying it very much.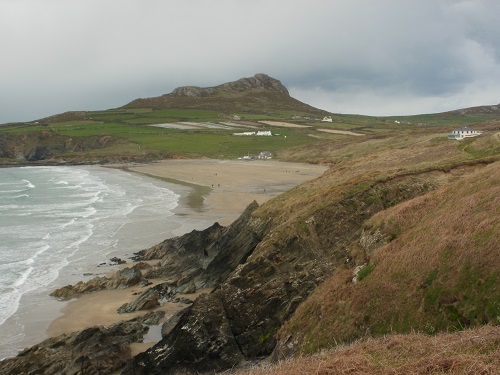 Click here for Day 7 of my walk - Whitesands Bay to Pwll Deri