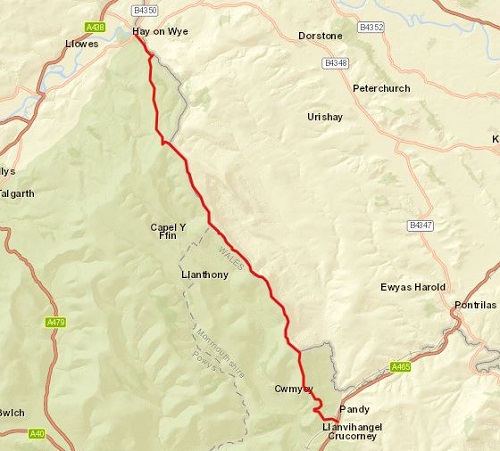 The first two days of the walk had been good even if it ended up with wet socks and feet and very muddy shoes but today would not only end in dry feet but it would be a fantastic day walking, mainly on a lovely scenic ridge that went on for miles and only one heavy spell of rain all day, this was my kind of walking.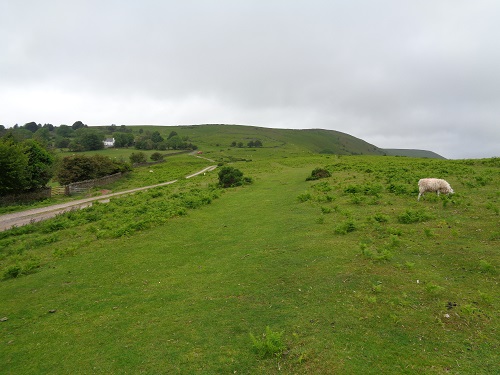 I set off from my Hotel in Pandy and along the pavement to where I had left the trail the previous night, the clouds were quite dark and the forecast suggested little showers possibly in the morning, in fact one started soon after I got on my way. I soon crossed the railway tracks carefully and started heading up a little lane. As I got higher up, the view back across towards Pandy and the surrounding hills got better.
It didn't feel like I had gone high, maybe I'm just getting fitter as I go on but soon I was walking up on open moorland, the short grassy path felt good underfoot, much nicer than soggy and muddy ones. Ahead of me I could see the path heading up the side of a hill and I headed up it quite quickly, possibly helped by a strong wind behind me. As I got to the top I knew I was in for a good day as I saw the way ahead of me was quite level, a good path and good views on either side.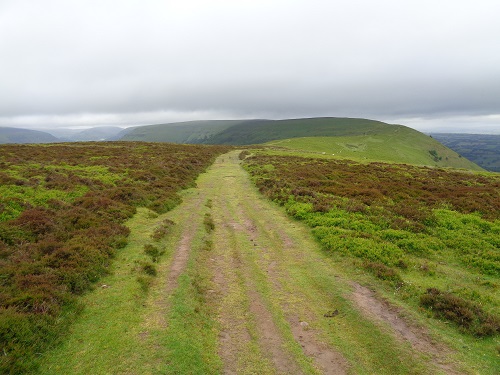 The ridge must have gone on at least ten miles with not much ascent at all on good level dry paths with views of England to the right of me with all the fields and farms then to the left of me were Welsh hills, what a contrast. This was the kind of walking when a solo walker switches off and lets his feet do the walking while taking in the views and just relaxing.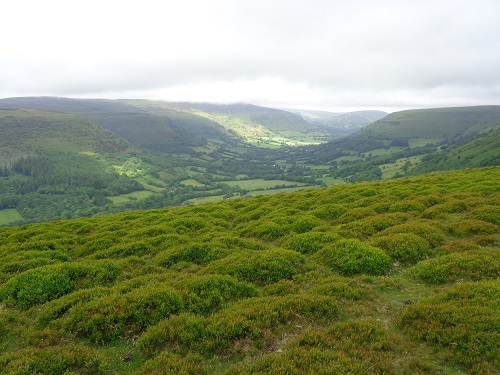 I passed three trig points along the ridge and many wild horses grazing and a few people as well. On the right of me, a long way down was Longtown. There is accommodation here but if you decide to stay here it means a long way down and more importantly a long way back up in the morning. I was taking in the beauty all around me, the skies were quite overcast and no sign of any blue skies or sunshine but it was still very scenic, I can only imagine how it would look on a good day.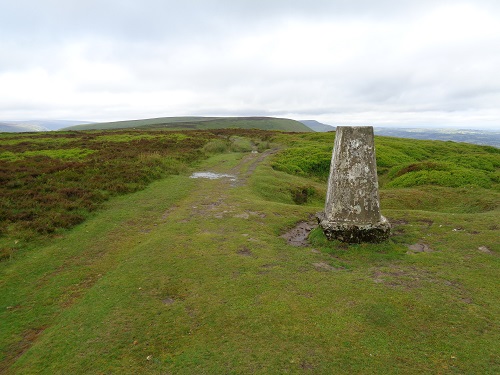 The miles flew by as time seemed to stand still and I didn't realise that it was past lunch time so I started looking for somewhere that I could sit down but there was nowhere on the moorland ridge. Eventually the path started rising through a rockier section with many cairns and I sat down on a large flat stone to have my lunch looking over towards England.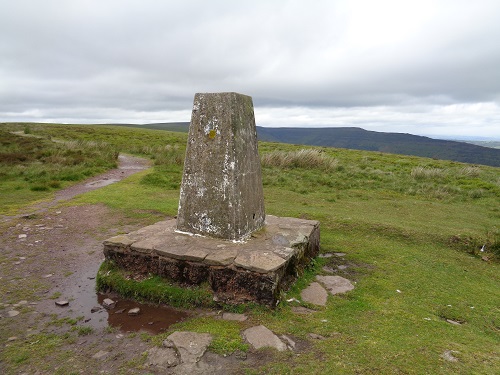 I really could have sat for ages but I stood up to get my backpack on and turned round to see that rain was heading my way and it looked heavy. I had my waterproofs on anyway as it was chilly but it would be a heavy shower helped by the strong wind. As it went off I realised that I was now about to descend off the ridge. The guide book said that a little detour to Hay Bluff would be a good idea and they were correct.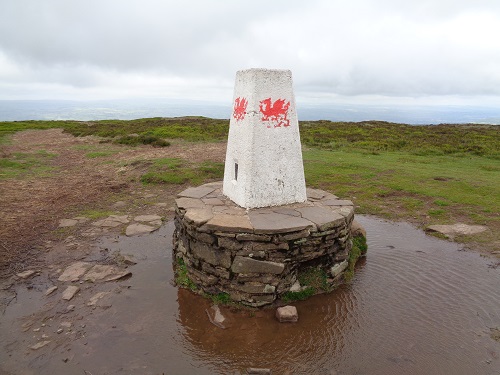 I had imagined that the detour would mean having to climb up an extra hill but as I got to the cut off I realised that the trig point that I could see was almost the same level that I was at and would be easy, the official trail headed downhill. I was at the trig point, with the Welsh dragon painted on it then turned left to follow the path a short distance before heading down a narrower path. When I reached it I was amazed at how wonderful my view was. I could see Hay-On-Wye was in the distance.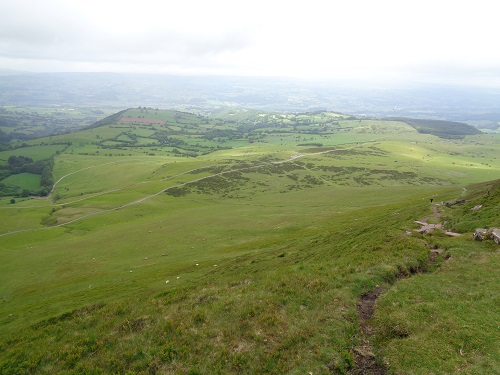 I stopped for a while taking in the beauty before me, it was indeed a "wow" moment. I reluctantly started heading down the steepish path but kept pausing to take in the view before getting lower down, a final steep dry grassy path took me to a car park and a short bit of road before I rejoined the original trail then soon headed off over some lovely grassy moorland for a while.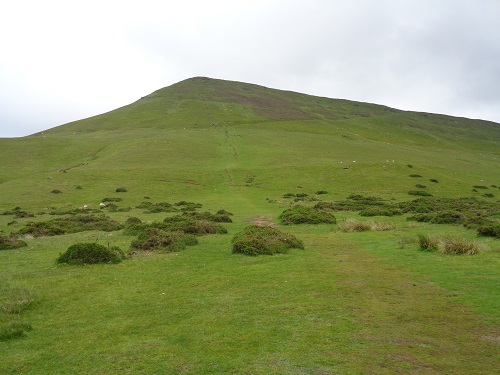 There wasn't too many miles left to walk to the end but the final ones seemed to drag on, through lots of little fields with soggy grass and occasionally some muddy tracks before I walked through a field with the town just in front of me. I reached the main road, the path goes left but my Hotel was to the right so this is where I'll start tomorrow.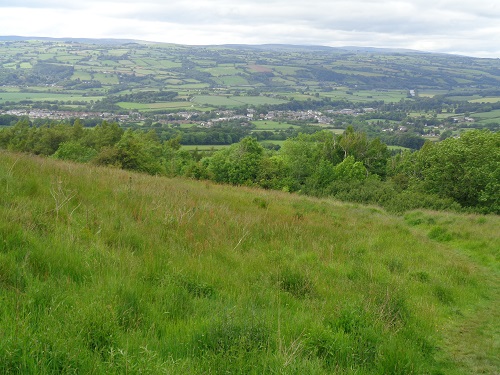 As I relaxed in my room, I thought about just how much I had enjoyed the day. It wasn't tshirt and shorts weather but the long ridge walk and the view from Hay Bluff made it a fantastic day and I even had dry socks at the end, it was so nice not to be splashing through soggy and muddy fields. It will take something special on this walk to beat today's walk.