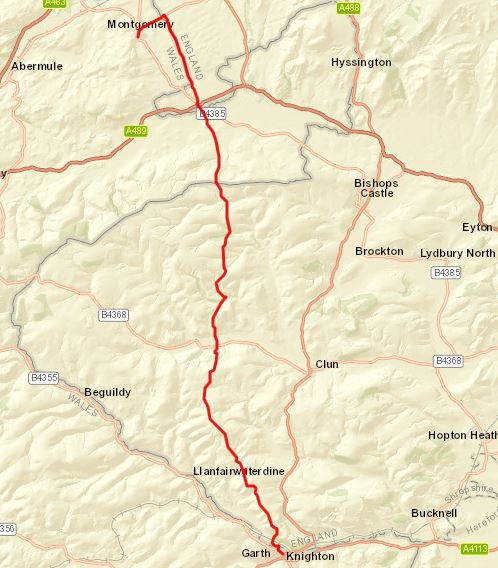 Today would be a long mileage day but it felt even longer because of the amount of steep uphill and downhill sections which really slowed me down. It wasn't until the last few miles on the flat, that dragged on, that I felt like I was walking fast. The forecast for today was for it to be dry but there were a couple of light showers in the morning.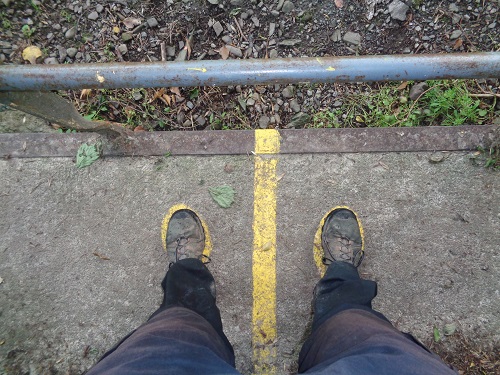 When I first woke up and looked outside there was plenty of blue sky about but by the time I had breakfast and checked out, there was light rain in the air. A quick visit to the shop for my lunch and I was on my way through the town. A pleasant walk beside the river would start the day before crossing the railway line and starting my first climb of the day up through the woods, this really woke my legs up. It was hard going but when I got out of the woods and into open grassy moorland and looked back over Knighton, the puffing was worth it as splendid views were now on show.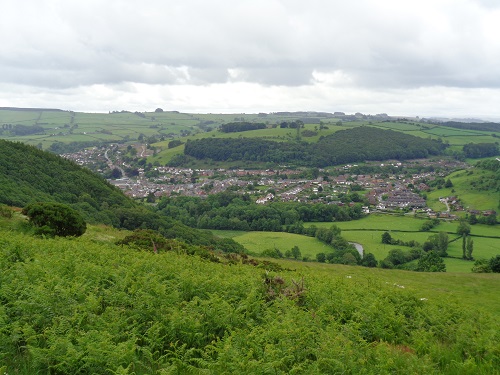 The gradient eased up and the path got narrower so I had to watch my step as I took in the wonderful views. I soon reached a trig point and paused to take in the view once more before moving on. It was a lovely level walk mainly and my mind switched off. The path was quite narrow as I followed a fence and then I was confused as I got to the end of the fence as it met another fence but there was no gate or stile to get out. A quick look on my GPS told me that I should have been further down the hill so I retraced my steps and found the path I should have been on.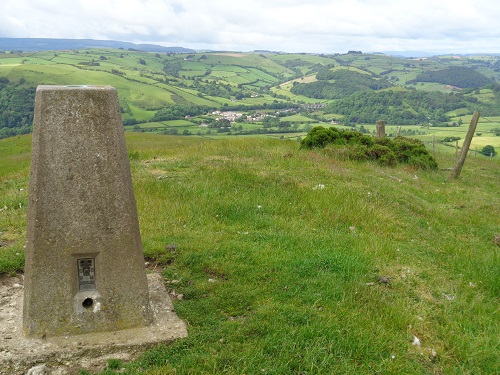 I made my way quite slowly down this hill, it would have been very slippery if it was wet. I passed a house then a track took me to a road for a short bit before I left it to go up some steps. The path contoured for a bit before it joined a track heading uphill after a farm. Up above me I could see another walker who had stopped to take photos and put waterproofs on as a shower started, he was still there a few minutes later when I reached him and passed him, by now the rain was off but my jacket was on to keep me warm in the cold wind.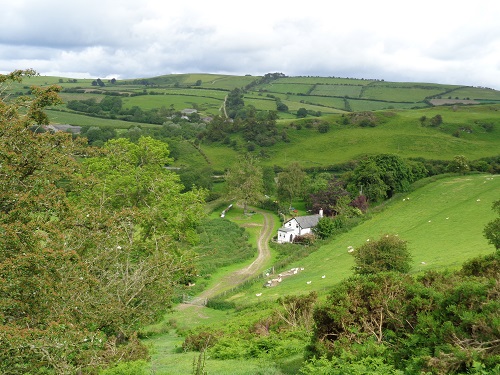 Shortly after the hill levelled out and I stopped to have something to eat, the other walker soon arrived and we talked for a while, probably too long as I had a long way to go and he didn't. He left and I finished my snack before heading along the track, Offa's Dyke lay to the right of me behind a fence with many cows on it. The track went on for a while and was quite level and I overtook the walker just as it joined a quiet road for a while.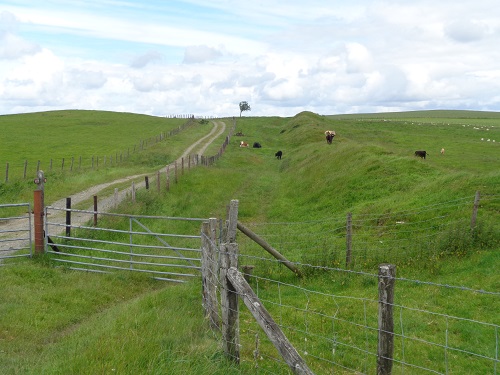 The road didn't last long before I left it and started heading downhill quite steeply before it met a road. I took a short break as I had already seen how steep the next bit would be. It was a case of head down and get on with it but it was very slow progress with many stops for breaths. A sign soon came into view though that would make me smile, it told me that I was now at the halfway point of the Offa's Dyke Path.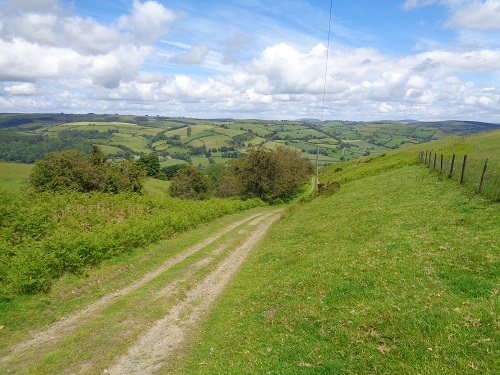 I knew now that I was nearer the end than the beginning with every step I took. Mind you, my steps were quite slow as I continued heading steeply upwards, turning round occasionally to take in the views. I eventually reached the top but ahead of me I could see more hills but also lovely views as well. A few really steep climbs and descents followed, in one of the valleys was a small bridge over a stream and I had a break there, sitting down on its steps.
I originally thought I would finish about 5pm but now I was aiming for nearer 6pm, it had been slow going. More uphill followed until I could see the flattish Vale of Montgomery ahead of me, but I still had to go down a steep hill and back up again. While going down and walking on top of the dyke I slipped and fell back which confused me because it wasn't that steep and it wasn't wet. Later on I looked at my shoes to find hardly any tread left on them. I've had them a few years now and done many long distance walks so maybe time to get new ones.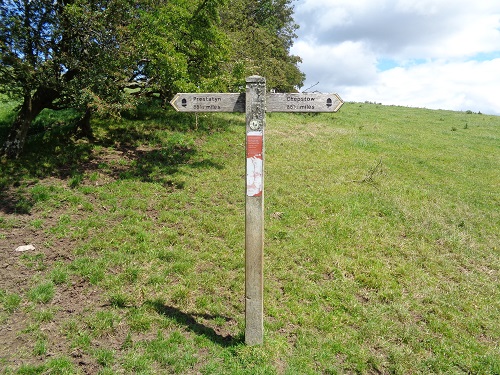 There was still one more hill to climb and it felt like the steepest as my legs were very tired now so it came as a welcome relief to reach the top and take in the magnificent scenery before me. I knew the next few miles would be flat once I descended and hoped it would be fast walking but it just dragged on. The descent was over quickly, passing through woodland and the caravan site at Mellington Hall and I was soon on a road after I passed through a gatehouse, looking out for cars as I crossed back into England.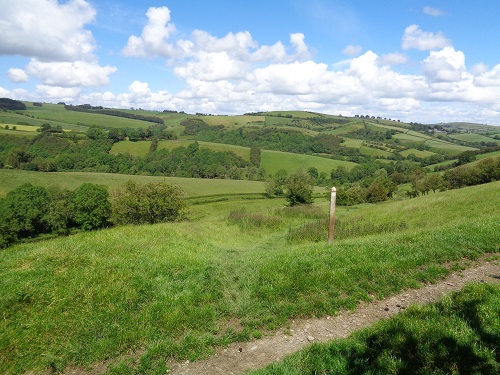 I was now at the valley floor at Brompton, about four miles still to go and flat but it really dragged on through many fields of longish grass, thankfully dry today but it was still slow going as field followed field and I lost count of the number of stiles I crossed. I thought I was never going to get to my cut off point to the east of Montgomery but I got to a last field, this time it was short grass with sheep and horses in it.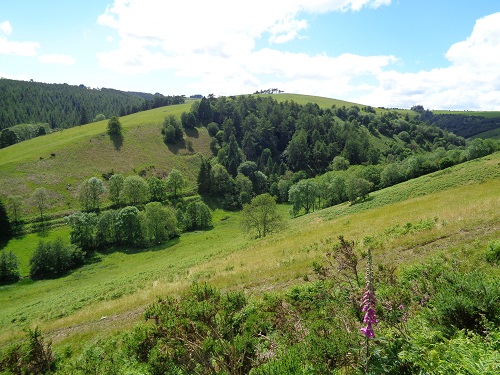 I was relieved to finally reach the road that would take me into Montgomery where I was staying that night. Carefully I walked along it, there was not really a verge and crossed back into Wales before entering the town much to my relief and finding my hotel which was also beside a shop and a chip shop so that was food sorted.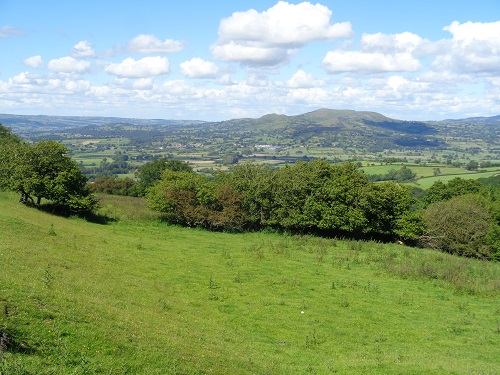 As I recovered in the hotel about an hour later than planned, I was glad to have got a long day out of the way but it felt much further. Tomorrow I am walking a couple of miles further but hopefully it won't be as hilly as my legs are really tired tonight. However, it feels good to now be over the halfway point of the walk and getting nearer the end.