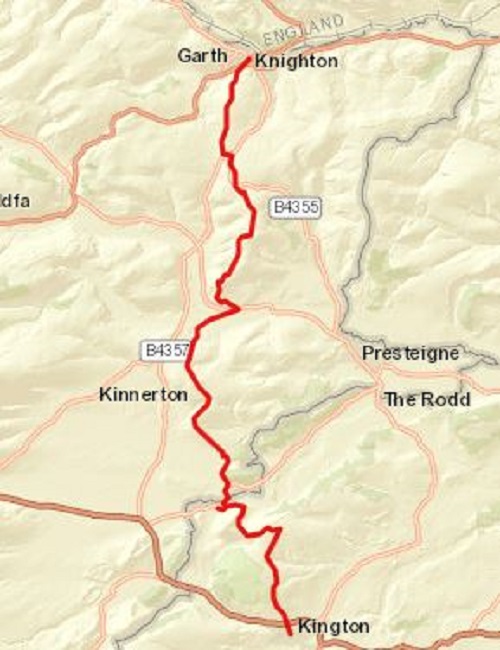 Today would be another mainly dry day, no waterproofs needed but best of all was that it was another lovely days walk with no mud and only a bit of rain on some of the sections with narrow paths and overgrown grass but plenty of lovely scenery all around. After the first two day, it's safe to say that I'm enjoying this walk so much more each day.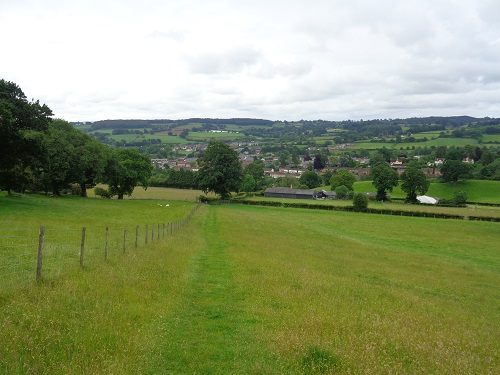 It was another reasonably short walk today so I was in no hurry to set off from Kington. Breakfast was eaten and I checked out and went to the shop for something for lunch. Two of the walkers I had seen the previous day were about to set off as well, it always feels quite nice knowing other people are doing the trail. I was soon out of the town and heading uphill, this would soon wake my legs up.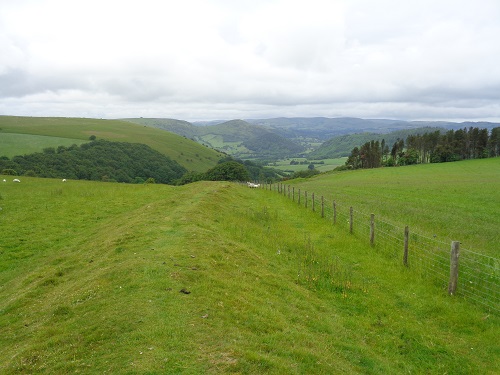 It went up for quite a while until I walked through a golf course, my guide book tells me it's the highest course in England but no one was playing this morning. The next few miles were lovely walking, making sure to turn around and take in the views over Kington. The gradient was never that steep and it was grassy anyway so quite pleasant.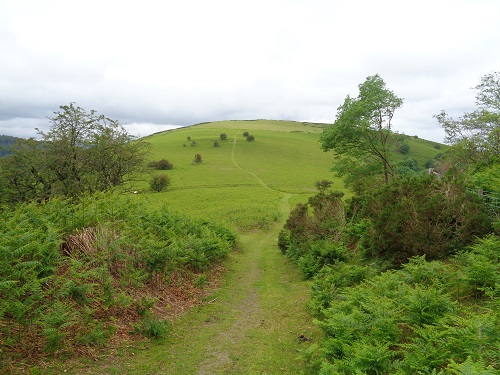 Not long after, I found myself at Offa's Dyke again, I hadn't seen it for days and it was much smaller here. I walked beside it for a while before descending, the view before me would only be improved if the sun had been out. A lovely grassy path continued, I love this kind of walking as I just switch off and let my legs take me down. The path was getting near the valley floor and turned into a track, I was enjoying it so much that I missed my turn and only noticed a few minutes later when I looked at my GPS. I retraced my steps and found a gate, quite well hidden in the hedge and went through it and down to a road.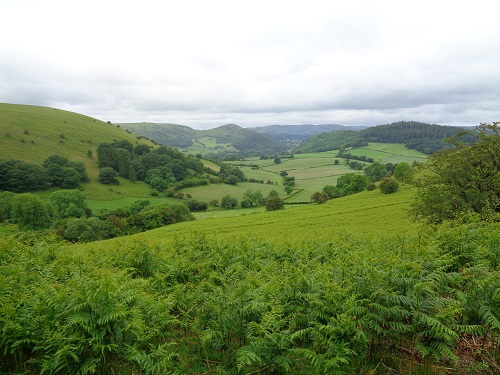 A sign on the road welcomed me to Wales and I walked along it, another walker was heading the other way, we exchanged greetings. The next few miles would be forest track, narrow paths, wet because of overgrown long grass and a bit of woodland walking. It wasn't as nice as the previous few miles but it was still enjoyable. I almost missed a turn that took me up some steep wooden steps which had me sweating away.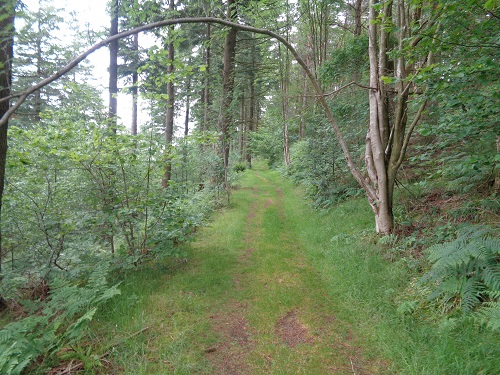 The view was quite often hidden now but it was lovely when you got one. Soon I was walking beside the Dyke again and on it as it headed downhill. I turned right and headed through farmland and started feeling hungry when out of the blue a nice bench appeared near the exit to a field. It was so wide you could have slept on it but it was perfect for my lunch break, the sheep in the field looking on.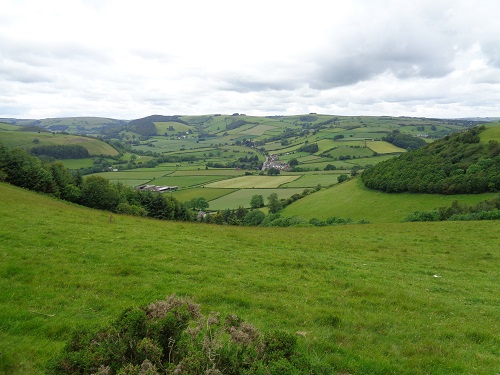 I was over halfway and in no hurry but I had to leave sometime so I reluctantly did so, through a few fields until reaching a small village called Dolley Green where I started heading steeply up a track. Up ahead of me on the hill I could see what looked like a cairn or a possible monument. After plenty of huffing and puffing I got near the top, took a small detour off the track only to find that it wasn't a cairn, it was just a sort of well to store water for the animals.
Some very nice grassy walking followed, not too steep either and keeping to remember to turn around to appreciate the views. I had a small break and then headed off, meeting a dog walker then passing the Price monument and reaching a small car park at the side of a road. I crossed over it and started heading through a small bit of woodland. Just as I did so, a small shower started so I just had a break in the shelter of the trees, the sun actually came out at this point briefly.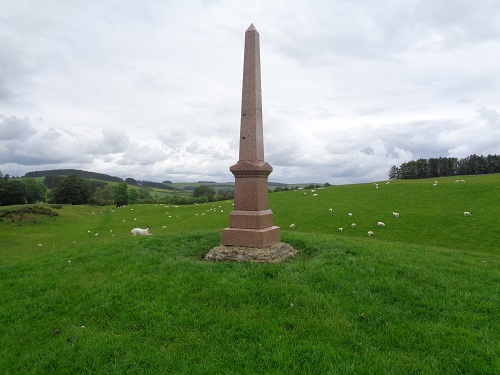 With the passing shower over I moved on, heading down. I soon reached a road and then a junction, a sign told me I had less than two miles left to walk. A few overgrown field edge paths eventually led me into a golf course where a path took me down to the side of it. At the end I crossed a road and continued heading downhill, I could now see parts of Knighton through the trees, the first time I had seen it and it was only a short distance away.
A couple of minutes later I was heading down into Knighton where I turned left and soon found my Hotel. I checked in then had a little wander around as I was quite early then back to get my shower and relax for the evening. A pizza shop just over the road would be ideal for my tea.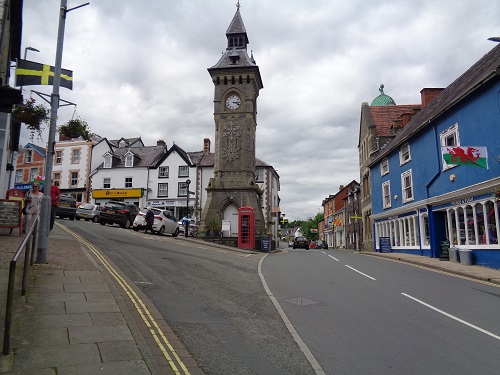 Another lovely day walking, the last three have been so nice compared to the soggy and muddy fields on the first few days. I have now done five days with six left to go and will pass the halfway point tomorrow. The weather forecast for the next couple of days looks good as well and hopefully the paths and tracks will be dry and nice to walk on with more lovely views.