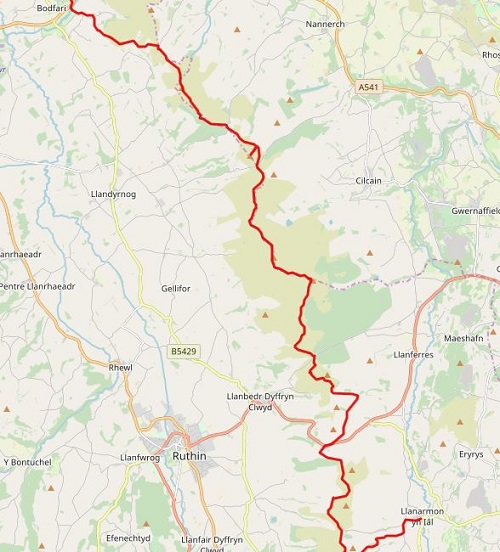 The guide book said that today would be a lovely walk and it would have been if the weather had been better. The forecast was for thunderstorms but thankfully there was only one real shower of rain all day but it was hot and humid and the views hidden mostly by heat haze and low cloud. The actual paths were lovely to walk on with a long ridge walk and lots of little hills including a small detour to the summit of Moel Arthur before a long descent into Bodfari and a very steep climb to my B&B.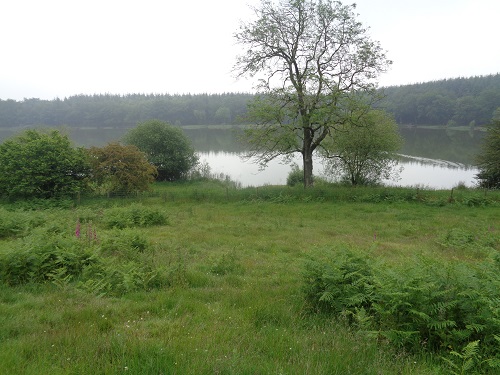 The forecast was for rain from the start so I opened the curtains expecting to see rain, but it was still dry. I soon set off, stopping at the shop for a few things and retracing my steps from last night to meet up with the Trail again. The grass was wet and it looked like it could rain at any time, I just hoped for no thunderstorms.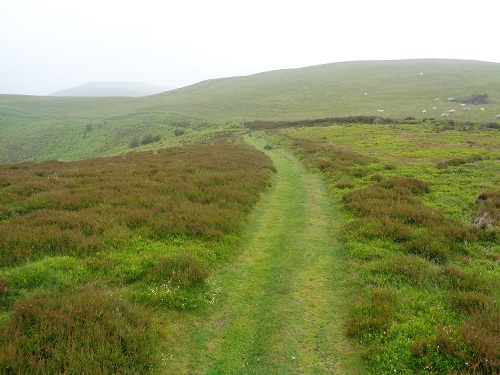 Once back on the trail a small climb on a nice grassy path would then take me to a series of nice green paths, the only disappointment was the great views were hidden in the haze. A gentle path led me over a track where I met a local man walking his dog and had a chat. I said goodbye and started heading uphill on yet another nice grassy path (there would be no long grass today) and some nice walking before entering a field.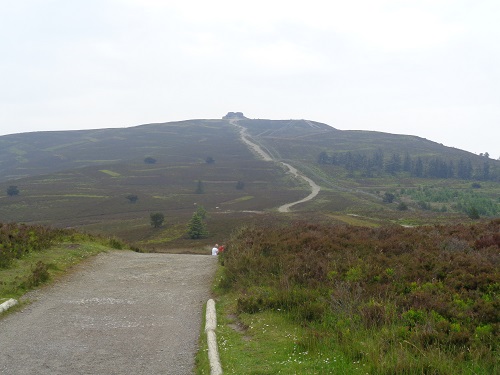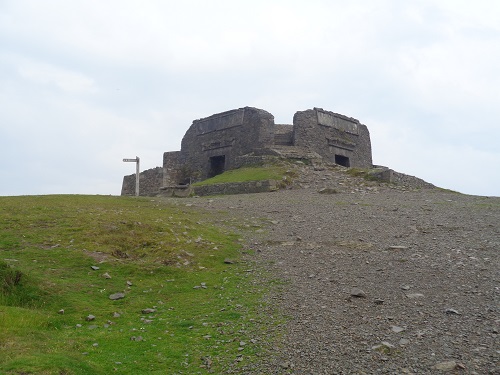 A few fields would take me down to a busy road which I crossed carefully then headed up a track away from the noise of the traffic. A mixture of paths followed but I was mainly going uphill, wishing my views were better before I eventually headed steeply down to the car park at Bwlch Penbarra which seemed to be full of cars of dog walkers. There were seats and benches so I stopped here for a while, an information board telling me what hills I could have seen if there had been a view.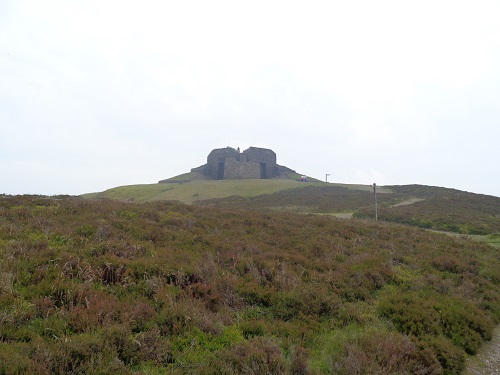 I set off soon after, a lovely long gravel path took me up the side of a hill, quite steep at times before levelling off and giving me my first look at the Jubilee Tower on the summit of Moel Famau. Just as I started the last bit of the hill, the rain started quite heavy so the waterproofs went on. By the time I reached the summit though it had stopped. At the top I could then see the hills and the ridge I would now be taking, this would be a fantastic walk and nothing too strenuous but it was hot and humid.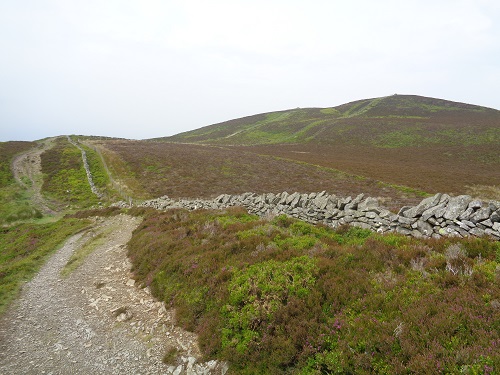 After a few easy summits I started to descend, Moel Arthur lay ahead of me and looked huge and impressive. I went down to the car park at the bottom of it and had another break on a bench for a while. The summit of Moel Arthur is just off the trail but a steep path took me up to the turn off to the summit and I took it as it wasn't too far away. There was a small cairn at the top but nothing special but it's another hill bagged.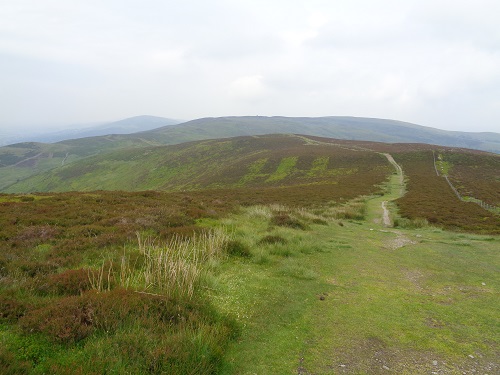 I started heading down and trying to see where the trail went. A big hill lay in front of me, I was hoping I would be avoiding it but it wasn't to be. A descent from Morl Arthur took me to a small car park at Coed Llangwyfan where I started heading up a path. I must have taken the wrong one as I noticed on my GPS that I was on a lower path than I should have been on but soon after a path went up to meet it and then I crossed yet another stile to walk on a grassy path through the defences of a hillfort.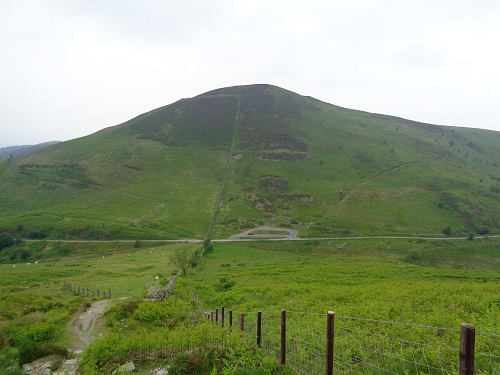 An unusual hill cairn is met soon after on a lovely path heading downhill before reaching a small hamlet and a track. It was all downhill now, Bodfari could now be seen down in the distance and it seemed ages before I had negotiated many fields and stiles and reached the main road. My accommodation was about a mile out of the village but on the trail and I hoped for an easy stroll but that wouldn't be the case.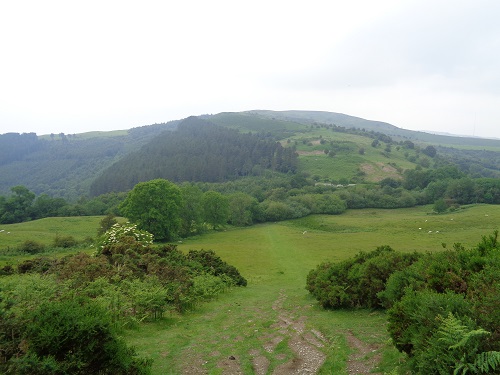 I passed the Downing Arms pub, sadly no longer open and now sealed off. My thoughts of an easy finish soon were dashed when I turned off the main road and up a very steep road that sapped the last of my energy. It wasn't finished though as more uphill through fields followed, the sweat pouring from me now. A look back told me how high I had gone quickly so it was a massive relief to reach a small lane as this was beside my accommodation.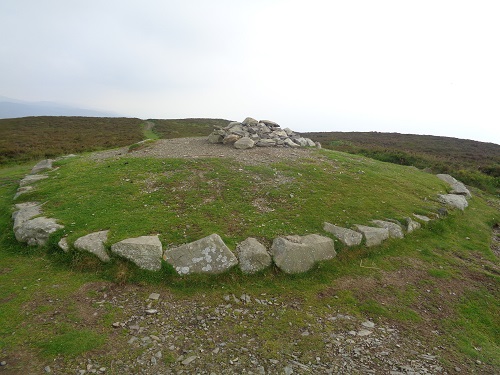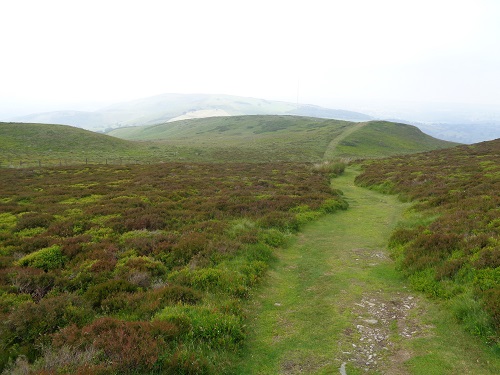 As I got my breath back and had a well needed shower, I thought about how lucky I had been with the weather. The views sadly were affected by the hazy conditions but the paths were lovely to walk on. It's a walk I would love to do again on a good day but it's too far away just for a day walk. It's my final day tomorrow, so many different emotions but I'm looking forward to sleeping in my own bed tomorrow night. The weather forecast isn't very good but it's only a 12 mile day so will be finished just after lunch.