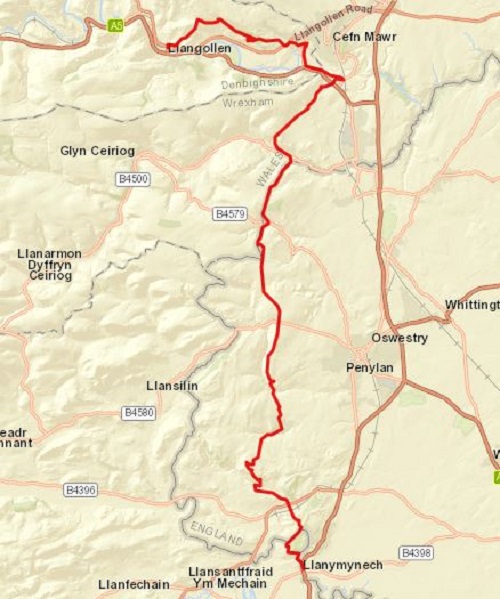 Today would be the longest day on my trip and boy did it feel it. It was also the hottest day of the trip with the sun out most of the day, quite draining at times going uphill. However, it was a much more scenic day than yesterday with the added bonus of the magnificent Pontcysyllte Aqueduct but also an ending which wasn't what I thought it would be.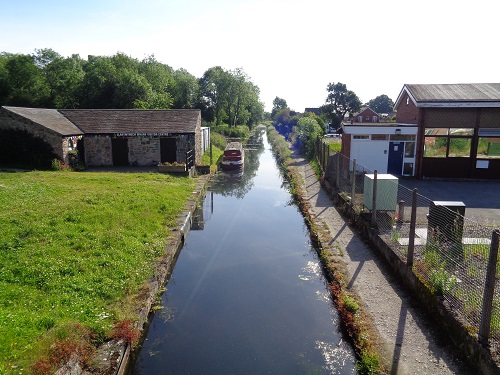 It was a long way to go today so it was a quick breakfast and off I went, stopping of at the local shop on the way and over the canal bridge. It would be a steep start to the day, firstly up a road then through woodland which woke my legs up. I gained height quickly but this gave me good views back over Llanymynech and beyond as I got near the Llanymynech quarries.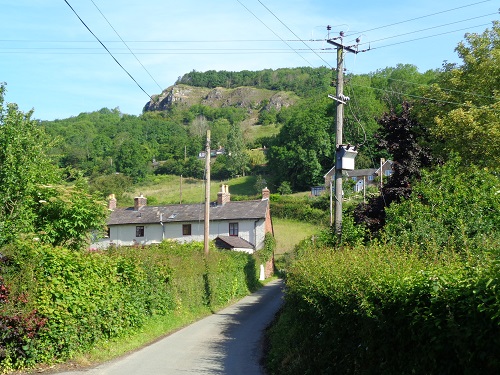 As the gradient leveled out, the path reached a golf club and it went round the side of it on a narrow overgrown path with nettles scratching my legs. It was a good level path that soon led into the woods where it became a nice enjoyable path for a short time before descending steeply through the woods then some field edges. It then crossed a disused railway line that still had the track in place for some strange reason.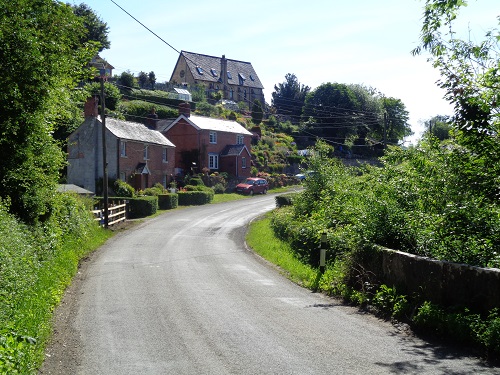 After that I soon climbed up to some country lanes that took me to the lovely little village of Nantmawr and good views back down where I had came from. It was uphill after here to eventually reach Jones Rough nature reserve and a narrow path up through it. Not long after, a climb would take me to the summit of Moelydd and incredible all round views. I stopped here for a break, it was too good a view to leave.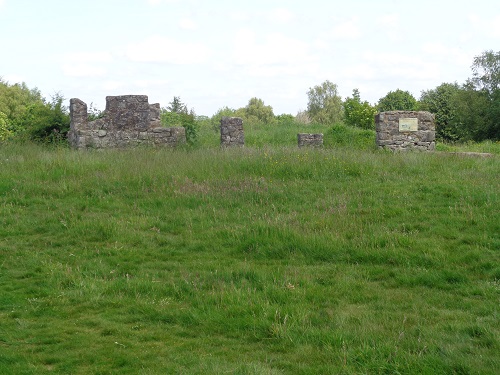 Sadly I had a long day ahead of me so I had to press on, firstly down a nice grassy path then over fields and soon I was walking into Trefonen. The trail turns left but straight on is a small shop where I picked up a couple of things and sat outside for a while. Alas I had to move on, I had only done about six miles so still had about eighteen to go.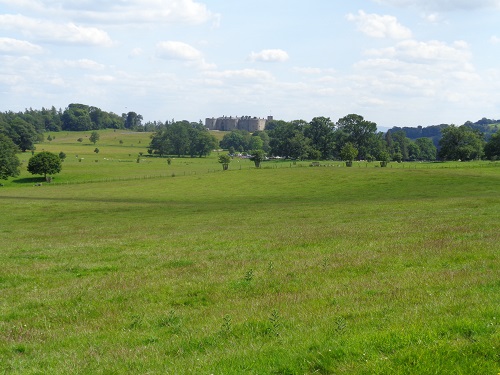 The next place of note would be Candy Woods but just before it was a big wet muddy field that I didn't notice until my boot sunk right in and got muddy as well as my socks and my leg. I hoped the dry weather would soon dry them. It was quite a climb uphill so I was glad when it leveled out and an enjoyable path. A bench in a clearing gave a lovely view across but sadly for me a couple were sat on it so I continued. The lovely path went on until it became grass and passed the ruins of a 19th century racehorse grandstand.
The nice grassy path headed gently downhill for a while before crossing a road and I went up a quiet road where I met two walkers heading the other way. The road went on for a while before I left it and headed up a grassy hill where I had a rest sitting down on one of the many stiles encountered today. More fields and stiles followed before I eventually started heading down the narrow paths towards Castle Mill. It seemed to take forever getting there but I was soon heading uphill away from it.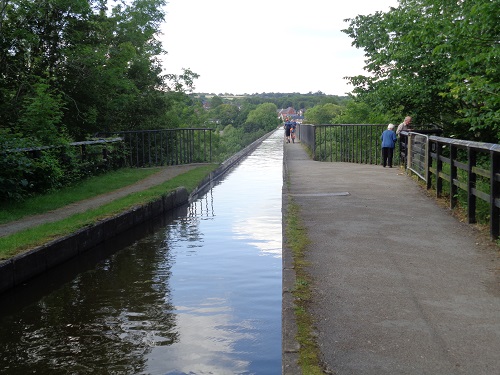 A road going steeply up soon became a rough track, still climbing but giving good views back across the valley where I had come from earlier. To my delight, the path eased off and I started walking through a few fields with Chirk Castle looking impressive to the right of me. I would soon come to a road and a long section followed.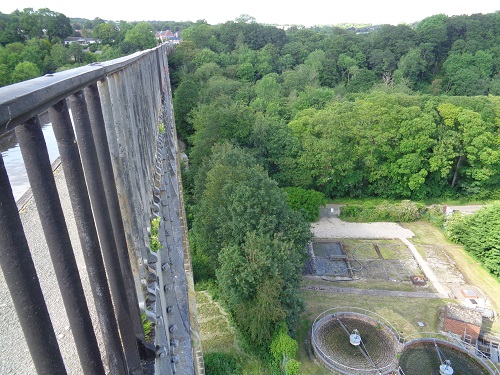 It felt quite a long bit of road under my tired feet so I was glad to finally start heading down through a few fields to a very busy road. I crossed it carefully and could see the canal to the side of me which I soon joined. A lovely level walk followed along the canal until I saw a bench and had a break. The time was getting on but I was in no hurry as I sat watching a couple of boats go by, I took my shoes off to give my feet a well deserved rest before moving reluctantly on.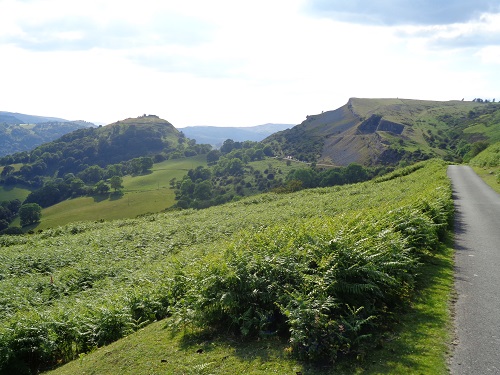 I knew soon I had a choice of two routes, the original one or one which passed over the impressive Pontcysyllte Aqueduct, certainly not a route to take if you don't have a head for heights. I decided to take the high route, the views down were scary and the path was narrow, just enough for two people but it was a good place for taking photos. All too quickly though I was over it and having a short break.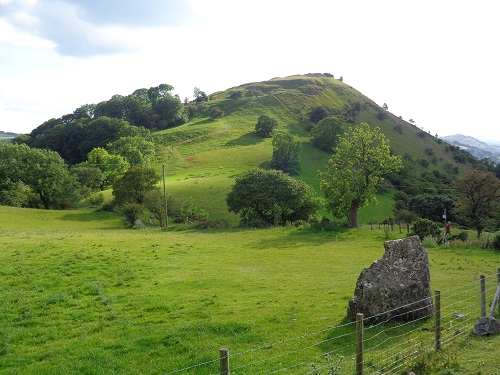 Now, in my mind I had five miles to go to Llangollen and three to my cut off point and as I rejoined the canal I thought it was going to be a gentle canal walk to the cut off point, how wrong I was. I was soon leaving the towpath and heading up to a road where I crossed it for a walk on the pavement. I soon left that and headed up a track then a narrow path, getting higher and higher. I could see Llangollen in the distance and I just kept getting higher on the narrow woodland path.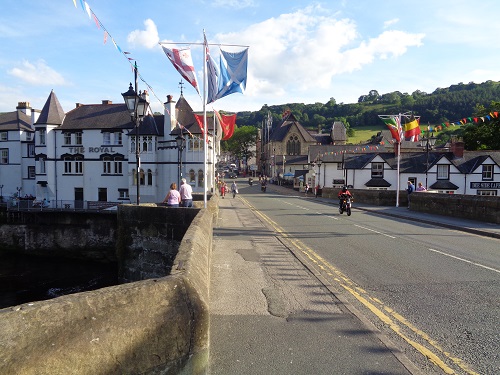 It climbed and climbed before eventually reaching a track then a road where a few cars were parked. The impressive Castle Dinas Bran sat high up on a hill in front of me with many parked cars below it. The road seemed to go on forever but the view to the left of me was lovely and Llangollen was still a long way down. I reached my cut off point and headed steeply down a very narrow road until eventually reaching the outskirts of Llangollen and over the bridge to my hotel.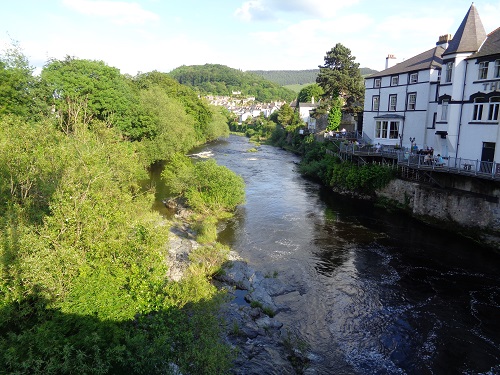 What a long and tiring day it was and I was glad to finally get into my Hotel and out of my sweaty clothes and into a hot shower, I didn't want to sit down or I might not get back up. The heat today had been a big factor but when I eventually sat down I was happy that my longest day was over and just three days left with much smaller miles each day.