A dry day to start my Coast To Coast walk
I set off on my journey to Robin Hood's Bay hoping that the recent dry and warm weather would continue for a few days more at least so I was disappointed to wake up to see it had been raining and moisture was still in the air. I got off the bus at Robin Hood's Bay and walked down the hill towards the start in dry but it was a quite gloomy day, wasn't sure if I'd be putting waterproofs on today or not but in the end it stayed dry all day but still as gloomy.
The walk traditionally starts by dipping your boots or shoes in the water and today the tide was right in, so far in that no sand was exposed so I dipped my feet in a wave as it came up the slipway and grabbed a small pebble that it washed up before the next wave had a chance to wash it away. With that done, it was time to turn round and set off on my nine day Coast To Coast adventure.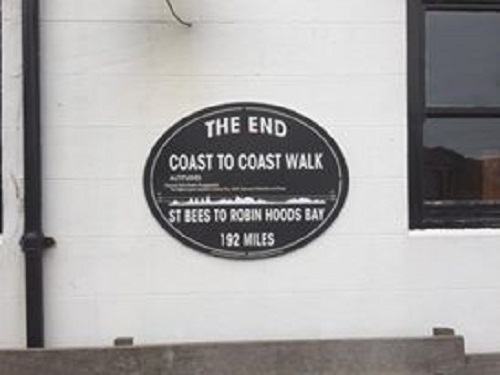 A short walk back up the steep hill soon woke up my legs before the three mile section along the coast path to a caravan park near Hawsker. Here you turn away from the coast and head West and this is when I felt that the walk had actually started as now I was heading towards the finish rather than just along the coast.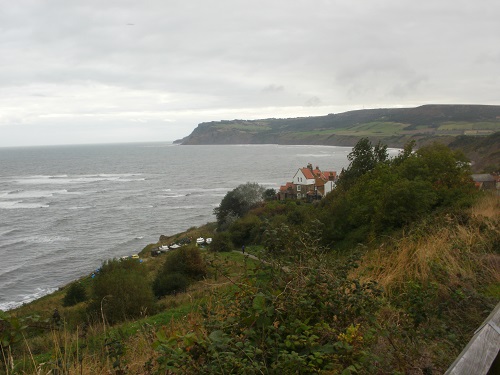 A walk along country lanes from here through Hawsker and beyond until I turned off to walk up a little lane. When I did the C2C in May 2014 ( Read about my 2014 Coast To Coast HERE ), this lane was muddy and slippy but today it was dry, I'm hoping that it is a sign of things to come and other muddy and soggy sections will be drier than before. After the lane I was now walking over the Moors, with Whitby a few miles away in the distance in the gloom and the noise of the busy road not too far away from me heading to Whitby keeping me company for a while until I eventually reached the road and carefully crossed over it.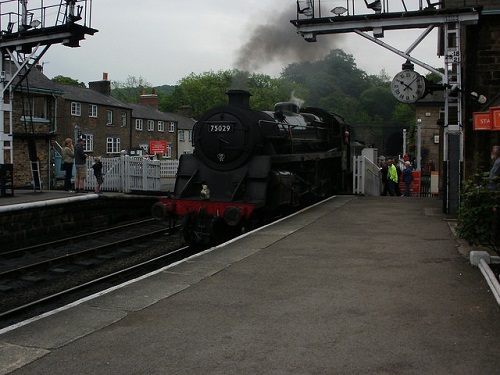 After crossing it, a path ran alongside a wall, this bit was new to me but it meant I missed out a notorious soggy section so I was happy at this. Over the Moors there were a couple of wet bits that were easily avoided and my boots remained dry, unlike last time. The path led to a road that took me down to the May Beck Trail and a nice dry path beside the small stream, eventually passing the Hermitage. Again this was a dry walk through the woods, last time it was muddy and slippy, I was not complaining. A short distance later I left the woods near Littlebeck and was pleased to see a bench before me, it would have been a shame to walk past it so I decided to stop here to have my lunch and a rest. A quick look at my GPS and phone App told me I had walked over 10 miles, so just about 7 miles left to do, I was happy as I knew I'd be able to get to the shop in Glaisdale before it shut for some goodies.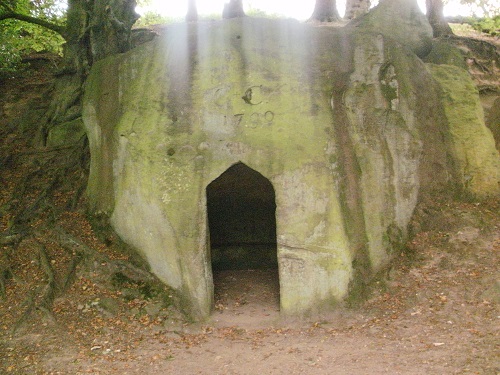 Dinner over and my pack a bit lighter, I headed off from Littlebeck up a long steep road and track that just kept going up and up until it reached another busy road. I crossed it and headed straight over the moors, most of the time the path just disappeared so I just aimed in the right direction knowing it would eventually reach the road taking me down to Grosmont. Eventually the road was reached and I started a very deep descent into Grosmont, this hill is an absolute killer walking the other way, especially with nearly 190 miles done so I was glad that today I was going downhill with fresh legs and feet. A quick stop in the village to see a steam train and a snack and I was on my way again with only about 4 miles to Glaisdale left to go. After leaving Grosmont, a nice track takes you to Egton Bridge, this track being an old toll road.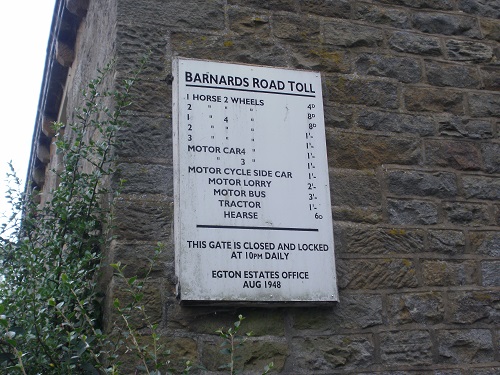 After Egton Bridge, a steep road section seemed to go on for ages before I turned off and along the Bridleway that would take me to Glaisdale, a pleasant walk through some woodland on dry paths, no muddy boots today and soon I came out of the woods at the Beggars Bridge near Glaisdale railway station.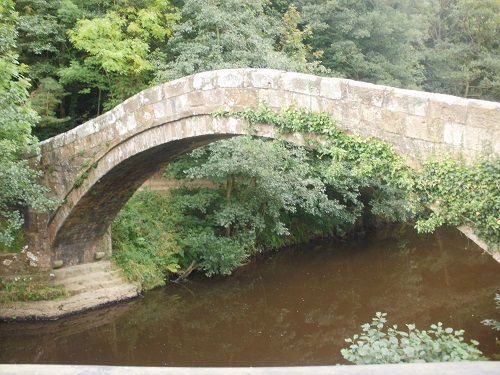 I was staying at the Arncliffe Arms which is near the Station so it meant my days walk was nearly done although I would head out soon after up the steep hill to the main village and the shop, this hill will hurt in the morning with full pack on.
As I relaxed with a drink and a good meal, I reflected on the days walk, over 17 miles but it had remained dry and the ground dryer than I expected for October. It is important to enjoy the dry days as I know that there will surely be wet days ahead for me on my journey and soggy wet paths but I'll keep my fingers crossed.