Almost at the halfway mark after a long day
Today would be a long day, the first of many so I hoped the previous days short distance would help my tired legs. I had my breakfast and got ready to go, the weather forecast was to be similar to yesterday, bringing scattered showers but it was warm and dry as I left the White Swan at Danby Wiske. Today would see quite a lot of road walking and that's how it started. After a short distance you can take a small short cut across some fields but there's really no point because it's slower due to the muddy ground and numerous stiles and gates so you're as well just staying on the road.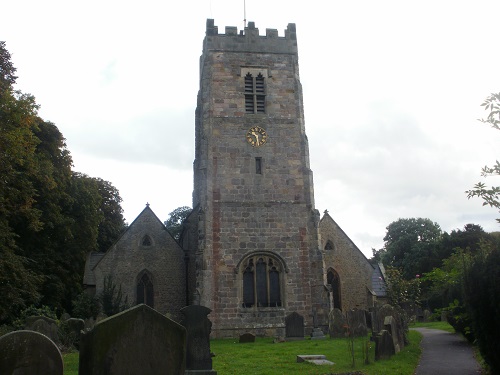 There's not a lot to keep you interested along this road apart from the aircraft flying nearby every few minutes from the nearby RAF base but apart from that it was a near 2 mile walk with only a couple of cars passing by and a few walkers, the high hedges along the road didn't give you much to look at so it was a relief to leave the road and walk over a few fields to the village of Bolton On Swale, where I had a break on a bench near a church beside the village Pump.
I noticed now that the sound of traffic was quite loud and knew that the busy A1 road was not far away and would be crossed soon. My break over, the path went along a few tracks then a grassy path near a busy road before it headed down beside a stream and eventually it emerged at a busy road which I crossed, then an old disused railway line took me over the river. At this point there is a diversion until early 2017 due to the A1 road being widened and a temporary bridge was in place crossing six lanes of busy traffic. I stopped just before the bridge to talk to a couple of Coast to Coast walkers going in the other direction for a little while before moving on.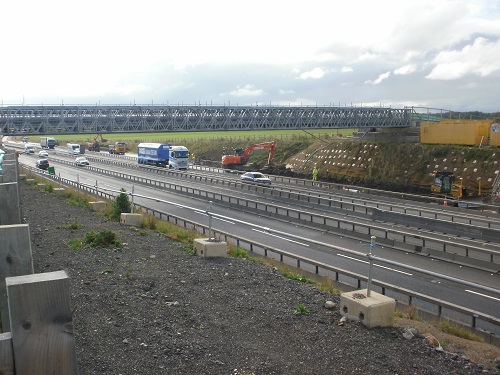 A bit of pavement walking followed before I left a busy road and down a country lane, the noise from the A1 getting quieter all the time. Soon I was onto fields again and Richmond came into view briefly, it still seemed very far away but it was fast walking, dodging the occasional shower before a nice walk through woods brought me out to the disused railway line that takes you into Richmond, a nice path to finish this part of my journey and then up into the town centre to get lunch then sit in the Friary Gardens to relax beside an impressive tree sculpture.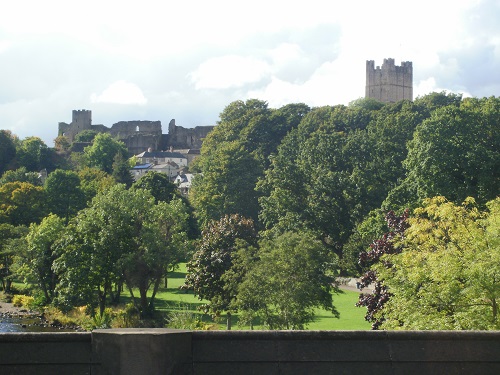 It was soon time to move on from Richmond, steeply uphill on a narrow road which eventually became a track, muddy and slippy in places and more heavy showers came and went. I had about 8 miles still to go and this would be very stop-start with many fields, stiles and gates which slowed you down and it does get tedious after a while as you don't feel you are getting anywhere. A lot of up's and down's through soggy wet fields was the story until I reached Marske and then I was onto road again, and a steep one at that before I eventually cut off for even more fields, stiles and gates.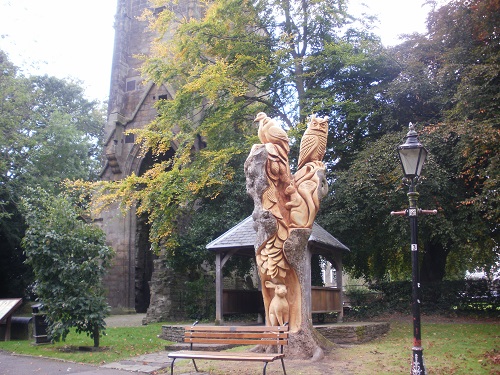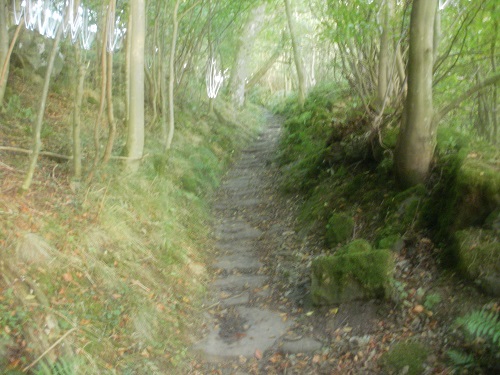 Marrick was the next place of interest and the Nuns Steps steps taking me steeply down to Marrick Priory and a road which I enjoyed as it was downhill and took me eventually to the main road. Turn right for Reeth and left for Grinton where I was staying the night. I had stayed at the YHA before so I knew the half mile from here would be a steep slog up a road, and a slog it is. Eventually I reached the YHA and my room which is actually full for a change so it's a top bunk for me tonight.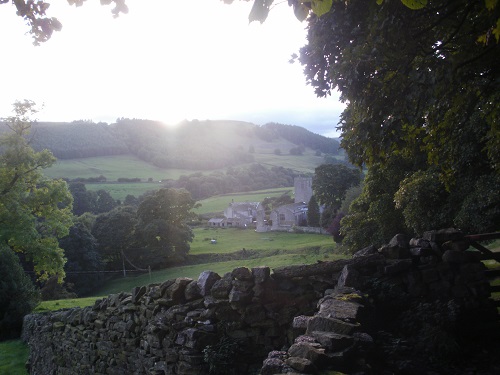 Today was a long day, quite sapping even though it wasn't too much climbing but wet fields make your boots heavier. Tomorrow would be just as long but hopefully drier weather and less of those stiles and gates.