Sadly all good things must come to an end
So, today would be the last day of my adventure and also the only day that I'd be clock watching as I had a train to catch at St. Bees, either at 4pm or the one 45 minutes later. I had to leave St. Bees on the Saturday as there is no train service on a Sunday. So, with that in mind I had nearly all my stuff packed the night before and alarm set so I could set off about 7am. An alarm wasn't really needed though as I had a snorer beside me and Honister rooms are tiny so I didn't get a good sleep.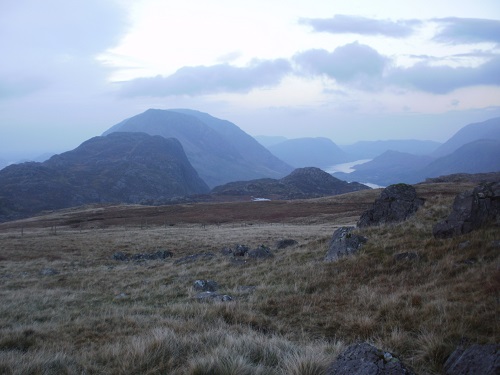 I left the hostel just after 7am, it was now light enough to walk without my head torch, I was hoping for a dry day to finish off the walk but again the forecast was for occasional showers. The start of today was always going to be hard as it's steeply up from the start, up the old tramway, and it did indeed hurt. Eventually and thankfully, I reached the summit of the path and it levelled out, at which point I cut off onto another path that heads to Great Gable but this path was far gentler with a gradual ascent for a while, Haystacks and the High Stile range to the right of me, Great Gable on the left and plenty of other hills all around me.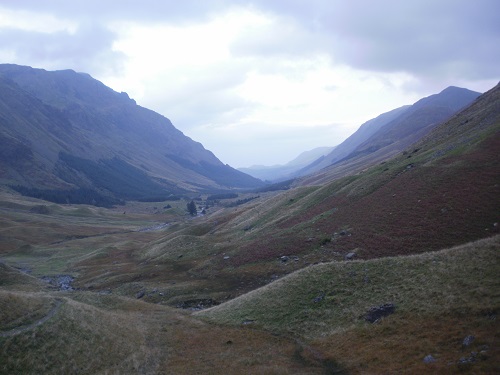 Soon I was looking down onto Ennerdale and across the valley as I got my breath back, knowing that once I got down to the valley floor and reached the Black Sail Hut Youth Hostel I would be on a good level track, water side path then road until Ennerdale Bridge, so the hard work was done. I took care though descending as it was quite steep and wet in places and soon reached the path at the bottom and headed towards the Ennerdale valley, soon the Hostel came into view with plenty of people up and ready for their day ahead, one was surprised to see me so early in the day and assumed I had wild camped further up towards Great Gable.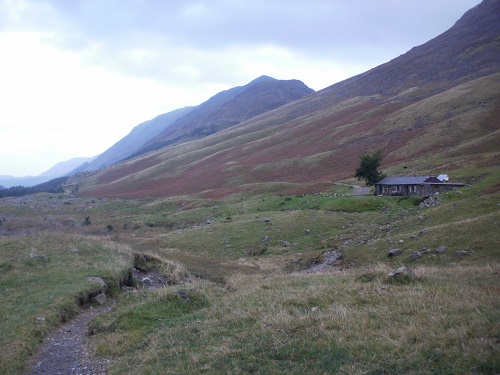 It was good fast track for miles from here through the forest, plenty of cyclists, occasionally a walker or two and a deer that crossed just in front of me. Just after passing Ennerdale Youth Hostel a runner came towards me on the track, soon followed by another and then a whole stream of them (I later found out it was the Ennerdale 50km Trail Run) and luckily I timed it right as I headed of the track and onto a path beside the lake for a while before it joined a better track, by which time all the runners had passed by. This track round the lake took me to the end of it, where I took a short cut path to the road and followed it to Ennerdale Bridge.
At this point I had a decision to make depending on the time and I decided that going through Nannycatch valley and over Dent would take me too long and I'd risk missing my train at the finish (I've seen them before anyway). Plan B would see me continue along the road the three miles to Cleator Moor, where I'd stop for lunch (far more shops here than the one single one in Cleator) and after lunch I'd follow the cyclepath and join the other route at Moor Row. The road to Cleator Moor was narrow in places but not very busy, but it was far from scenic so seemed a long three miles so by the time I entered the village I was glad. I had been on the go about five hours, mainly fast walking so I was glad to reach the village and the long walk through it to the Co-Op shop and a sit down on the wall outside for my lunch and a break.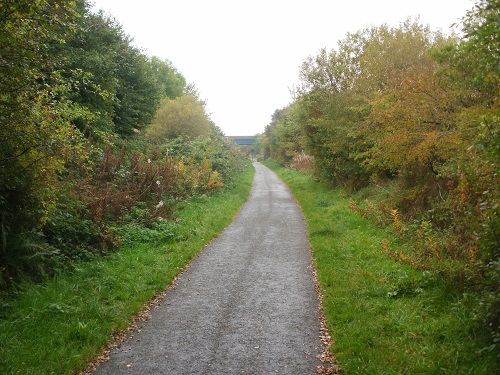 I had another decision to make regarding the time, a choice between following the path to the coast and along the coast path to the finish or cutting an hour and 3 miles off by walking down a road shortly after Moor Row. I wanted to finish by the coastal path and knew then I'd have to pick up the pace and miss the earlier train to do so, and that's what I decided to do so my lunch was quickly eaten and I found the cyclepath and along to Moor Row, making calculations in my head about when I'd finish. Crossed the busy road beside the Wainwright statue at Moor Row and down a steep and slightly muddy path to farmland. Crossing this land was quite muddy and soggy in places and not well signed, you just followed all the other muddy and trampled grass and soon went under the railway line and steeply up to a welcome track to the road and through farms.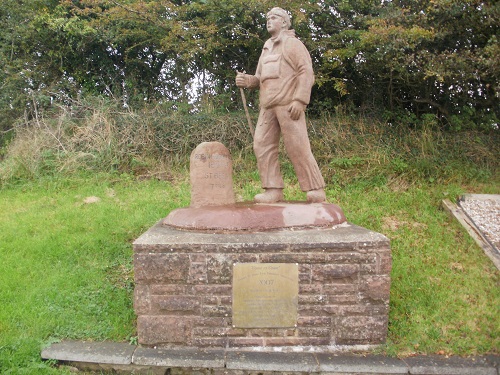 It was now a fast walk through Sandwith, my eye still on the time and out of the village and my first real sign of the sea, it was quite gloomy today and the sea and sky seemed to be the same darkness. I reached a few houses and a big grin came over my face when I walked a few yards further and onto the coast path, looking down at the waves never felt so good. There was about three miles of coastline to walk round and it felt like the longest three miles ever, at times you are actually heading the opposite way than towards the finish. The path was mainly grass with a few fields to keep an eye on the cows and here I met a couple who seemed excited to hear I was just finishing as they had just set off less than an hour earlier and looking forward to their own adventure, I answered a few questions and we said goodbye, inside I was a bit jealous as they were starting but for me it would soon be over.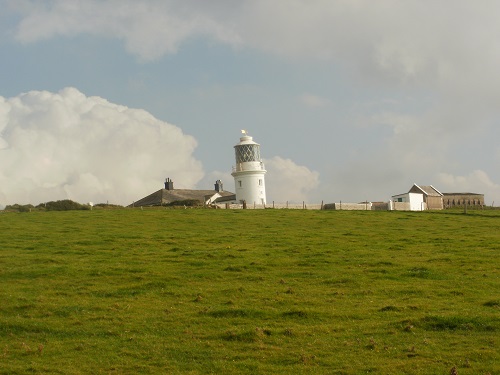 After seemingly ages, the path turned direction and passed St. Bees light house and then steeply down and up, and up and up with a couple of false summits until I was at the top of St. Bees Head knowing I was just about to see St. Bees and then the beach. It was a great feeling to see them come into view and know the end was minutes away, I laughed as I realised the tide was out which meant a couple minutes more walking to dip my boots at the end. I walked down the steep grassy hill, and down the slipway onto the beach and the small matter of dipping the boots and dropping the pebble that I had picked up from Robin Hood's Bay nine days earlier.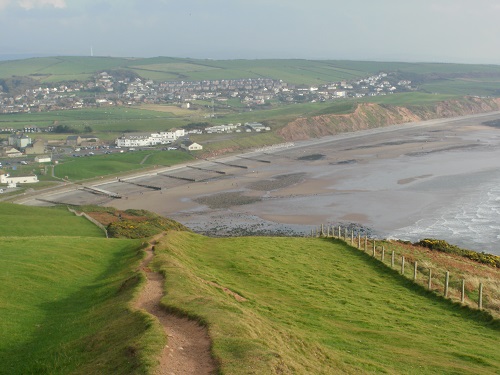 It was over, I had finished. I was delighted, so many different emotions. Happy but also sad to finish, glad to be going home and into my own bed that night but also knew I'd miss the experience of this trip. I got changed at the beach toilets and walked to the station, possibly the slowest I've walked for weeks as I had plenty time for the train but also all the fast walking had made my legs quite stiff once I stopped walking. I sat at the station, awaiting my train to Carlisle and then home, knowing that one day I will be back at St. Bees on another Coast To Coast walk.