Fantastic hilly scenery between the rain showers
Another good sleep and today would be no hurry as it wasn't a high mileage day but it would see a climb up Kidsty Pike, the highest point of the Coast to Coast walk. I would be hopefully getting great scenery today as I entered the Lake District if the weather held out but the forecast was for scattered showers during the day. I slowly got my things together, had some breakfast and then headed off.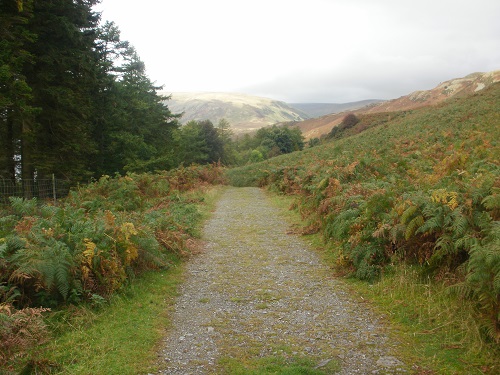 A bit of road walking to Shap Abbey got my legs woken up, the Abbey was surrounded by scaffolding so nothing much to see even if I wanted to. The next couple of miles were through fields and a bit moorland, quite wet in places as it must have rained during the night as the roads were wet too. At times the path seemed to disappear so I just followed my GPS route and also had to cross a barbed wire fence carefully. A few tracks and wet soggy ground followed by a path through woodland which would take me to Burnbanks and a well deserved seat on a big wooden tree bench.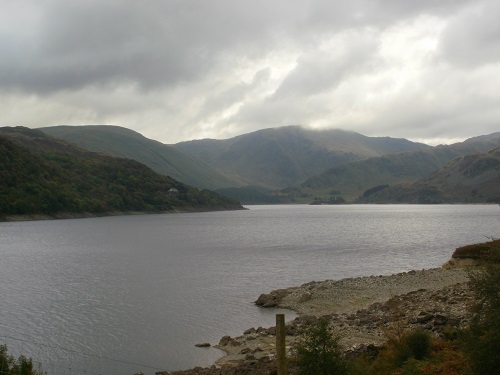 A short track soon took me to my first sighting of Haweswater, a reservoir that I'd walk around for a few miles. I turned around and said goodbye to the flattish scenery that I'd walked through the last couple of day and hello to the numerous hills now in front of me. Some were covered in cloud and some were clear, I hoped I'd be lucky and get a good view from the top of Kidsty Pike later on. The walk round Haweswater was soggy in places but still good walking with a few up's and down's along the route.
I met a Coast To Coast walker near the end of the reservoir and chatted for a few minutes before I reached the part that would see my first serious climb of my Coast to Coast walk, steeply up to Kidsty Pike. It started off as a path up steep grass and I looked ahead of me and noticed the man I'd seen the previous day near Smardale. I could see the summit but the skies around were getting dark and I decided to put my waterproofs on, this would be a wise move. It was tough going up the hillside but at least the paths were dry so it was a case of head down and get on with it knowing that lunch would be taken at the top and most of the walking afterwards would be downhill to Patterdale with great scenery. The path just kept going up and up, by now the summit had vanished in the clouds, it had got a lot darker and the rain started heavily but at least the wind was behind so the rain was hitting my backpack and running off behind me, not into my face.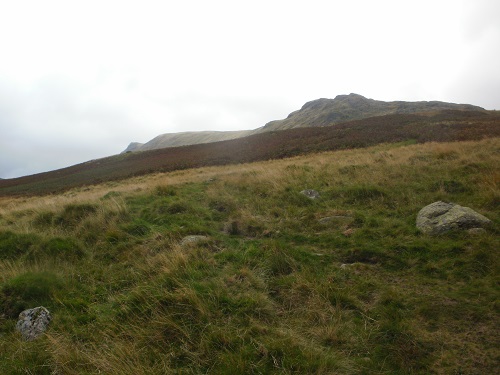 Eventually I got near the summit, the rain and wind meant there was no view for me today and no point stopping for lunch as there was no shelter, my fellow walker obviously thought the same as I watched him reach the summit then head away from it. I was disappointed when I reached the summit but there was no point waiting in the gusty wind and rain in the hope it would go off soon as it looked like it would rain a while yet. Better and safer to keep warm and head downhill and find somewhere lower down and sheltered to eat lunch. There was not a lot of visability as I headed away and round towards High Street hill which I could barely make out, carefully making sure I stayed on the path and looking for the path that would eventually take me down to Patterdale. It was a shame as from here on a good day you get fantastic views but today all I saw was driving rain and cloud.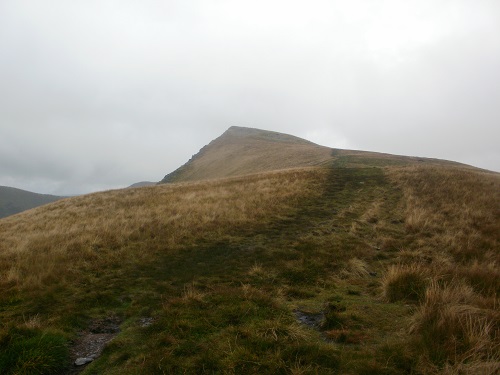 I started heading down, the rain making the rocky parts of the path slippy at times but I was now out of the clouds and the sun was shining over nearby hills, Striding Edge and Catstycam looking great lit up by the sun. I soon caught up with my fellow walker who was having a few navigational problems on the descent as there are a few paths leading to other hills. Luckily for me, I know this part so I told him what path to take and chatted for a while as we descended.
We came to Angle Tarn and said our goodbyes as he stopped for a rest, I think he just wanted to walk alone which was fine, the tarn still looking lovely even though it was a grey day. Soon Patterdale was in sight far below me and I carefully made my way down the soggy and slippy path to Boredale Hause and the short walk down to Patterdale, this is a real slog going up so it was nice to be coming down for a change.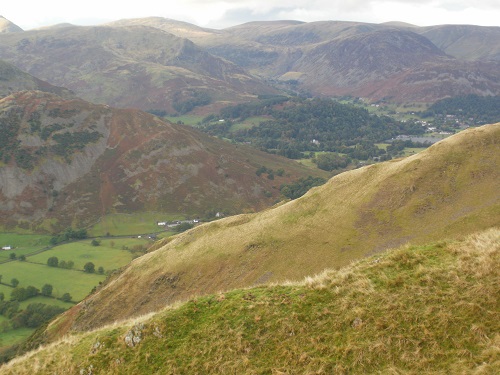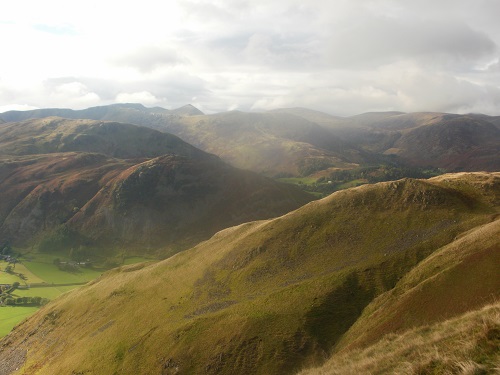 I headed to the local shop but was disappointed at their prices. I know it's the only shop but most of the things I looked at were almost double normal prices. The shop at Glaisdale is the only one for miles around as well but it doesn't rip off people but I guess they can charge extra as it's in the Lake District and a popular place with tourists. So, instead of buying a few goodies I just bought an expensive bottle of Cola and walked the short distance to the Hostel. Check in is at 5pm and it was just after 4 so rather than just sit and wait, I went and had my shower and also washed my clothes so that once I checked in I had two things less to do. I checked in, had tea and chilled out the rest of the evening.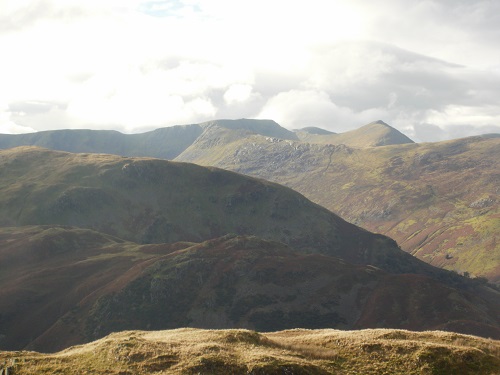 Tomorrow will be a long day, passing through Grasmere and Borrowdale before a steep climb to Honister YHA, a lot of climbing will be done and I'm expecting it to be soggy, especially between Grasmere and Borrowdale. In my mind though, knowing it's my second last day will spur me on and the scenery takes your mind of any little niggles and the day goes quicker.