Passing halfway on a soggy day, poor visability
Grinton Lodge Hostel was full and I didn't get a good sleep, mainly due to the person in the bunk below me getting up during the night 4 times, putting his light on each time and then rustling about in bags all the time, very unsociable of him when others were trying to sleep. Anyway, I got up and dressed and had some breakfast and looked out the window to see that it was raining with very dark clouds covering the nearby hills, waterproofs would end up being on all day as it rained many times during the day, even though it was mostly light rain showers.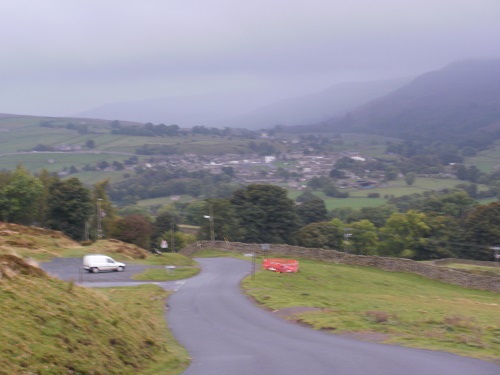 From the Hostel, I headed down the steep hill that I had struggled up the previous day and along a path the short distance to Reeth to pick up something for lunch. I headed out of the village looking for the footpath that was on the map. I found the path and saw some cows in the field but they weren't near but when I opened the gate and walked in, they all started running towards me, I made a quick exit and looked on my map and my GPS for a plan B.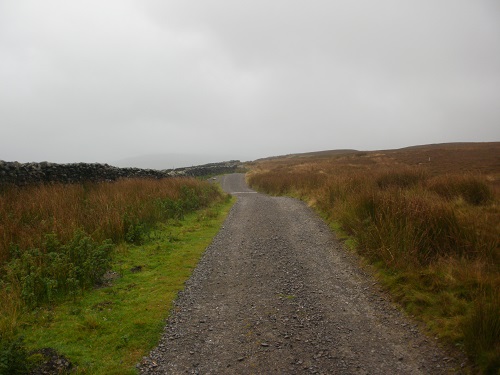 I saw a path on the map a little further on and followed that up through fields for a while until it met the original path. On a wet day, it was nice to leave the wet grassy path and find a nice level gravel path and stay on this for a while. I was quite higher up but the low cloud gave me no views over the valley and the visability ahead was limited. I would be on nice paths and tracks for a while and through some old mine workings which seemed a bit spooky in the gloom.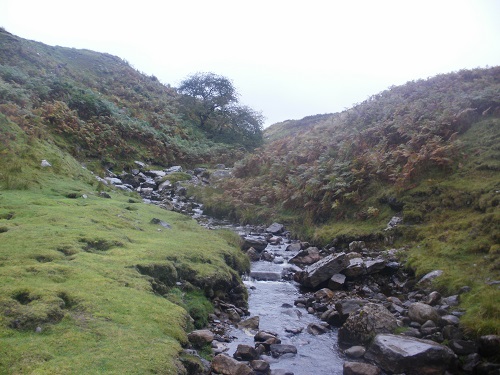 Eventually I would come off these nice paths and head steeply downhill on a path in a small valley including some loose scree to carefully descend through before the path levelled out and then descended to a small stream. I couldn't see a way across apart from carefully stepping on rocks in the river, which I did with much relief. I then doubled back on myself over the stream and soon saw a small bridge beside another path, probably the path I should have been on.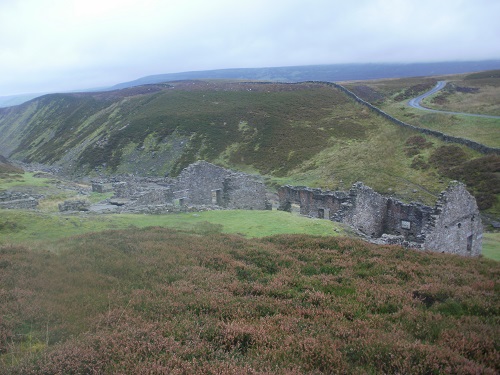 I then headed upwards on quite soggy paths for a while before picking up a better track for a while but pretty soon, it was time to leave it and onto another soaking wet and muddy path. I was getting nearer to Keld by now but I never felt I was getting any nearer until eventually I saw the Pennine Way path across the valley which would also lead to Keld. It wasn't long before I joined the Pennine Way for about 100 meters and then left it again and into the small village of Keld where I sat on a bench which was partly sheltered from the rain to have my lunch.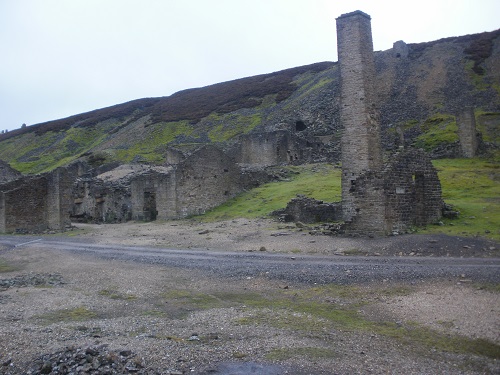 As I ate my lunch, I had a decision to make. Originally the plan was that if it was dry I would head up Nine Standards Rigg but if the clouds were covering the hill I would just walk the 10 miles to Kirkby Stephen along the quite country road. There seemed no point getting soaked to get very little visability of the Nine Standatds Rigg so I decided to stay low and take the road, I was disappointed but it was the right choice. By now my camera was put away as it was getting wet plus there really wasn't much to see in the rainy gloom. It was basically just a case of getting the head down and get on with it and hope the rain would go off soon. In the next 3 hours I think maybe 12 vehicles passed me on this road as I plodded along. It was far from a low road though with many long climbs and steep descents but soon I would just keep heading uphill, every time I turned a corner I was heading up another hill.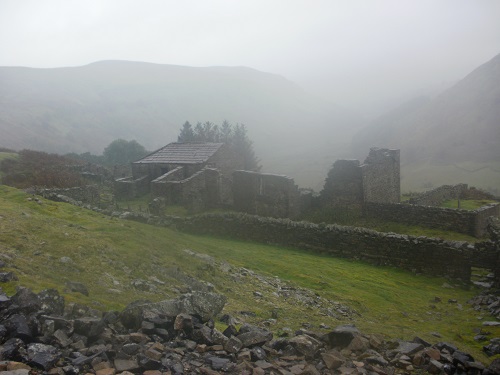 By now the rain had gone off and the sky towards the Lake District had plenty blue on it and then Kirkby Stephen came into view as I started walking steeply down hill soon after I crossed into Cumbria and saw the sun shining down on it, how typical. The steep descent into Kirkby Stephen was quite sore on my knees so it was a relief to get down to Nateby and onto level ground and along the final mile or so into Kirkby Stephen to my accommodation for the night. I stayed at the Kirkby Stephen hostel in the village and was pleased to find out I'd be the only person in the Dorm so it made it easier. I just wanted to get the wet clothes off and into the drying room and chill out for the evening and have my tea.
It had been a miserable day weatherwise as it meant very little to look at but I'm now over half way on my Coast to Coast walk, and a sign in the village tells me I only have 82 miles left to St. Bees. Today really was just a case of getting from A to B and I hope tomorrow's walk to Shap will be much nicer and better weather.