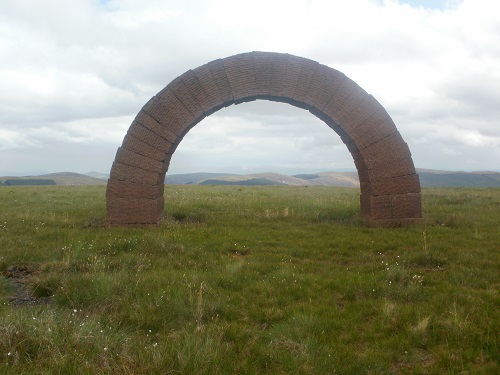 Yesterday I walked on lots of track and not much grass but today it would be the other way around thankfully. I would walk about the same distance as yesterday but at a more gentle pace, partly because there was more ascent today but also because there wasn't a rush to get finished before a shop shut. A long but enjoyable day lay ahead of me with lots of open moorland walking, lovely scenery and not one person on the trail, it also stayed dry nearly all day meaning mostly dry grass.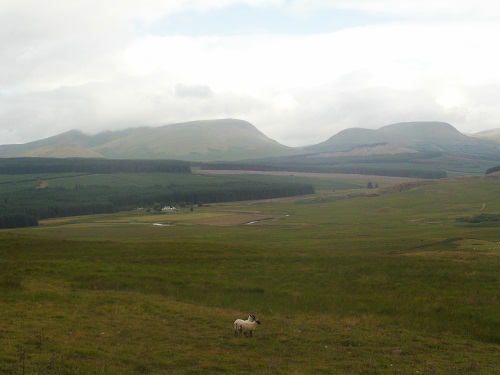 It was an early rise for me as I had a long day ahead of me, luckily breakfast started at 7am. I quietly tiptoed downstairs to not wake anyone only to find another six people sitting down at tables, it seems everyone wanted away early. I had breakfast, checked out and left, stopping at the shop before heading uphill and out of the village. The start of the day was on a narrow grassy track, there was a bit of early morning moisture on the grass so my shoes got a bit damp but not too much.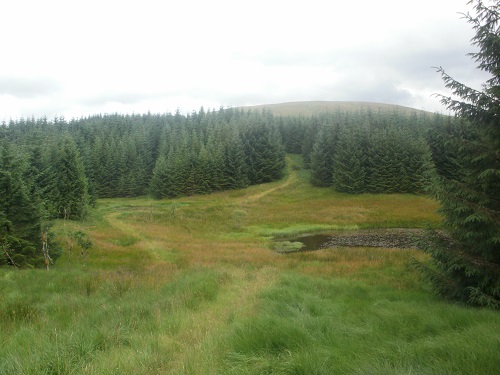 It was a case of heading between the waymarkers but at times the path disappeared. I managed to end up on the other side of a wall before I noticed the waymarker over it and had to go back. The path continued for a while before I took to a lane for a short time. At the point where I would leave the lane and head uphill, I had a short break, there was no rush today. Again this would be a case of keeping an eye out for waymarkers and not going off route. Eventually the path took me to a track beside a farm, a dog came running out towards me menacingly before thankfully the farmer shouted it back. This track led to a road at Stroanpatrick and the place where you can be picked up or dropped off if you are taking a third day to do the long journey between Bargrennan and Sanquhar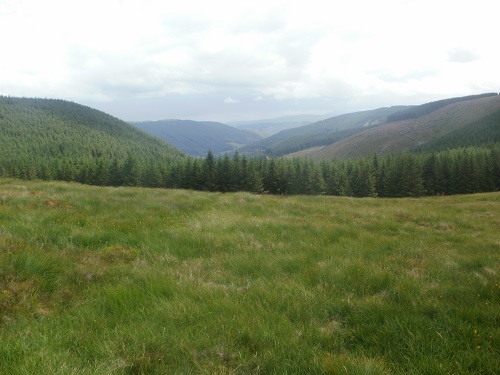 I left the road and headed onto the moorland, I would be on grassy paths for many miles. It gently climbed up the hill, again looking for waymarkers as the grassy path wasn't always clear. I was basically heading in a straight line towards woods and Manquhill Hill. From here Benbrack looked quite large and this would be next for me to climb.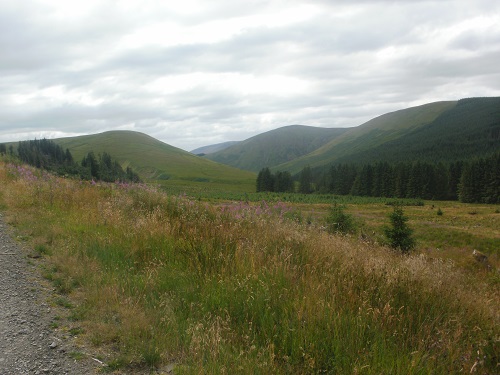 A long but not too difficult climb up Benbrack rewaded me with magnificent views all around me, sadly a lot of these hills were topped with wind turbines. At the summit was a trig point and also a large arch (Striding Arch) which I sheltered behind as it was quite windy and cold up here, so cold that I put my jacket on. From here I could see that the next part of my walk would be a nice grassy ridge path, gently descending before climbing back up again to climb Black Hill.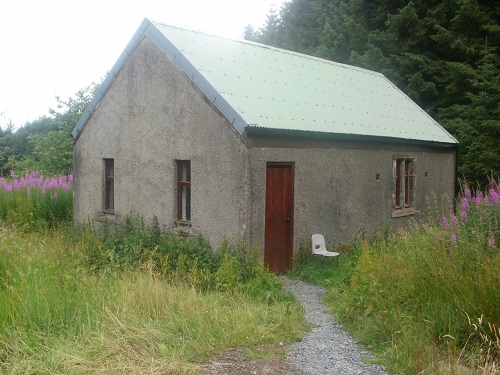 The path gently dropped down towards woodland, a path through it barely visible at times and occasionally blocked by fallen trees. Soon I passed a memorial stone called Allens Cairn before emerging onto a forest track. It felt strange to be walking on a hard surface after so much grass. The track headed downwards and I could see the Bothy that I planned to have a break, a good rest and a bite to eat.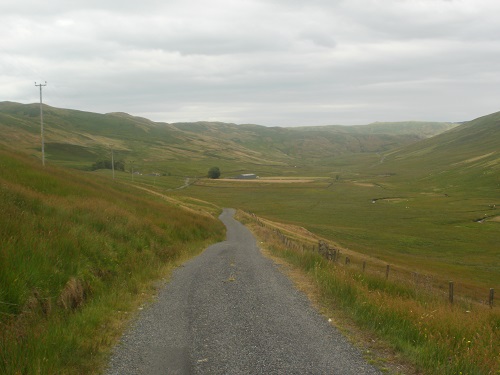 There was nobody in the Bothy so I made myself at home and took my shoes off to give my feet a deserved rest while I had something to eat. I could have stayed a while longer but I still had about 10 miles to go. I knew the next few miles would be on tarmac which meant easy walking but the views around were wonderful. I kept turning around to look at the scenery behind me as well. As I walked along the road I could see hills in front of me and my GPS told me that I would be going up there. I left the road and started climbing up a grassy path with hard to see waymarkers. It was a gentle climb but a long one before Cloud Hill was climbed. Again, the views from the top were magnificent.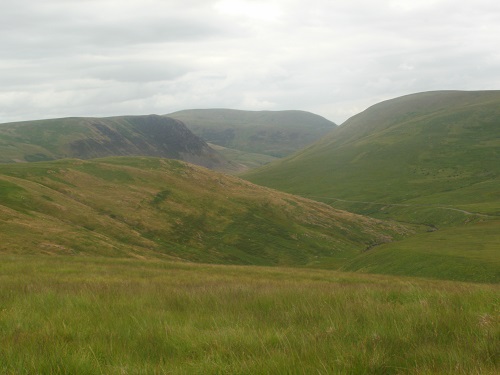 I felt happy that the climbing was finished for the day, it was all downhill from here to Sanquhar and basically in a straight line for about 5 miles. Sanquhar could now be seen below and I set off down a gentle grassy moorland path. A while passed but Sanquhar just didn't seem to get any nearer, much to my annoyance. Again, the path got lost a few times in the grassy fields so I aimed towards the waymarkers, sometimes crossing stiles and I got lower and lower.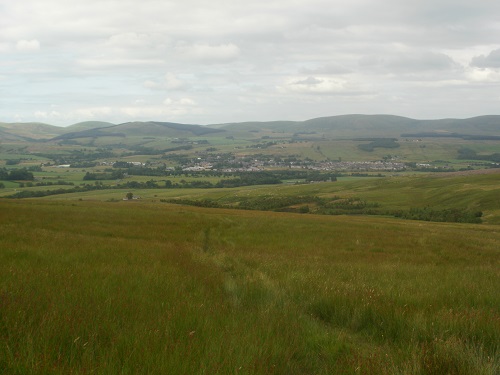 I eventually reached a stony track, it felt quite rough on my tired feet. It lasted a short time before I went onto a road. Not long after, a cyclist passed me, the first person I had seen since leaving Dalry about 10 hours earlier. I soon crossed a bridge and was heading through the town and towards my accommodation for the night.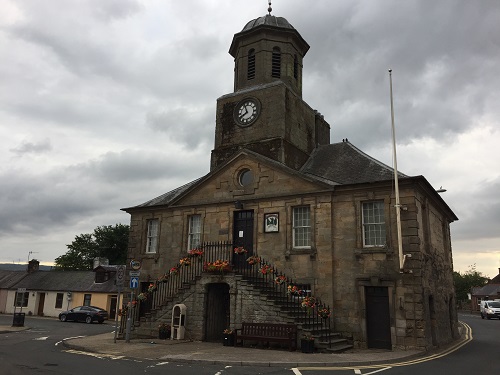 After four days walking in quiet remote areas, Sanquhar felt huge. A choice of takeaways and shops, I was spoiled for choice. It had been a very long day but it was also a very scenic one and it was dry nearly all day. I'm glad because I walked on a lot of grass today so if it had been wet, my feet would have been soaked and I would feel miserable. I was also glad to reach Sanquhar as I have a half day tomorrow and only about eight miles to walk to Wanlockhead before getting the bus back to Sanquhar for another night in the same Hotel and plenty of rest.