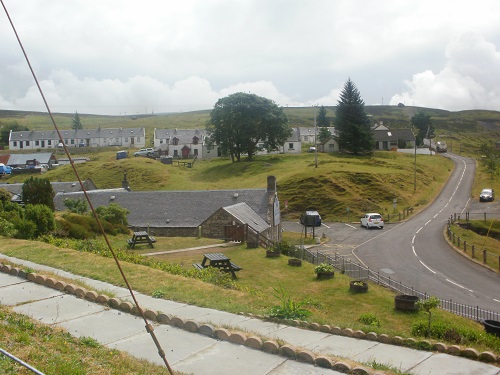 When I planned this walk, I couldn't get accommodation in Wanlockhead so I decided to stay a second night in Sanquhar. This meant a more leisurely 8 mile walk to Wanlockhead and then get the bus back, this also meant I could leave a lot of stuff in the Hotel and just carry the essentials. Rain was forecast but I knew I wouldn't be out as long in it if it came on.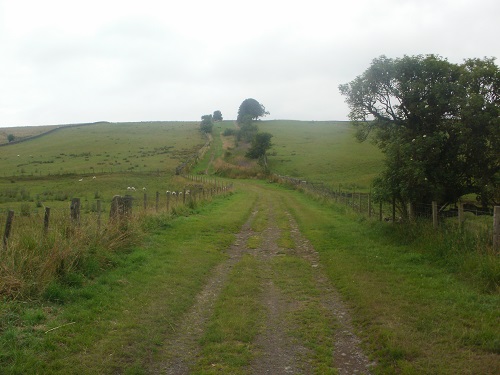 I had a later breakfast than normal, partly because there was no hurry and partly because I felt quite tired this morning after four long days. I also didn't want to finish too early and then have to wait hours for the bus as they seem to be every three hours. The skies were very dark as I walked through Sanquhar and turned away from the High Street and started heading up a grassy hill which was wet already. It didn't feel very steep probably because I was carrying so little on my back today.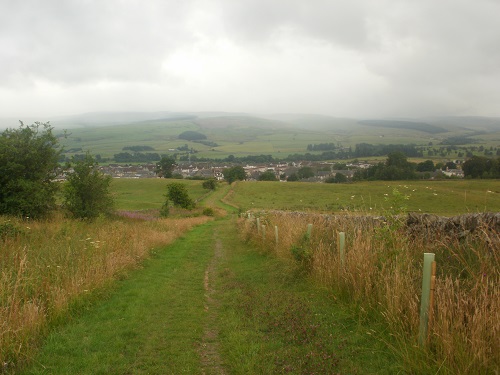 I passed a couple of benches which gave nice views back down towards the town and surrounding hills, most of which were covered by low clouds. The grassy path narrowed but I was still heading uphill in a straight line. There were a few spots of rain falling but not enough to bother putting waterproofs on. A few minutes later however the path reached a road just as the rain got heavy and the waterproofs went on.
I followed the road and track for a while, the views around me had disappeared now in clouds and it was a case of just getting your head down and get on with it. I left the track and back onto narrow grassy paths, my shoes quite wet by now but not wet inside yet. The path soon went straight up a long hill which I assumed would be the highest point of the day and eventually it levelled out and I got my breath back.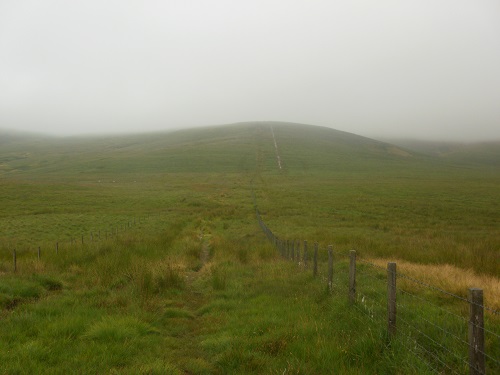 By now I noticed the rain had stopped but there was no point taking the waterproofs off as it wasn't that warm today and the path was overgrown with long grass. At least now the clouds had lifted and I got views again. I descended to a rough stony track and followed it until I came to a board saying part of the SUW was clised due to forest operations and to take the route to the right. This confused me slightly as this was the way I intended going anyway and the way the guide book says, the closed bit appears to be an alternative route but hardly ever used.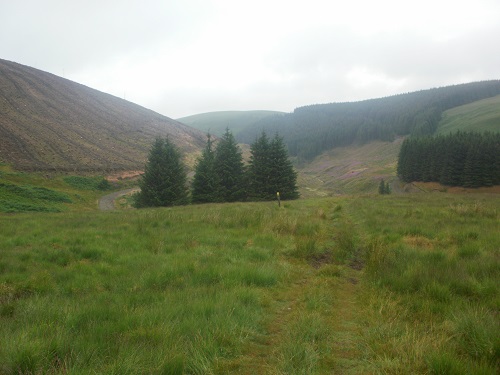 A pleasant grassy walk followed, heading gently uphill until I started to see the other side of the valley. The path widened as I headed downwards and as it turned I saw Wanlockhead to the right of me. I soon reached the valley floor and the track leading towards the village. To the left of me was lots of evidence of Wanlockhead's past Lead Mining industry, many old disused lead mining sites. A gentle walk took me past the houses just before the village and a cemetery and a path headed to the right. I could have taken this path but kept on the track and past the houses, it felt like I had stepped back in time which was nice.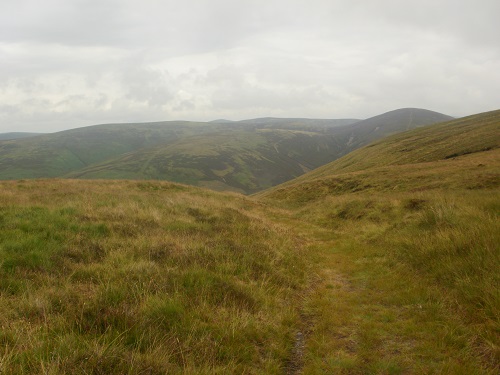 Eventually the track became a road and I entered the main part of the village, here you find a pub, the Lead Mining Museum which has a tea room and the bus stop. I had about ninety minutes to wait so did what any normal person would do, I went to the pub. I forced myself to buy a couple of drinks and got the waterproofs off and packed them away as I relaxed. There are also a few benches near the bus stop if it's a nice day and not enough time for the pub.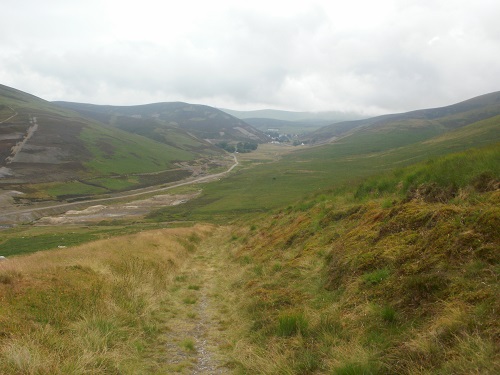 The bus arrived and took me back to Sanquhar along a twisty and scenic road, past a stretch where lots of cars were parked and tents erected, it looked a good place for free camping. Getting back to Sanquhar, a visit to the shop then back to the Hotel to wash and hopefully dry some clothes.
Despite the early rain, I had enjoyed the much shorter walk today, carrying less stuff also felt nicer on my back and shoulders and hopefully gave my legs a bit of a rest before some more long days ahead. I get a bus back to Wanlockhead in the morning to resume my SUW walk.