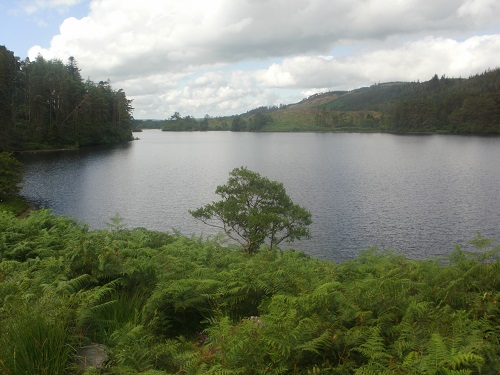 Yesterday had been a soggy day with not much scenery, thankfully today was the opposite which is just as well as it was a long one but there was plenty of forest style tracks for good steady walking and views all around. There is no place between Bargrennan and St. Johns town of Dalry (or just plain Dalry as the locals call it) so you either walk 26 miles or arrange to be picked up at a road not long after Clatteringshaws Loch, some local companies offer this pick up service if you look on Google.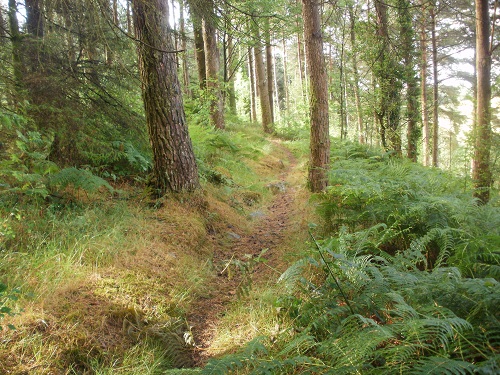 Anyway, after a good sleep, I woke to find my shoes were still damp, but only on the outside so I was hoping for a drier day. I had a really good and large breakfast, which made a pleasant change from some breakfasts that I've had before, so thank you House O'Hill Hotel. I left the Hotel and walked down the road to rejoin the trail, the trees glistening with the overnights rain so I knew the grass would be the same.
The first few miles would be a pleasant enough walk through the woods, the grass was wet as were the ferns which were covering the path in places. I kept forgetting about low branches, and as I ducked under them my backpack brushed the rain over my hair and back. There wasn't much to see along this path, so it was just a case of plodding on and being pestered by pesky flies most of the day, their buzzing around my ears would annoy me at many points of the day, usually on paths with ferns.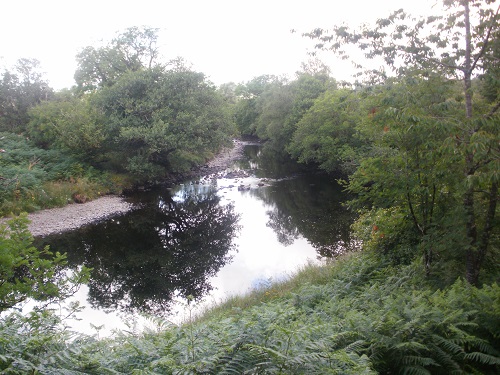 My shoes and the bottom of my trousers were soaking wet by now and I was glad to finally reach a much nicer and wider path taking me beside the Water of Trool. A nice forest path (but the forest cut down) took me alongside Loch Trool, however a big hill was between us. Thankfully I soon climbed this hill and the Loch came into view as did the hills behind it. A pleasant walk along the Loch took me to the East of it and a bench, time for a break and enjoy the lovely scenery.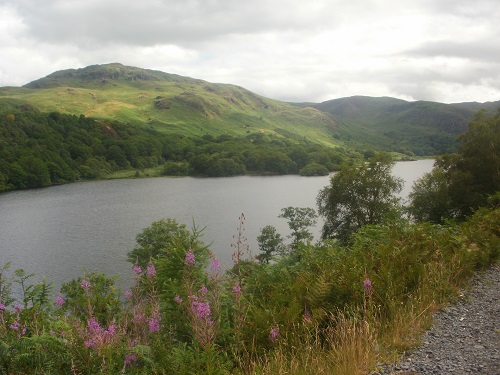 The next point of interest would be Loch Dee, about three miles away. The thin forest path was replaced by a forest style track with lovely open views to the left of me. It gently climbed to give fantastic views, I was so glad it was a nicer day today. I didn't know it at the time but I would be on this track all the way to Clatteringshaw Loch and beyond, fast and easy to walk on but not great on your legs and feet after a while.
Eventually the track reached a high point and started going down the hill giving lovely views of Loch Dee. It was here that I saw the only people on the trail today, 2 walkers and 2 cyclists on a tandem bike, this track is also part of the cycle network. I didn't see anyone else until I reached Dalry which is great if you enjoy having trails to yourself.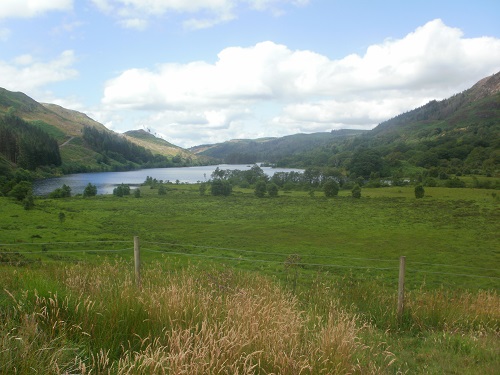 The track wound it's way above Loch Dee until it was eventually past it. Not long after here it joined another track and continued it's way towards Clatteringshaws Loch, this track was never ending and my feet and legs needed a rest, how I wished for a bench or even some smooth rocks.
After more pounding along the track, the Loch came into view. Sadly the trail soon turned away from it, but the view of it gets better as you head away from it. I stopped here for a bite to eat, firstly because it was a good view and secondly because there were a lot less flies on the track, to my relief. I didn't stop long though as the plan was to hopefully reach Dalry before 6pm to visit the shop. Not long after I headed off I reached a narrow tarmac road, at this point the SUW waymarker has "Pick up point" on it, this is where you get picked up if you've arranged transport with a local company and brought back the next day. For me though, I still had around 8 miles left so on I went.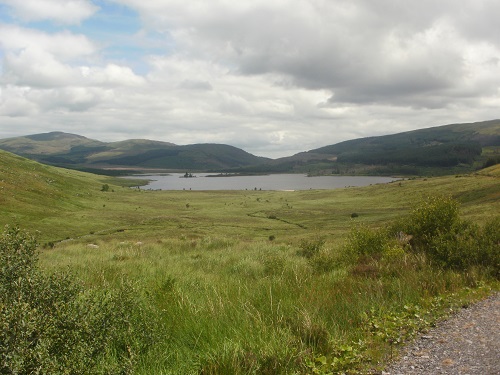 I was only on the road a short time before heading of it and into woodland on a narrow grassy path but thankfully it was nearly dry underfoot. The path went around woodland before gently climbing up through ferns and flies, aiming for the waymarkers. It was a narrow path but as it descended, it improved and widened as it headed down towards a farm. Soon after, it met a track and another long section would take me gently downhill where the views over the woodland were nice.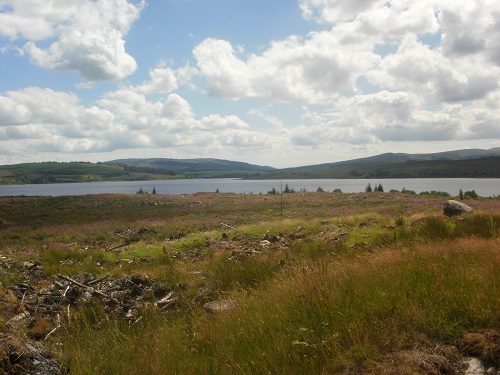 This eventually turned into a tarmac road and passed through trees before a waymarker pointed me towards Waterside Hill. Here was a sign and map saying that the bottom of the hill was boggy and could be avoided by continuing down the road and into the village from another angle. I was tempted to do this and avoid the hill but as there hasn't been much rain recently I assumed the boggy parts could be dry plus avoiding the hill would feel like cheating.
There were only a couple of muddy bits which were crossed by carefully holding onto the barbed wire fence at the side of it and moving along it. The path soon headed gently uphill through ferns and yet more flies who just wouldn't take the hint. After a few false summits, I got to the high point and was looking down upon Dalry, it was a nice feeling. Walking down the hill through more ferns, the flies didn't find it as easy to keep up with me and I was quickly down to a road, which I walked along for a short time before entering a field.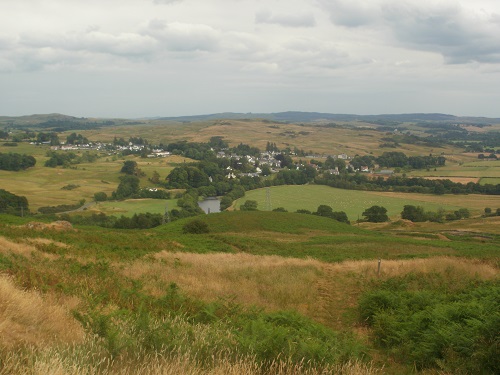 A nice grassy riverside walk took me around the field and onto a bridge, I was tempted to just cut across the field and head straight for the bridge. I crossed the bridge, which was bouncy and felt strange on my legs that had now done 26 miles. A steep little climb past a church would be my last bit of breaking sweat as I reached the village centre. I was right across from the shop and had 30 mins before it closed. It had been a hot day and I was more interested in buying something to quench my thirst and take with me to my Hotel in the village than food. I had intended to buy a pub meal but all I wanted to do was get out of the sweaty clothes and a good shower and eat some snacks instead of the pub meal, so I did.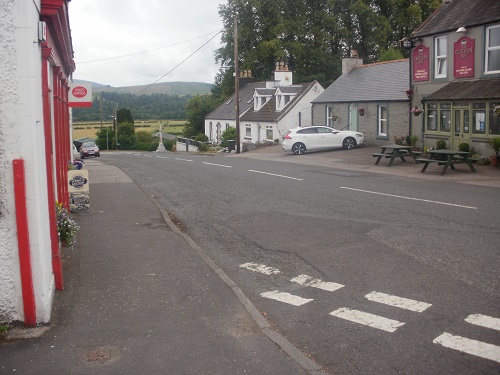 Today had been a very nice day, much nicer weather meant much nicer scenery and drier shoes, they were drier than when I left Bergrannan. It had been a very long day and another big one tomorrow but I'm heading to Sanquhar which has many shops and takeaways, it will feel like a city compared to the places I've passed through so far.