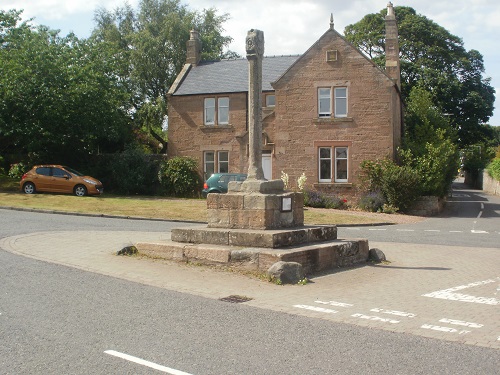 Today would be my last day on the trail, one of mixed emotions, in many ways I was happy to be finishing but also sad. When you get back to real life after twelve days it can feel strange at first not having a rucksack on your back and you certainly miss the scenery but your back, legs and feet will be happy that it's all over and done with.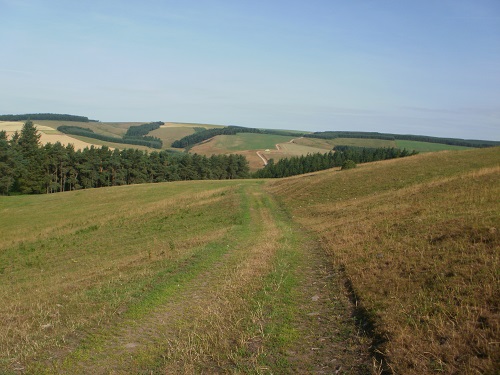 I was out of the accommodation early, I was eager to get finished but I also had to get a bus at the end to Berwick and then a train home, my own bed tonight. It was a lovely sunny morning and as I walked along the road back to where I'd left the SUW the previous day I thought about how lucky I'd been with the weather, there had only really been one wet day and even that had been mostly light rain at times. There were only two more days when the waterproofs went on for a short time. It had been warm every day but not too hot while the rest of the UK suffered intense heat.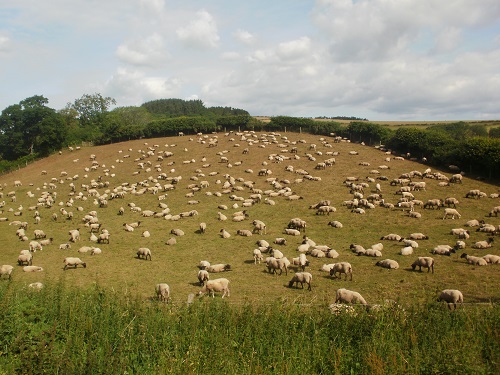 I soon rejoined the trail and steeply up a track which led me to a bit of field edge walking until I left the field and onto a narrow path which soon met a forest track, the shade was welcome this morning. A nice walk soon followed, the only sounds I heard were the river below me at times and the cows and sheep over the other side of it, I would miss the sounds of the countryside just as much as the scenery.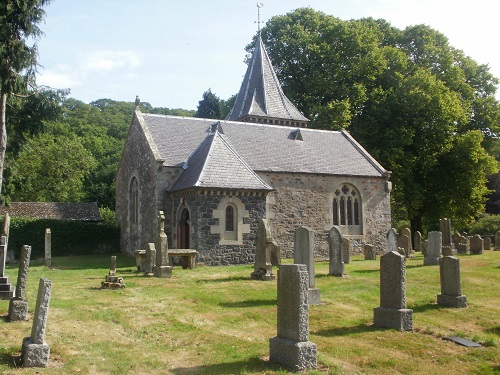 It was easy walking and I was soon entering Abbey St. Bathans, there's not much here apart from a broken bench, a telephone box that seemed to be full of bags of clothing and a nice church before crossing a bridge built by some Gurkhas in 1987 and out of the village past the sculpture of a rusty ostrich. The next part of the Way was easy walking and then up through a field where a large fenced off cairn stood, with a nice bench and view, just incase I needed an excuse for a break.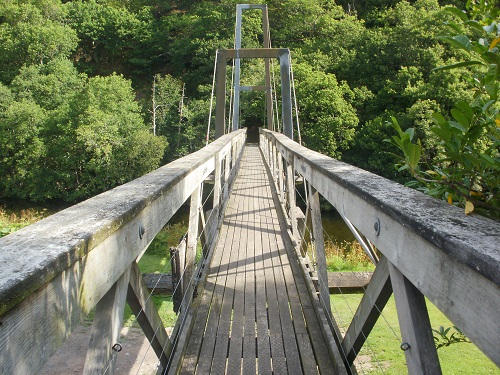 I knew this would be my last real break of my SUW as I set off again round a couple of farms, one full of cows blocking my path and then onto a track up to a row of terraced houses. It was just after this that I caught my first distant sighting of the sea, the end was now in sight even though I knew it was still a good way off, over six miles as a sign soon told me, I had been wishing that it was less than that. I headed down the road towards some woodland with the sound of traffic getting louder.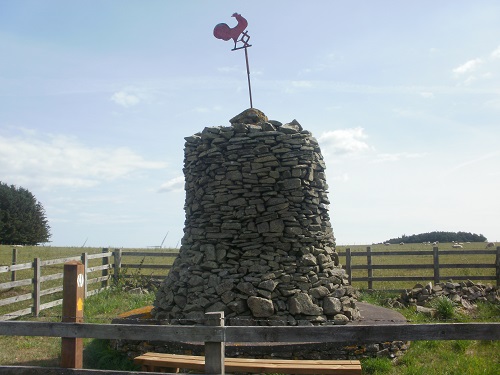 I soon saw the reason for the noise, the busy A1 which I still had to cross. I know how busy it is so I wasn't looking forward to it but when I reached the crossing point there was no traffic about, to my relief. A walk along part of the old A1 road which is almost overgrown now and over the main east coast railway line took me into the woods. A trail took me eventually upwards through it then down again without a view of anything except trees, a sign telling me I was now in Pease Dean Nature Reserve.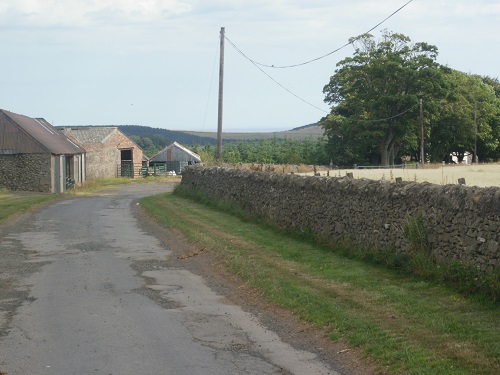 The path headed up and down a few times before the sea revealed itself to me near the entrance to Pease Bay Holiday Centre. A road round the outside of it climbed up to reveal a lovely beach but also how cramped the caravan site was with hardly any space, not my idea of a holiday but then again they would probably say that walking across the width of Scotland in twelve days wasn't THEIR idea of a holiday.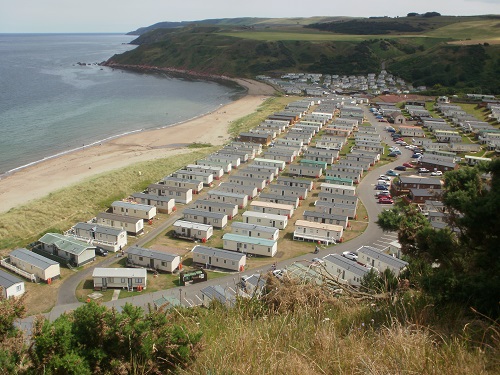 Some coast path lay ahead now, my legs feeling tired as I knew I was nearly finished plus it had suddenly got hot. After all the zigzagging about in the woods it was nice to be heading towards the end. I soon passed above Cove harbour which was full of families and kids, I had thought about heading down to the harbour but it seemed far too busy plus I just wanted to get to the end.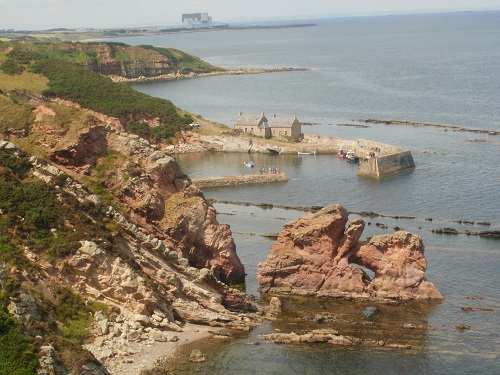 Soon after the harbour I headed inland towards the small village of Cockburnspath, passing under the railway and A1 and along a little lane where I could see the name of the car garage very near me. I knew the garage is just over the road from the finish line so knew I only had a couple of minutes left on my walk and sure enough I reached the main road beside the garage and saw the SUW information board which seems to be the end of the walk although the map in it suggests it's actually the Mercat Cross just round the corner beside the shop.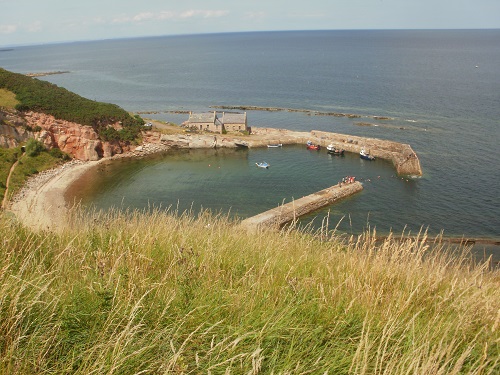 After walking across Scotland you will be happy to walk the short distance extra and ensure you have finished at both finish lines, plus you might be going to the shop anyway as Cockburnspath doesn't have anything else in it. I got something to drink then headed back to the information board to sit until my bus to Berwick was due. Luckily for me I had got there earlier than planned and got an earlier bus because the bus timetable had recently changed and my original bus no longer existed meaning the next one after that would have been too late for my train at Berwick.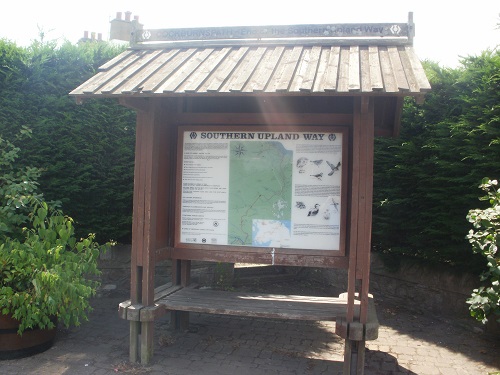 As I sat down, it started to sink in that my long journey was over, I had finished. Lots of different emotions go through you, happiness, relief and pride in your achievement but also sadness that it's over although your legs, feet and back will be glad. You might sit there and never want to do anything like this again but for me, my mind was already thinking about my next walk two weeks later , the Thames Path.