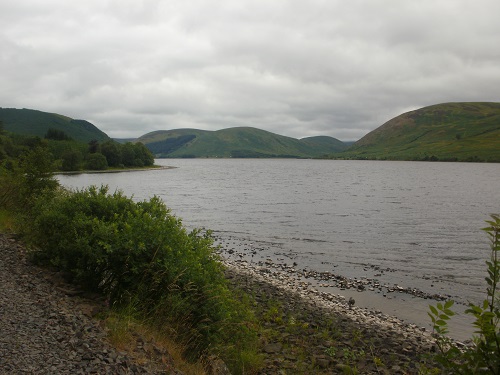 Yesterday had been a bit of a wash out weatherwise so it was great to get a dry day with lovely views again. Apart from a forest section later in the afternoon, nearly all of the grassy paths were dry despite yesterday's rain and it was a pleasure to end the day with dry socks and shoes.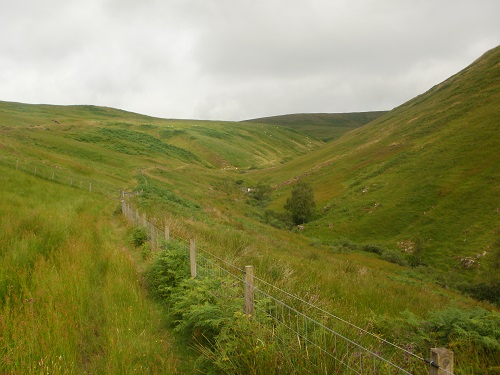 I had left the SUW just before Ettrick at Scabcleuch yesterday and was returned there again this morning. It was nice to look at the scenery around me as it had been mostly hidden the day before. I climbed over a wall and started today's walk, and it was straight into a small climb to wake up my legs. It was only a small one as the path soon leveled off.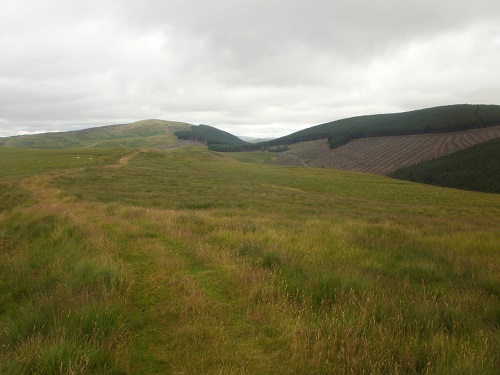 A lovely mostly level valley walk followed on short grass, I really enjoyed this section and the views ahead, eventually the Loch of the Lowes could be seen down in the distance. The path eventually descended to a forestry road and a lovely gentle descending track that took me all the way down to St. Mary's Loch. Just before it was an information board and a seat, so a short break and a bite to eat and drink were taken.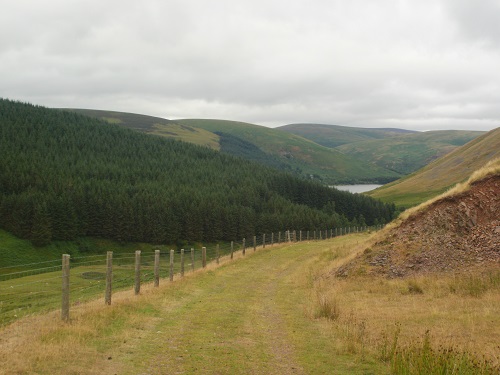 This is where Tibbie Shiels is located, a pub that used to be a traditional stopping point for people walking the SUW but is now sadly closed, which is a shame. There are campsites there though so if you are camping the SUW, you're in luck. A sign told me "only" twelve miles to Traquair, at least in the Border Council section they tell you mileages some times unlike the days I walked through Dumfries and Galloway.
The next three miles were a lovely walk beside the Loch on a good path with lovely views along the Loch and over it. About an hour later I left the Loch behind and headed over a few fields to Dryhope where an old fortified tower stands and can be visited if you wish and have the time. The next few miles were good paths, gently climbing up the side of a hill and giving good views back towards St. Mary's Loch. This was enjoyable walking on nice wide grassy paths with lovely views around but I knew soon that I would be entering a forest section.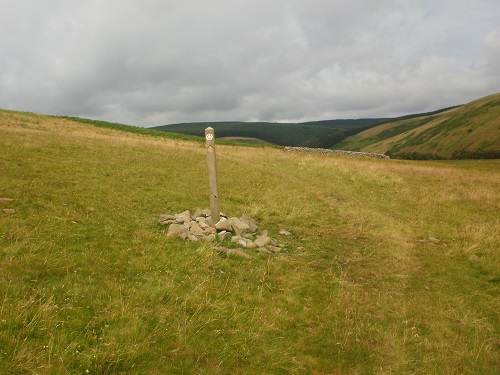 As I entered the forest, the path became narrow and started climbing, my shoes were soon wet as the sun and wind wouldn't reach this path to dry it. The path just kept climbing and climbing and the sweat was running down my face, there was no breeze to cool me down a little. The path leveled out and I looked to the left of me, it was incredibly dark in the forest. Much to my relief, I could see the end of the forest ahead of me.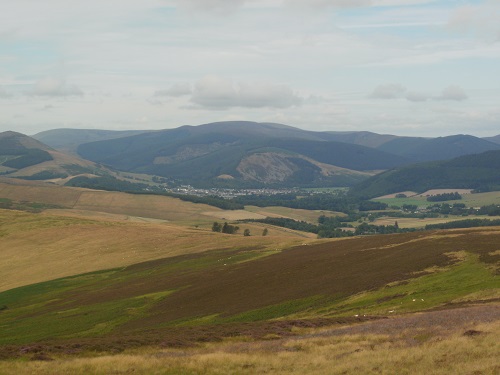 With the forest section over, some lovely moorland walking would dry my shoes again. I could walk on these paths all week, nice and gentle with lovely views of the local hills and soon I could see Innerleithen in the distance even though it was still about 5 miles away but at least it was all downhill from this point onwards.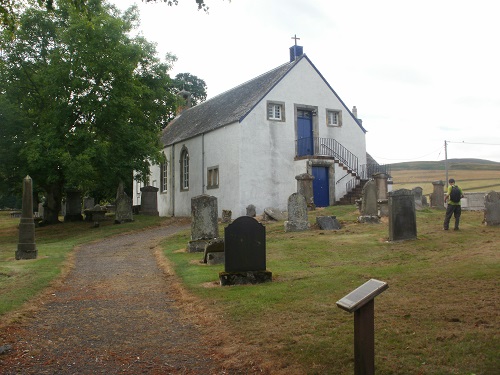 As I got lower down, a few fields had to be crossed then down to a road, a sign warned me that the road was ahead. After walking eight days with hardly any cars around and very quiet roads, I didn't enjoy this road walk at all, it was narrow and nowhere to step off and the cars weren't exactly going slow so you had to keep alert especially on bends. After a while I came to a seat and had a little rest on it, even though I was nearly at my destination. This was Traquair and this is where I cut off the SUW to head to Innerleithen to stay the night.
More road walking followed until I came to a bridge and then it was pavement all the way into the town. I reached the town and consulted my map, it told me that my Hotel was to the right and the local shop to the left. My intention originally was to go to the Hotel first then go to the shop but I really didn't want to go back out so went to the shop first.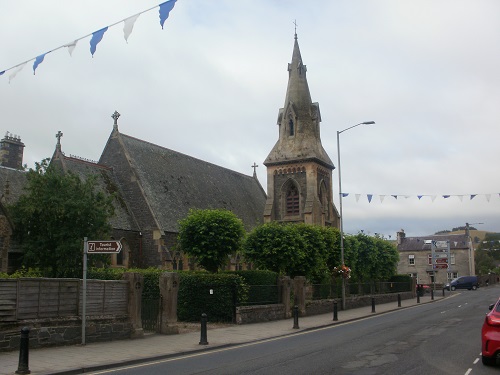 My feet were quite sore with the road walking at the end so it was a pleasure to remove them in the Hotel room and nice that my socks were dry today. It had really been a good day and the weather forecast for tomorrow suggests that it will be another dry day, fingers crossed. I now only have four days left of my SUW walk, I'm looking forward to finishing but at the same time I'm not.