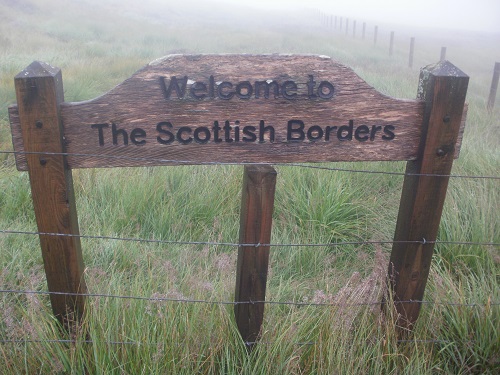 The weather forecast for today suggested rain for most of the day and sadly this would be accurate. There would be no stunning scenery like previous days so today just felt a bit like getting my head down and get on with it. Thankfully there were no climbs today as I spent a good while in the clouds with little visibility. The plan therefore was to head towards Over Phawhope Bothy about 10 miles from Moffat and have my lunch, a break and shelter knowing that after there it would be a track and then a long road to my pick up point near Ettrick.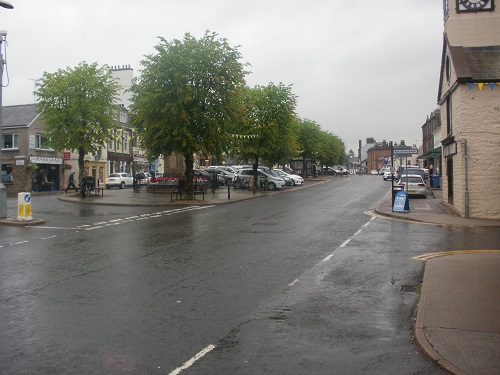 As I woke in the Hotel, I could hear rain hitting the windows, this was not a good start. Breakfast was from 7am which normally would mean me getting up and having an early start but the rain meant a lack of enthusiasm so I had a later breakfast than usual and finally forced myself to set off, first of all to the shop for something for lunch and for the evening as my accommodation that night would be in the middle of nowhere with no shops around but luckily they did evening meals.
If you stay the night in Moffat you can either walk all the way back to join the trail in Beattock or head out of Moffat a different way and join the trail further on and save a couple of miles so that's what I did. I walked along the pavement just hoping that the rain would soon stop. It wasn't long before I rejoined the trail and headed into some pretty woods, even in the rain. A sign at the start of them tells you that you enter at your own risk.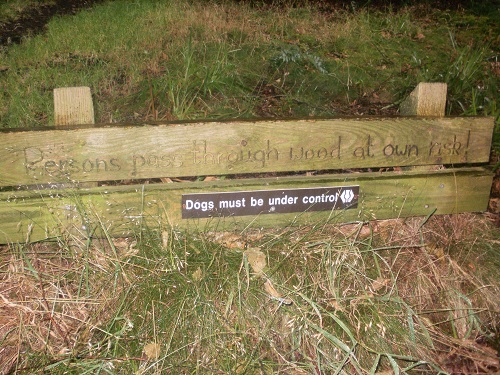 I managed to negotiate the woods without any harm coming my way and started to walk through a field with fences for horses to jump but there were no horses in sight. I'm sure this would be a pretty walk on a good day, I kept thinking to myself. However today the wet grass meant wet shoes and soon wet socks as well, no doubt.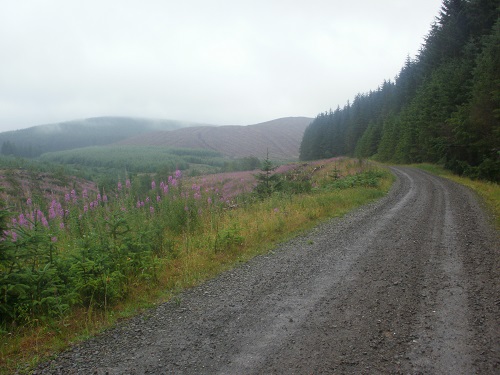 I was soon glad to be on a track that climbed up past a farm and then continued onwards. A little bit later I came to an information board which advised an alternative route if forestry work was in process. This path is a higher route and better views but if you're in the clouds like I was today, there's little point going this way so I continued along the track in the clouds, at least now the rain had stopped for a while.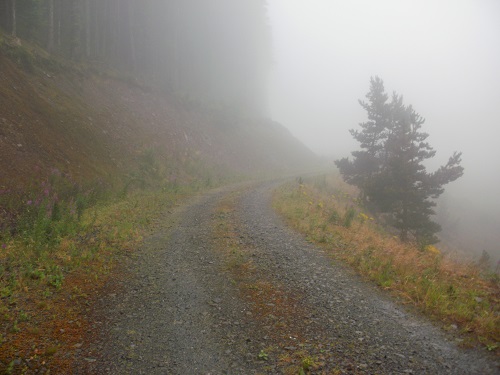 It wasn't a very interesting part of the trail when you have little visibility and it just felt like it was a case of head down and get it over with. Eventually I came to woodland and left the track to walk on a much narrower path in a valley although I couldn't see the tops of the hills anyway. I crossed a bridge carefully as it was wooden and wet and the path headed gently uphill for a while before finally reaching a track.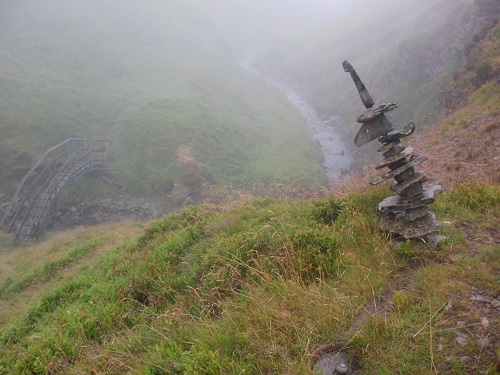 I knew at this point that it wouldn't be long before I reached Over Phawhope Bothy and my lunch break which would give me a break from the rain plus a welcome sit down. I also knew that from here to the end of the day I would be on this track for a little while then a road for a long time which I knew wouldn't be good on the knees and feet. I soon reached the Bothy and went in, no one else was inside and I stopped here maybe 30 minutes enjoying the comfort of a soft chair and getting my jacket off.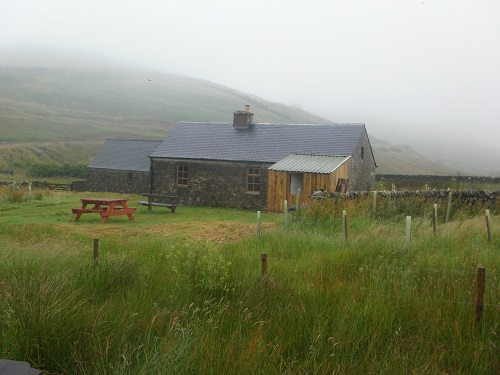 Reluctantly I left the Bothy, the rain had stopped as I reached it but typically came on when I left. After about a mile the track became a road down the valley with forestry work in progress to the right of me, leaving huge gaps in the forest. At least now the rain had stopped yet again and it cleared up a little bit giving me views of some distant hills.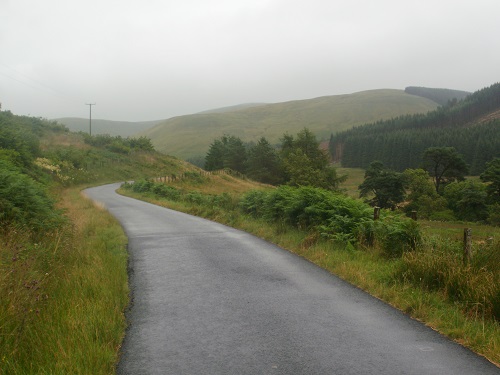 There's only so much road walking you can do before boredom sets in and I was now in that zone, the only consolation was that at least my shoes wouldn't get any wetter. I was on the road many miles and only two cars passed, if one of them had offered me a lift I would have been so tempted to cheat. After what felt a lifetime, I reached the point where a waymarker points away from the road and towards the hillside, this will be where I start in the morning, hopefully the shoes will be dry by then and a dry day. I have no internet at my accommodation to check the weather, maybe it's best not to know and just take what I get.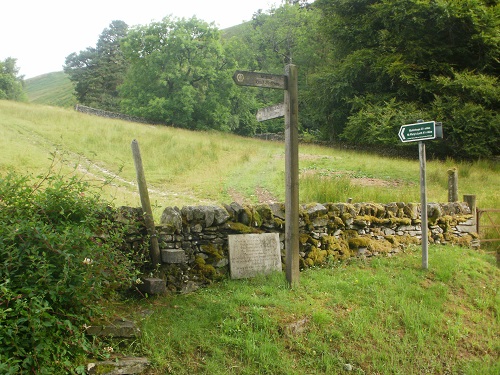 As I sat in my accommodation trying to get all my clothes and shoes dried using a towel rail and hairdryer I decided that today hadn't been as bad weatherwise as I had expected. Yes, it had rained on and off during the day but it was never really heavy and the road at the end of the day had at least dried my shoes out a little bit. I didn't know it at the time but this would be the last day that I saw or walked in any rain.