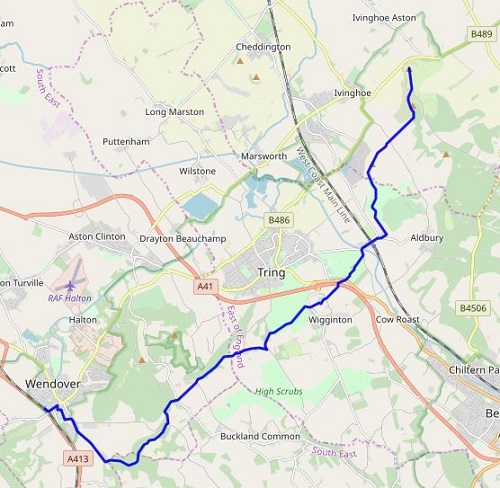 Today would be the final day on the trail and a shorter one so I could get home after it. It would be a warm dry day, the first half would mainly be through lovely woodland and the rest of it would be a pleasant walk walking down past Tring Station and up through the woods and a final bit of up and down walking before reaching the end of The Ridgeway at Ivinghoe Beacon and the lovely views that are seen from it.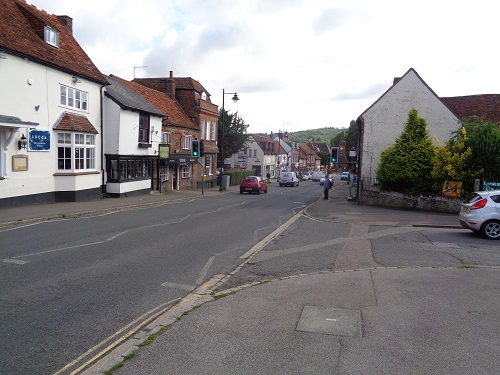 It was so much nicer starting this morning in Wendover on a warm dry day rather than the heavy rain and mud of the previous day. I walked down past the shops before turning off, the first of a few times today that my gps route would be different from the actual route. I walked round the back of houses before joining the actual route again and a nice gentle walk uphill.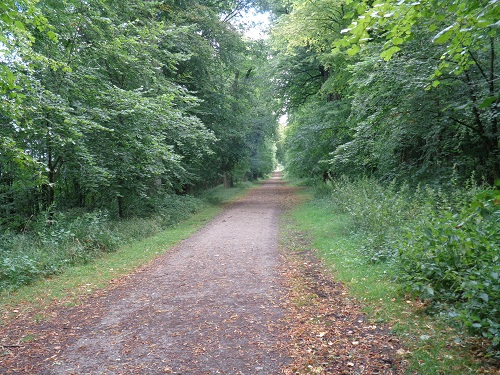 I would then enter my first bit of woodland for the day and a pleasant and quite undulating path that wasn't as muddy as I'd feared after the previous days rain. There was nothing too steep so I just enjoyed striding out and enjoying the peacefulness. The only downside of woodland walking however is the lack of views, even when higher up.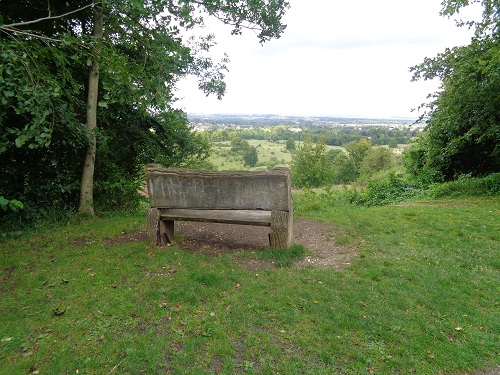 More woodland walking continued, this time a waymarker pointed me into a very muddy ditch but I had read about this bit in a guide book and it suggests walking along the much nicer (and drier) path that runs up beside the ditch. Some farmland walking followed, it was nice to get a bit of scenery after so much woods. A country lane soon took me to a junction where my gps pointed one way and the waymarker pointed the other way, I followed the sign.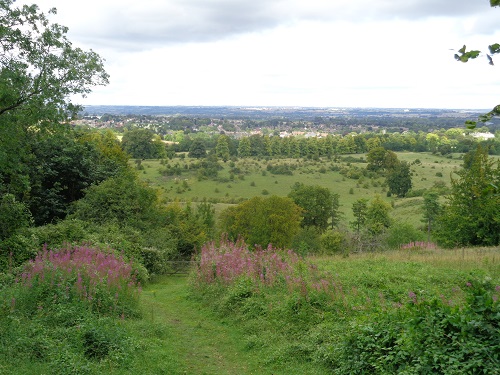 A short bit of road walking took me to the enterance of Tring Park and a lovely walk through it, which was quite busy with bikes, walkers and horses. When I entered it though, the sound of heavy traffic could be heard below on the busy A41 road. A short distance along it was a clearing with lovely views down towards Tring and for miles around and better still, a nice dry seat to have a break and take the scenery in.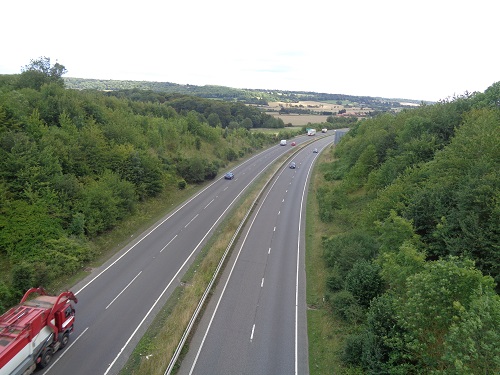 I could have stayed here a lot longer but I knew I only had around six miles left of The Ridgeway left to walk so I reluctantly left and continued along the nice path until I turned off and crossed a road that goes to Tring. I was soon walking downhill on a narrow path between fields, looking ahead at lots of trains so I knew Tring Station was near and soon I was crossing over the bridge over it and along the pavement away from it. From up here I also got my first view of Ivinghoe Beacon which made me smile, the end was in sight.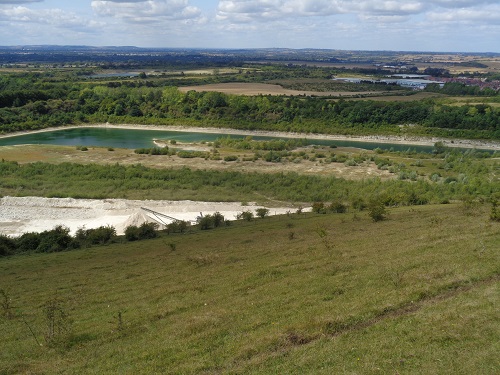 The pavement stopped, leaving me a short bit of walking along a busy road before heading off it and up a track. A short bit of gentle uphill woodland walking followed until I was out in the open air with great views downhill towards a big blue pool of water in an old chalk pit which had a few swimmers enjoying the warm day and the surrounding valley. I knew I didn't have far to go and it was a nice grassy walk mainly, with a few steep bits that felt steeper with my tired legs.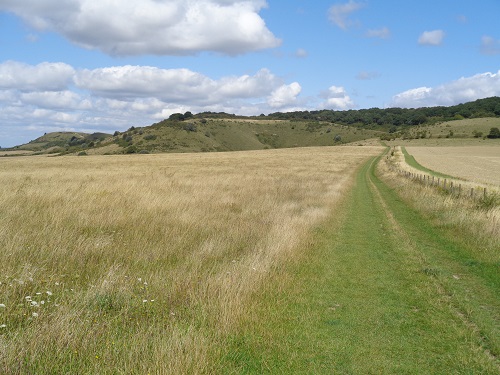 The last little hill was a case of getting my head down and getting on with it but soon I could see the trig point that marked the end of my journey, the finishing point of The Ridgeway. I had seen many people there as I got nearer it but by the time I reached it they had mostly gone, leaving the top for myself to do the usual photos and videos before moving away for a sit down and reflect on my walk before retracing my steps back to Tring Station.
My walk was over, I had really enjoyed The Ridgeway even though it wasn't as "interesting" as most of the other National Trails. It had been very easy walking with hardly any steep climbs and it was well signposted, which helps. It was a walk of two halves, the half after Streatley was much nicer than the first half and the finish at the Beacon much nicer than the start at Overton Hill. It's certainly a walk I would do again if I had the time although my bucket list is getting longer and I'd certainly recommend it if you want a gentle National Trail to do.