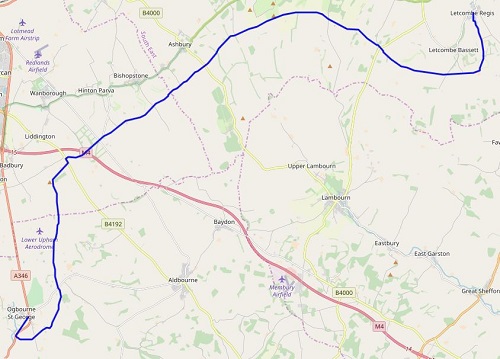 Today would be a longer walk than yesterday but the paths were mainly wider and harder and would have been dry but heavy showers in the afternoon saw the chalky paths slippery and then cling to my shoes meaning they were very white by the time I reached the end of my walk today. It was also pretty busy on the trail with walkers, cyclists, motorbikes, the occasional horse rider and plenty of dog walkers enjoying the trail on a Summer's Sunday.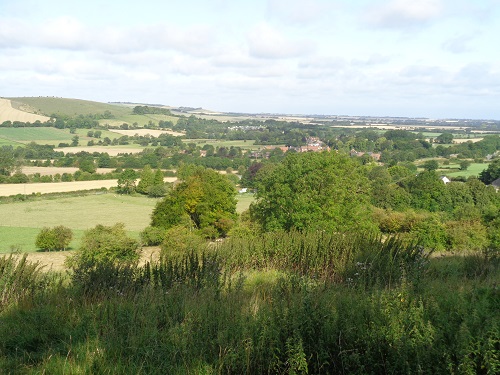 I set off from Ogbourne St. George a bit later than I hoped because breakfast is later at weekends like many places so after retracing my steps along the road that I walked the previous day it was 9:30am when I rejoined the trail. The start would be a gentle climb, there would be nothing steep today, on a track mostly surrounded by trees with the occasional views downhill towards Swindon. The start of today was in blue skies so the views were much better than yesterday, if you blocked out Swindon.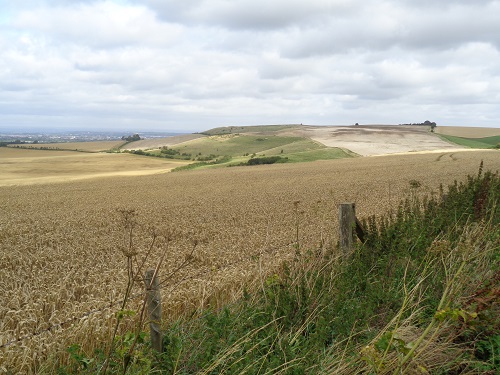 I passed a couple of benches but it was far too early for a break as the path headed towards the hill where Liddington Castle would have stood. The wide rocky path changed to a narrower grassy path and bypassed the Castle and turned right, where I now could see the M4 Motorway. I would be crossing it soon and it was all downhill until I reached a busy road and I walked along the verge, I soon turned right.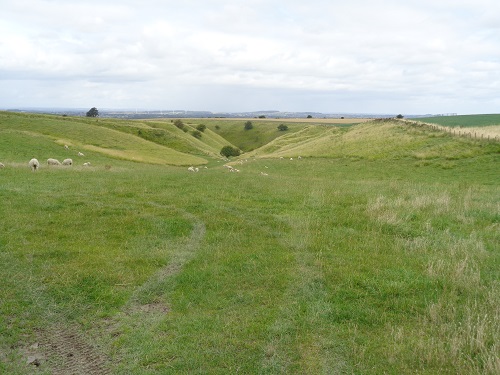 This road was still pretty busy as I hopped between the road and the grassy verge. A car stopped beside me asking for directions even though I was carrying a rucksack and probably not from around this area. Soon I was crossing the really busy and noisy M4 and away from it. I soon came to an Indian restaurant that many years ago was a pub, I could have used a drink about now but had to settle for a sit down in a bus shelter just before it and have a welcome break.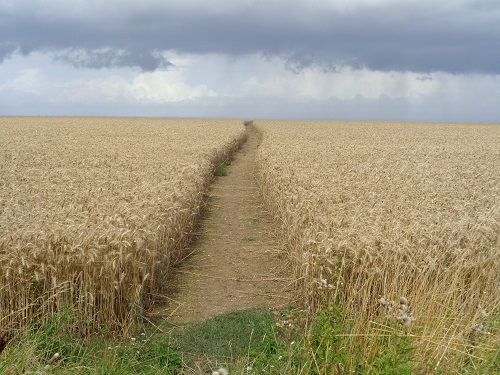 I set off again and soon was relieved to leave the busy road and join a track which gently headed uphill giving good views downhill. Also in view was a Moto Cross track, lots of cars and spectators and sadly for me this meant noisy motorbike engines for a while when peace would be nice. The wide track would head mainly in a straight line for ages, with many walkers, joggers and cyclists passing me. I eventually came to a few concrete blocks put there to stop cars driving onto the trail but it made an ideal place to have a sit down and have my lunch.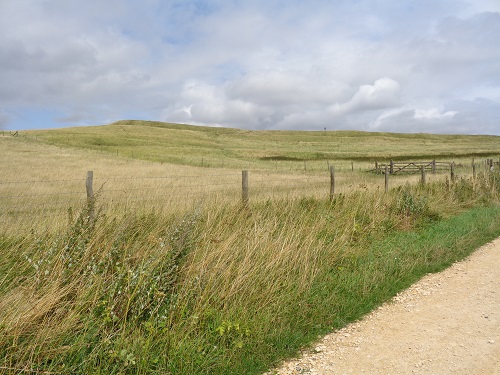 I didn't stop long as I still had a long way to go and the blue skies were quickly being replaced by dark rain clouds. Ahead of me in the distance was White Horse Hill where Uffington Castle once stood and the Uffington White Horse is cut into the hillside. It wasn't long before I reached it, I didn't visit the horse because you're far too close to it to appreciate it. As I passed it, the first of a few heavy showers started and the waterproofs went quickly on.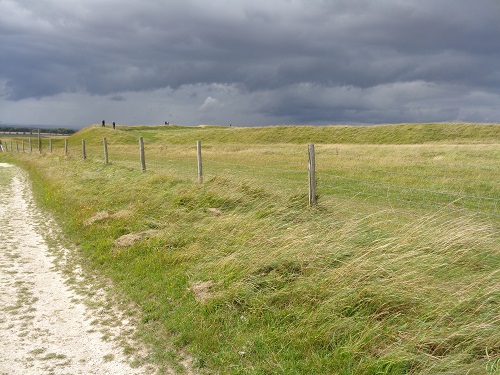 A lot of plodding followed on narrow wet slippery chalk paths or narrow grassy ones, there was no real shelter from the heavy showers. Eventually I came to an area known as the Devils Punchbowl and a pleasant grassy path around it. My legs were starting to get tired now and soon I was walking again on chalky paths that were now clinging to my shoes making them heavier. Luckily I didn't have far to go until I reached my cut off point which meant me leaving the Ridgeway for the day and descend the road down to Letcombe Regis where I would be staying the night.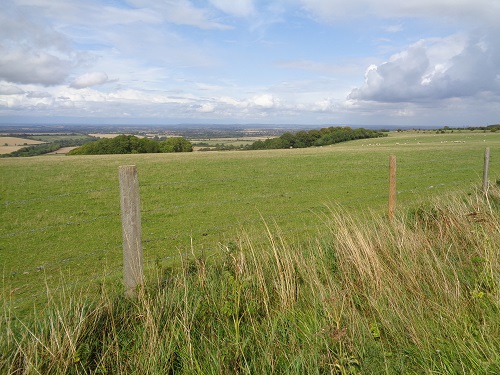 I rested my tired legs in the Hotel and had a quick pint before checking into my room. Later on they had a pub quiz that I could hear all the questions in my room, I probably would have got most wrong. Today had been a bit of a plod at times and not the most interesting but at least the views were a lot better than yesterday. I'm looking forward to tomorrow though and heading towards Streatley and Goring on the banks of the Thames that I had passed through last summer on my Thames Path walk. It also means shops, something that's been lacking so far.