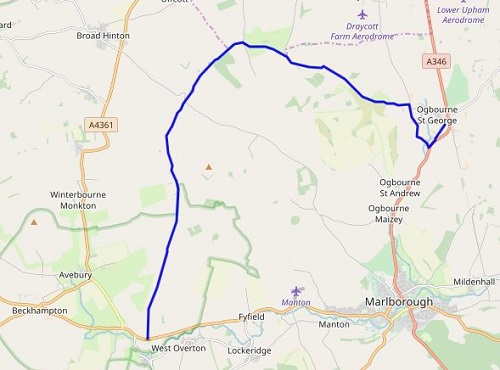 It was months since I planned and booked this walk so it was nice to finally set off on it. I had stayed the previous night in Swindon and planned to get a bus to Avebury then walk from there to the start at Overton Hill. It would be about three miles but there's no public transport to the start and I chose a longer route along paths and field edges rather than along a busy road and also to see some of the Stones in Avebury.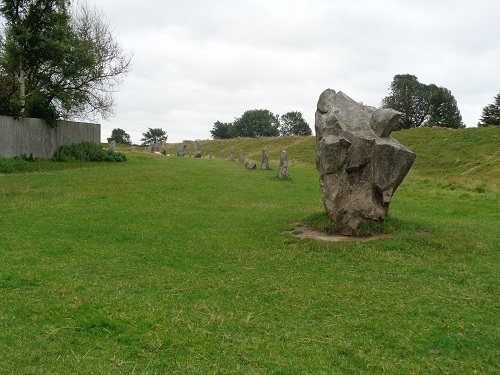 I was glad to get on the bus, Swindon isn't exactly a very scenic place but soon the bus was hurtling it's way through the countryside to Avebury. A path would take me past some of the Stones and then beside a small stream, the path was muddy in places and this would be the same most of the day. I passed Silbury Hill, a man made construction from about 2600BC that no one seems to know why it was ever built. After a few field edges I saw the main road ahead of me and a car park full of what looked like travellers vans. The start of the trail is a simple disappointing signpost, nothing fancy but it meant that I was finally on my way.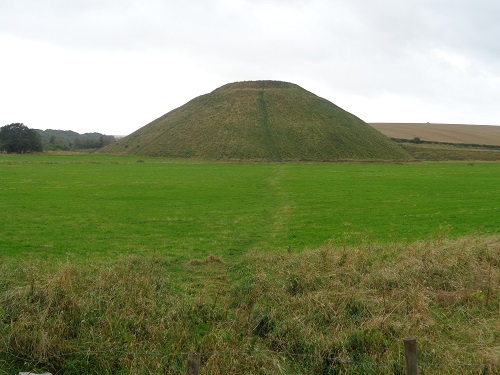 The first couple of miles were mainly straight and gently heading uphill on rutted paths which were slippery thanks to the recent rain, it was dry when I started but the views as I got higher revealed clouds and rain falling in different parts, it wouldn't be a dry day today. The going wasn't very good and it was a bit boring as I spent more time watching my footing than the scenery which no doubt is quite scenic on a good sunny day, however this wasn't one of them.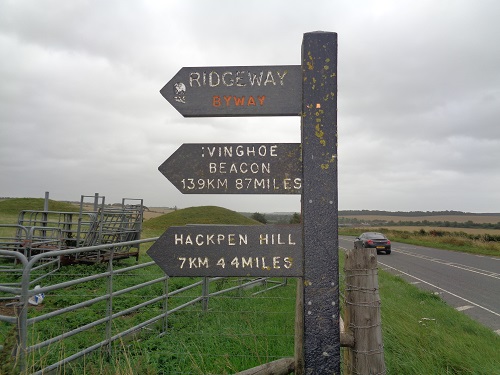 The path continued straight on, gently climbing as the first heavy shower hit, the strong wind blew it over quite quickly and dried my trousers. To my relief, the path got wider and smoother and also harder which meant a more pleasant walk and also for the many mountain bikers that passed me today. Another heavy shower started as I got to some trees which gave me shelter and the chance to have my lunch before setting off again. Eventually the path changed direction and started heading towards Barbury Castle, or at least the ditches and ramparts that remain.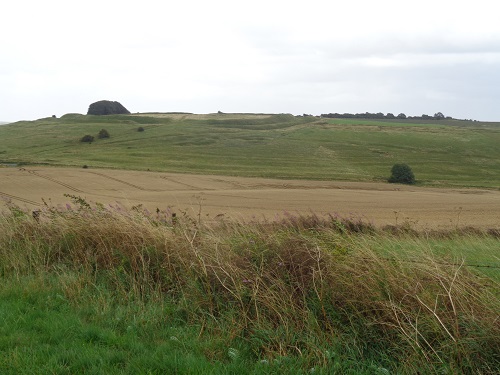 A short bit of road walking took me to the entrance taking the path up and through the Castle, it wasn't high up but gave good views. It was very windy up here though so care had to be taken. Even though there's nothing left of the Castle, the ditches that surrounded it gave an idea of it's size. The path ran through the middle of it and then headed down to a car park, sadly no snack van. The path soon cut off and headed downhill on a nice grassy path called Smeathe's Ridge with lovely views although the wind made walking difficult. Just then it blew the cover of my backpack off and down the hill, me running after it hoping it wouldn't get blown over the fence which guarded a big drop, thankfully it got stuck in the fence and I grabbed it.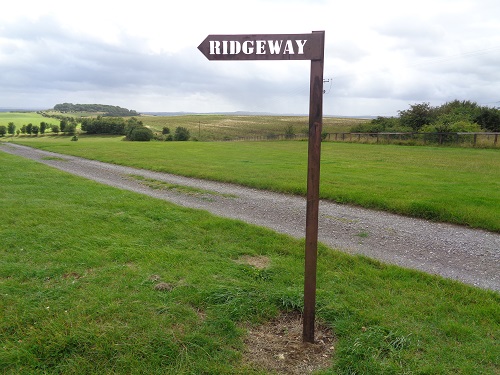 I stuck it inside my bag and headed back up to the path and continued heading downhill, finally getting low enough for a bit of shelter from the wind. Ogbourne St. George could be seen ahead of me and the original plan was to enter the village at the first cut off but it was early so I decided to keep going and enter the village from the other side meaning a slightly shorter day tomorrow.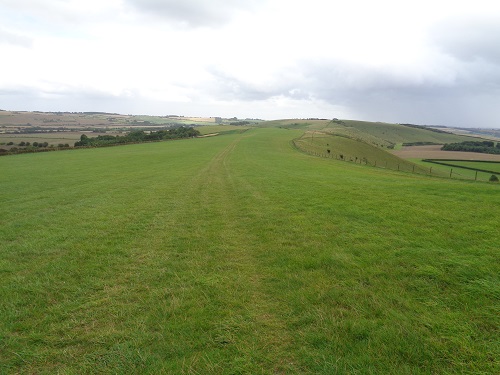 Some woods followed and muddy paths before entering the lovely little Hamlet called Southend with it's thatched roof houses and reaching the main road. The Ridgeway continues straight over the road but I headed left along the pavement then along a quieter road that took me into the village just as another heavy shower started. I found some shelter and waited rather than enter the hotel looking like a drowned rat.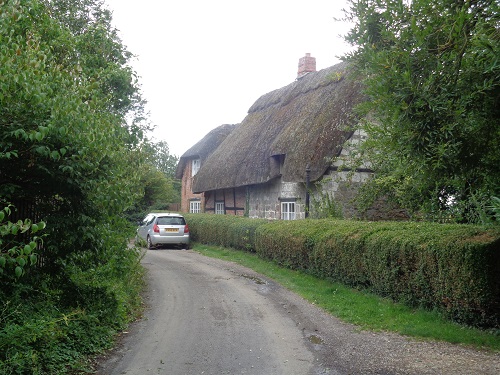 As I relaxed in my room soon after, I thought about the day I'd just had, it didn't start off very well but the views and paths improved as the day went on with no real hilly bits. It had been a gentle start to my Ridgeway walk, I'm sure there are plenty of strenuous parts to come over the next days with better views.