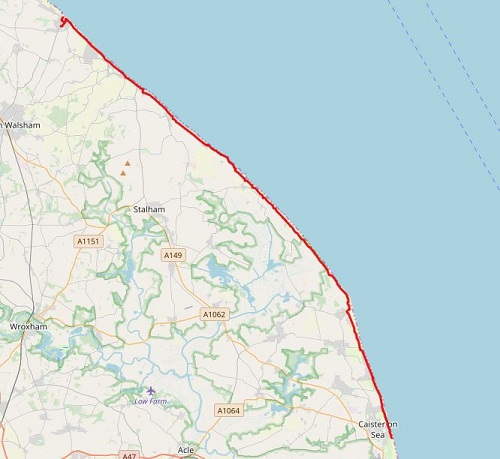 Today would be the first and only day that I would start without sunshine though it would soon be out. Today would see a mixture of paths, including cliff top, soft sand, grassy paths and gravel tracks as well as a bit of tarmac here and there, with the sound of the sea never too far away. It was a long day but it can be shortened as there a few villages along the way that you can stay the night or catch a bus instead. Also, if you feel super fit, you can add an extra three miles of mostly pavement and finish in Great Yarmouth for more choice of accommodation and an easier last day.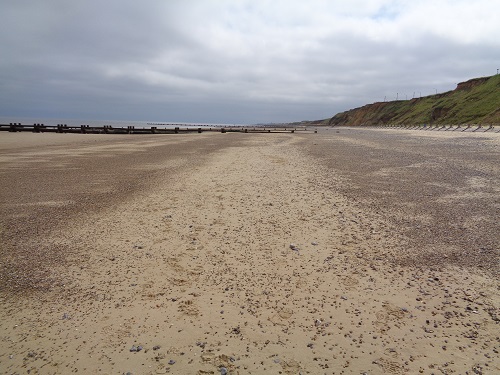 I started today outside the shop that I'd finished the previous day, my GPS route told me to head one direction but the signs told me to walk away from the sea, so I did. I was soon walking at the edge of a playing field then through a gate, the sign told me to pass through it so I did and walked up a gravel road for a short time, all the time getting further away from the coast, which puzzled me. At the end of this road, there were no signs which way to go so I knew I had maybe missed a turn off so off I went retracing my steps. As I got near the gate that I came out of a short time earlier, I noticed a small path beside the gate that I hadn't seen when I passed through it and of course the NCP marker was on it, time wasted.
After the minor delay, I was now near the coast again, not exactly far from where I had started so I've no idea why the path didn't just go the direct way. Anyway, I was now on the beach looking for the harder sand to walk upon and this would be the case for a couple of miles before I found a grassy path at the top for a little while before deciding to walk on the hard cement sea defences, it made for quicker and easier walking. I soon spotted a bench above me so stopped for a quick rest.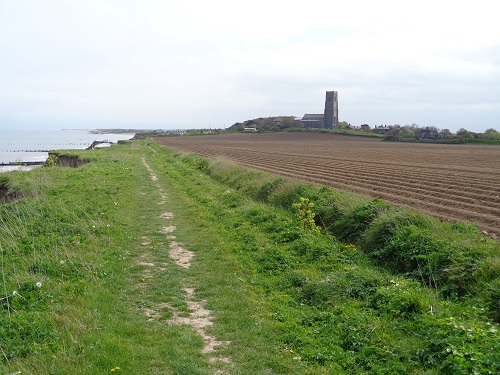 After my break, the path then took me through Walcott and away from the sea, it was now quiet. I went through what looked like a retirement village before the emerging onto a clifftop path. Much of this path seems to have been eroded away, signs warn you to keep well back. It was quite a nice walk though for a while, then it entered what's left of an old caravan site which appears to have been deserted, possibly due to the erosion although a few caravans remain, many now vandalized.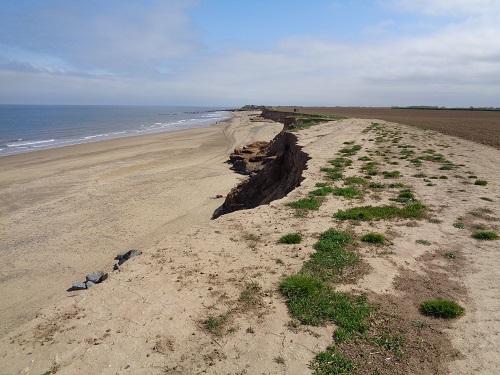 After a bit more cliff top walking and a path through bushes I came to another sign with a choice of beach or alternative route, I chose the latter basically because I knew I'd have plenty beach walking to come. I passed houses along a gravel road but at the end of them I saw a path leading to the beach and decided to take it where I walked along the concrete sea defences for a little while before they finished and I ended up walking on sand again and tried to find the harder sand when I could for easier walking but it was still mainly soft.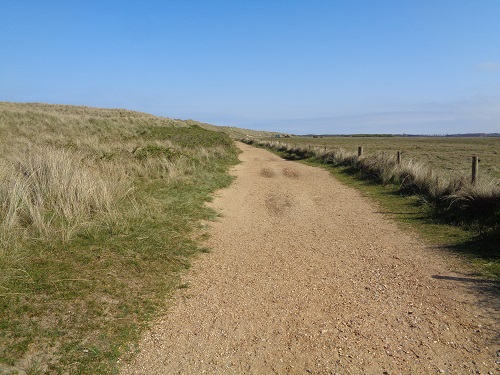 A little while later on just before Sea Palling I left the beach to find a harder path. Sea Palling seafront had a couple of shops, cafes and amusement arcades but not much else and I was quickly through it and walking along a nice gentle grassy path. On one side of me was open views over the fields and on the other side was the grassy dunes which meant I couldn't see the sea but heard it now and again. I have to admit that it was nice walking along a hard grass path after so much sand underfoot.
As I reached Horsey Gap, signs told me that for the next few miles to Winterton I would be walking through a site that was home to dragonflies, rare butterflies, natterjack toads and a little tern colony, I saw none of these. The path however was nice to walk on and a couple of miles later I met a couple of women, sweating away, who asked me how far Horsey Gap was. I told them about two miles, this was not what they wanted to hear and as I walked away and looked back shortly after, I noticed that they had turned round.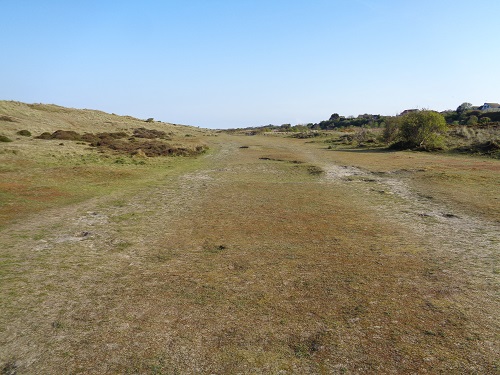 I got nearer Winterton and was on the beach again, the sand very soft which wasn't great after walking so far. As I got near Winterton I remembered that it has a shop but the path doesn't go through the village so I just kept going as Hemsby is only a couple of miles further on, the path now went through a wide valley with many dog walkers around, it was quiet with just the sounds of the birds in the bushes either side of me. It wasn't long on this good path before I reached Hemsby.
The last time I was in Hemsby was about twenty years ago in the summer so the resort was busy and noisy with plenty cafes but today nothing was open, which is probably because it is April, not summer. This meant my thought of getting chips or something from a cafe was a non starter so I sat down on a bench for a short break and had a packet of crisps. I knew there was only about four miles left to Caister.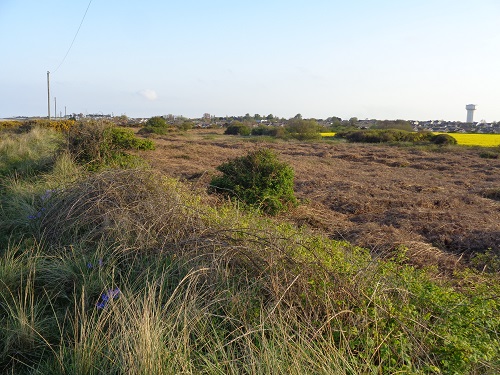 At Hemsby, the path went down onto the beach again, more soft sand. To the right of me many houses and sheds stand very near the cliff edge, many have fallen over the last few years, the cliffs here are made of sand, not rock so they erode very easy. There was a path nearer the bottom of the cliffs with occasional harder bits so I chose to walk along that. To the other side of me, it was a shame to look out towards the sea and see a wind farm not far from the shore, not something I want to see anywhere but especially so near to the coast. I soon saw a sign saying Caister Point was two miles away, the end was now in sight. Even better was that the path then left the beach onto a nicer harder path where I could see Caister and a caravan park to the side of me.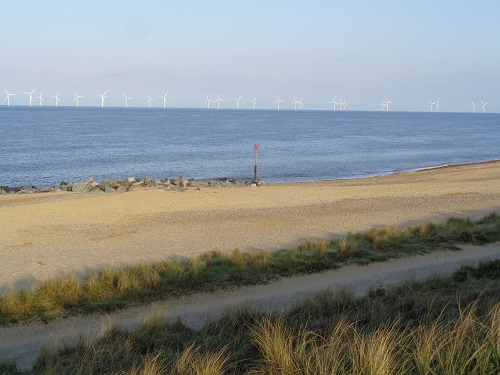 I was soon back on the sand again, passing below a caravan site and the sand seemed softer than ever but the fact I'd walked about 21 miles by now probably didn't help. Eventually I headed up and onto a sandy path at the top of the dunes which brought me to Caister Lifeboat Station, much to my relief as it mean this day was over. There had been a lot of beach walking today and it had been a long day, there are plenty of little villages along this section where you could stop and spend the night if you wanted to shorten this day but I'm just a plodder. Equally, Great Yarmouth is only about three miles further on and about an hour further to walk mainly along pavement if you feel really energetic or want cheaper accommodation, a choice of more shops and an easier last day.
As I sat on a bench near my Hotel emptying the sand out of my shoes, I felt relieved to have walked such a far distance especially as I knew the next day would be a lot shorter, much easier and my last day. It's always a nice feeling spending your last night on the trail but it's also a bit sad knowing that your walk is almost finished and you have to get back to reality, your job and just think about where you want to go next.